News

Maho Girls Precure! Anime Film's Trailer Reveals Story, Title, October 29 Date, Mayu Watanabe's Theme Song

posted on by Rafael Antonio Pineda
Film will screen with "Cure Miracle to Cure Mofurun no Mahō Lesson" anime short
---
Toei Animation revealed on Thursday that Eiga Mahō Tsukai Precure! Kiseki no Henshin! Cure Mofurun!, the anime film based on the Maho Girls Precure! (Mahō Tsukai Precure!) television anime, will open in Japan on October 29. AKB48 member Mayu Watanabe (Mayuyu) will perform the film's theme song, "Tadashii Mahō no Tsukaikata." Toei Animation opened a website for the film, which posted a trailer featuring the song and a visual.
The film's plot will feature the protagonist Mirai's talking plush bear Mofurun being chosen by the Stone of Wishes — a stone that grants any wish every 100 years — and thus gaining the ability to transform into a Precure.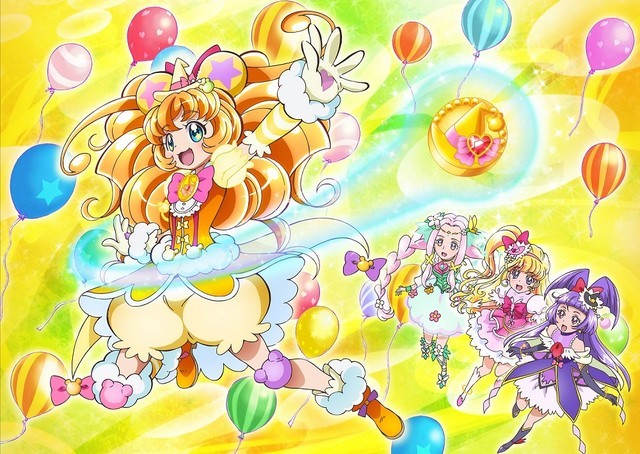 A short anime titled "Cure Miracle to Cure Mofurun no Mahō Lesson" (Cure Miracle and Cure Mofurun's Magic Lesson) will screen alongside the film.
Ticket sales for the film will begin on Saturday, July 16. Those who purchase tickets will receive either a "Mofurun Linkle Stone" or a "Heartful Linkle Stone."
Maho Girls Precure! is the 13th and newest Precure (Pretty Cure) television anime series. It premiered in Japan on February 7. A manga adaptation debuted in Kodansha's Nakayoshi magazine on February 3.
The anime stars:

Rie Takahashi (Seiyu's Life!'s Futaba, School-Live!'s Miki) as Cure Miracle/Mirai Asahina, a 13-year-old girl who's going into her second year of middle school. She loves anything interesting and is interested in many things. When she becomes a Precure she starts attending "Magic School."


Yui Horie (Miss Monochrome's title character, Magi: The Kingdom of Magic's Yamraiha) as Cure Magical/Riko, a 13-year-old girl who attends "Magic School." Although she's great at studying, she's not very good at magic. However, she aims to be a wonderful magic user one day. She meets Mirai in the human world while searching for the powerful "Link Stone Emerald."


Saori Hayami (Snow White with the Red Hair's Shirayuki, Owarimonogatari's Yotsugi Ononoki) as Cure Felice/Ha-chan, the third Precure. Her introductory catchphrase as she transforms will be "Blessings on all life! Cure Felice!" and she will fight using the Flower Echo Wand.


Ayaka Saito (Jewelpet's Ruby, Fruits Basket's Momiji) as Mofurun, a stuffed animal that Mirai received from her grandmother as a child. Mofurun is very precious to Mirai, so she brings Mofurun with her everywhere. When Mirai and Riko become Precure, Mofurun gains the ability to talk and sense magical power. Mofurun ends sentences with "-mofu."


Isao Murayama (Majin Bone, Precure All-Stars DX3 Mirai ni Todoke! Sekai o Tsunagu Niji-Iro no Hana) is handling series composition and Masato Mitsuka (episode director for Smile Precure!, Yes! Precure 5 GoGo!) is directing. Emiko Miyamoto (episode animation director for Fresh Pretty Cure, Yes! Precure 5 GoGo!) designed the characters.
The previous series, Go! Princess Precure, premiered in February 2015. The Eiga Go! Princess Precure Go! Go!! Gōka 3-bon Date!!! film opened in Japan last October. The Eiga Precure All Stars Minna de Utau♪ Kiseki no Mahō! (Precure All Stars The Movie: Everyone Sing♪ Miraculous Magic!) film opened on March 19.
The 2012-2013 Precure anime series Smile Precure! was localized in English as Glitter Force, and the first 20 episodes debuted on Netflix last December.
Source: Anime! Anime!
---