News

Elex Media Licenses Rainbow Days, Undergroun' Dogs, Mujūryoku Girl Manga

posted on by Rafael Antonio Pineda
---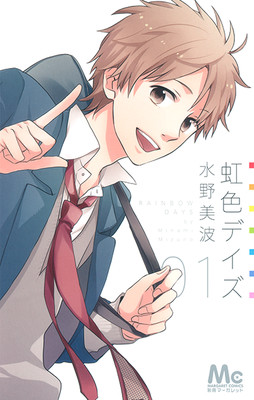 Indonesian publisher Elex Media Komputindo announced last week and on Thursday that it has licensed Minami Mizuno's Rainbow Days (Nijiiro Days), Kuromaru's Undergroun' Dogs, and Daichi Banjou and Yukari Yagi's Mujūryoku Girl (Zero Gravity Girl) manga. The company will release the first volumes of Undergroun' Dogs and Mujūryoku Girl on April 19, and the first volume of Rainbow Days sometime in April.
Rainbow Days centers on a group of four male high school students who are close friends: Natsuki, Tomoya, Keiichi, and Tsuyoshi. The four boys have no club activities, and they hurry through their studies so they can spend their days having fun. Their main topic of interest: love. Natsuki has an unrequited crush on Anna, a girl from another class, and his friends keep meddling in their relationship.
Mizuno launched the manga in the February 2012 issue of Shueisha's Bessatsu Margaret magazine. Shueisha published the 14th compiled book volume in December, and ended it on March 13. The manga inspired a drama CD that Shueisha bundled with a limited edition of the seventh volume in October 2014. The manga then inspired a television anime that premiered in January 2016. The manga's 13th volume then bundled an original anime DVD last September. A side-story manga will launch in Bessatsu Margaret on July 13.

Undergroun' Dogs centers on Akira Sako, a man who has been working at a factory since graduating from middle school. At work, his superiors pick on him, and he lives a dull, repetitive existence. One day, he meets a woman named Chikane Satō while she is visiting the factory. Immediately charming him, she follows him into the world of being an action movie stuntman.
Kuromaru launched the manga in Shogakukan's Monthly Big Comic Spirits magazine in September 2014. Shogakukan published the manga's third compiled book volume in March 2016.
Kuromaru previously worked with Takeshi Natsuhara on the Kurosagi manga series, which ran in Shogakukan's Weekly Young Sunday from 2003 to 2008, with 20 compiled book volumes. The next series, titled Shin Kurosagi, launched in Weekly Young Sunday, but switched to Big Comic Spirits after Young Sunday ceased publication in 2008. The sequel manga ran until 2012, with 18 compiled book volumes. Shin Kurosagi Kanketsu-hen began in 2012, and ended in 2013, with four compiled book volumes. The manga was adapted into a live-action television series in 2006.
Elex Media published all 18 volumes of Shin Kurosagi manga, and has been publishing the Shin Kurosagi Kanketsu-hen manga.

Mujūryoku Girl centers on Terra, a girl who says she saw an "angel" while looking at Mars through a telescope as a child. Now 16 years old, Terra hopes to be an astronaut and join the Mars Survey Project to see her angel for herself. But before she gets there, she must undergo all the hardships of astronaut trials and training.
Banjou and Yagi launched the manga on DeNA's free Manga Box app in 2014, and ended it in 2015. Shogakukan published two compiled book volumes for the manga.
Banjou and writer Nobuhiro Sakata created the golf manga series DAN DOH!!, which ran from 1995 to 2000 in Shogakukan's Weekly Shonen Sunday magazine, and the series inspired a 2004 television anime series. Banjou also launched the ongoing Mobile Suit Gundam Aggressor manga in Shogakukan's Shonen Sunday S magazine. Shogakukan published the fifth volume in November.
[Via Kaori Nusantara]
---