News

Kakegurui - Compulsive Gambler Anime Casts Ayaka Fukuhara, Mayu Udono

posted on by Jennifer Sherman
Both voice actors play student council members in series premiering in July
---
The official website for the television anime of Homura Kawamoto and Tōru Naomura's Kakegurui - Compulsive Gambler manga announced two more cast members on Sunday and Monday. Ayaka Fukuhara will play the student council secretary Sayaka Igarashi, and Mayu Udono will play the student council officer Runa Yomozuki.
Ayaka Fukuhara as Sayaka Igarashi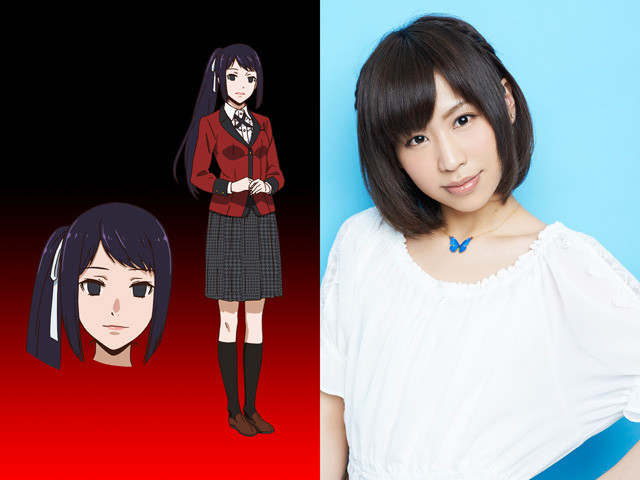 Mayu Udono as Runa Yomozuki


The website will announce the voice actor for student council president Kirari Momobami on Tuesday. The previously announced cast includes:
Saori Hayami as Yumeko Jabami


The anime will premiere in July and will have 12 episodes.

Yen Press describes the series:
Hyakkaou Private Academy. An institution for the privileged with a very peculiar curriculum. You see, when you're the sons and daughters of the wealthiest of the wealthy, it's not athletic prowess or book smarts that keep you ahead. It's reading your opponent, the art of the deal. What better way to hone those skills than with a rigorous curriculum of gambling? At Hyakkaou Private Academy, the winners live like kings, and the losers are put through the wringer. But when Yumeko Jabami enrolls, she's gonna teach these kids what a high roller really looks like!
Yuichiro Hayashi (Garo the Animation, PES: Peace Eco Smile) is directing the anime at MAPPA, and Yasuko Kobayashi (Attack on Titan, Garo the Animation, JoJo's Bizarre Adventure, Shakugan no Shana) is in charge of the series scripts. Manabu Akita (JoJo's Bizarre Adventure episode animation director, design assistant) is designing the characters. TECHNOBOYS PULCRAFT GREEN-FUND (Witch Craft Works, Fate/kaleid liner Prisma☆Illya 3rei!!) is handling the anime's music.
The manga launched in Square Enix's Gangan Joker magazine in March 2014. Square Enix published the sixth compiled book volume on February 22. Yen Press licensed the series for digital release, and began its simultaneous publication of the manga in October 2015. The company published the third compiled volume digitally in September 2015. The company will release the series in print starting with the first compiled volume in July.
The manga has inspired three ongoing spinoff manga series. Yūichi Hiiragi's Kakegurui Midari manga launched on Square Enix's Manga Up! app on February 21. Taku Kawamura's Kakegurui (Kari) four-panel comedy manga launched on December 22, and Kei Saiki's Kakegurui twin manga launched in September 2015. Kawamura and Saiki's manga run in Gangan Joker magazine. Square Enix shipped the third compiled book volume of Kakegurui twin on February 22.
Source: Comic Natalie
---