News

Yen Press Licenses My Youth Romantic Comedy Is Wrong As I Expected, How to Raise a Boring Girlfriend, Baccano!, More

posted on by Karen Ressler
---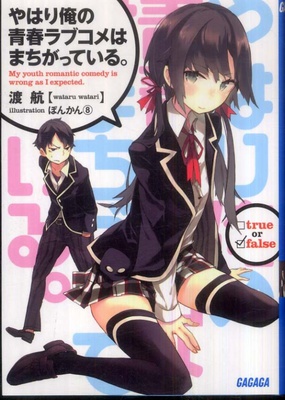 Yen Press announced at its Anime Expo panel on Sunday that it has licensed the following manga and will release them in print.
Handa-kun was previously licensed as a digital-only release. Handa-kun is a spinoff of Yoshino's Barakamon, and according to Yen Press it is selling better in Japan than the original.
In addition, it has licensed the following light novels:
Yen Press announced that it will release the following manga digitally.
Finally, Yen Press announced that it will begin simultaneous publication of the following Square Enix titles in October:
The last three are new license announcements.

Watari began the original My Youth Romantic Comedy Is Wrong, As I Expected (Yahari Ore no Seishun Love Come wa Machigatteiru.) light novels with illustrations by Ponkan8 in Japan in 2011, and Shogakukan shipped the 11th volume in June.
Maomichi Io began the Yahari Ore no Seishun Love Come wa Machigatteiru. @comic manga adaptation in Shogakukan's Sunday GX magazine in December 2012
Watari's romantic comedy revolves around an antisocial high school student named Hachiman Hikigaya with a distorted view on life and no friends or girlfriend. When he see his classmates talking excitedly about living their adolescent lives, he mutters, "They're a bunch of liars." When he is asked about his future dreams, he responds, "Not working." A teacher gets Hachiman to join the volunteer "service club," which happens to have the school's prettiest girl, Yukino Yukinoshita.
The series inspired two anime seasons, which Crunchyroll streamed as My Teen Romantic Comedy SNAFU. Sentai Filmworks licensed both.
Both the manga and the light novel series are slated for 2016.

Log Horizon: The West Wind Brigade (Log Horizon - Nishikaze no Ryodan) is a side story following Sojiro and the members of the West Wind Brigade. The series is currently running on Fujimi Shobo's Age Premium website, and Kadokawa published the fifth compiled volume in March.
The original Log Horizon novels begin when 30,000 Japanese gamers are trapped in the fantasy online game world Elder Tale. What was once a "sword-and-sorcery world" is now the "real world." Shiroe, Naotsugu, and Akasuki join together to survive.
Yen Press has licensed both the novel series and the manga adaptation by Kazuhiro Hara. Sentai Filmoworks licensed both seasons of the anime adaptation.

Sword Art Online: Phantom Bullet and Sword Art Online: Mother's Rosario adapt the third and fourth arcs of Reki Kawahara's Sword Art Online light novels, respectively. Kadokawa shipped the first volume of Phantom Bullet in September, and Mother's Rosario in December.
Yen Press has also licensed the original light novel series, the Sword Art Online: Progressive novel series, and the Sword Art Online: Aincrad, Sword Art Online: Fairy Dance, and Sword Art Online: Girls Ops manga. Aniplex of America releases the anime adaptations.

Milan began Demonizer Zilch (Kamigoroshihime Zilch) in September and Kadokawa shipped the fist compiled volume in March.
The story follows a young man who feels trapped by past memories and often has bad dreams. Then several mysterious girls with special powers appear before him.

Shinjirō launched the Taboo-Tattoo battle action manga in Comic Alive magazine from Kadokawa's Media Factory imprint in November 2009, and Kadokawa will ship the 10th compiled volume later this month.
The manga follows Justice Akazuka (nickname Seigi), a young man who is good at martial arts. Seigi rescues a homeless old man on the street one day from some thugs, and the man gives Seigi an object that imprints a tattoo on his palm. However, it is not an ordinary tattoo, but a special weapon that gives Seigi supernatural powers such as warping space-time. Seigi then meets a female American agent named Ijii, whose duty is to recover the tattoos. Seigi decides to help her and gets wrapped up in a cross-national conspiracy.
An anime adaptation of the series is in the works.

Moriki's How to Raise a Boring Girlfriend (Saenai Heroine no Sodate-kata) manga adapts Fumiaki Maruto's light novel series. Kadokawa shipped the fifth compiled volume last month.
In the story, Tomoya Aki, an otaku who is working part-time to earn enough money to buy anime on Blu-Ray, meets a beautiful girl on his way home during spring vacation. He eventually models the heroine of his own dojin game after her. However, he finds out a month later that the girl is in fact his classmate, and he doesn't know her name. He learns that the girl — named Megumi — actually is hardly noticed by others. Tomoya also has no artistic ability or writing skills, so he asks ace of the art club Eriri Spencer Sawamura to provide the art, as well as the honor student Utaha Kasumigaoka to write the scenario. Can they produce a decent game for Comic Market?
Aniplex of America licensed the anime adaptation, which premiered in January.

Another: Episode S is a spinoff novel of Ayatsuji's Another horror novel. Yen Press will publish the novel in a hardcover edition bundled with Hiro Kiyohara's one-shot manga "Another 0."
The original story centers around a school class with a curse that causes in a string of unavoidable deaths that befall the boys and girls in that class. Yen Press also licensed the original novel.
Sentai Filmworks licensed and released the anime series.

Narita (Durarara!!) began the ongoing Baccano! light novel series with illustrations by Katsumi Enami in 2003. The series inspired an anime adaptation in 2007.
Funimation licensed the anime and describes the series:
America, 1930: Prohibition and the criminal empires it spawned are still going strong. Gang wars are a matter of course, violent death just a part of life. Even in these brutal times, however, certain atrocities stand out. What happens on the soon-to-be-retired train the Flying Pussyfoot is one of them. The fate of several warring bootlegger factions in New York is Another. That they involve undying monsters is only part of the reason why.

The first volume of Aphorism is slated for November. Kujo began the series in 2008 in Square Enix's Gangan Wing and the series transferred to Gangan Online in 2009. Square Enix shipped the 13th compiled volume in March.
In the story, Nara Shika High School seems like just any other high school on the outside. But on the inside, the students are forced to struggle for their very life, and everyday could be their last.

The first volume of Sekirei is slated for November. Gokurakuin launched the manga in Young Gangan in 2004 and will end the series with the 18th volume. Square Enix shipped the 17th compiled volume in March.
The manga's story begins when Minato Sahashi, a hapless man who has failed at getting into college or getting a love life, suddenly meets a beautiful girl named Musubi. Minato learns he can become an Ashikabi, a master of the 108 artificial, humanlike creatures in the Sekirei Project that will fight each other to their dying breaths. Musubi happens to be a Sekirei herself.
The series inspired a television anime in 2008, followed by the Sekirei: Pure Engagement sequel in 2010. Funimation has released both anime in North America.

The first volume of Saki is slated for November. The manga has been running in Young Gangan since 2006 and Square Enix will ship the 14th compiled volume later this month.
It was adapted into a 25-episode television series in 2009, and a new television anime project is launched in 2014. The spinoff manga, Saki Achiga-hen episode of side-A, also inspired an anime.
The story follows Saki Miyanaga, a mahjong player who develops a technique that allows her to play without winning or losing.

The first volume of Black Detective (Kuro no Tantei) is slated for December. Hioka began the manga as a two-part short, "Kuro no Tantei" and "Shiro no Tantei," in Monthly Shonen Gangan in 2012, then began the full series in 2013. Square Enix shipped the sixth compiled volume in June.
Yen Press describes the story:
When naïve Arata Toiro is tricked into becoming sadistic "Black Detective" Yu Kuroba's assistant, they team up to solve crimes as the "Black and White" detectives!

The first volume of Aoharu x Machine Gun (Aoharu x Kikanjū) is due out in December. NAOE began the series as a two-part short and then premiered the full series in Square Enix's GFantasy magazine in January 2013. Square Enix shipped the seventh compiled volume in June.
The manga follows high school student Hotaru Tachibana, a girl disguised as a boy. Through strange circumstances she finds herself drawn into the world of survival games by a host, Masamune Matsuoka. The two form a team with ero-manga artist Tohru Yukimura and aim to be the be the best in Japan.
The anime adaptation from Brains Base premiered earlier this month.

The first volume of Corpse Princess (Shikabane Hime) is slated for November. Akahito's manga about Makina Hoshimura, a undead girl who hunts down 108 corpses in order to go to heaven launched in 2005 and ended in September after 23 volumes.
In 2008 and 2009, studio Gainax adapted Yoshiichi Akahito's manga Shikabane Hime into two anime titles: Shikabane Hime: Aka and Shikabane Hime: Kuro. The series was licensed in North America by Funimation in 2008 with the title Corpse Princess.

The first volume of Crimson Prince (Kurenai Ōji) is slated for November. Kuwahara launched the manga in Monthly Shonen Gangan in 2007, and the manga inspired a drama CD. Square Enix published the 16th compiled book volume of the manga in August. The series went on hiatus in March due to the author's health, and the 17th volume was delayed indefinitely.
The manga's story begins when Kōjirō Sakura, a demon prince, goes to the human world to take human souls. He ends up meeting a girl, Hana Koumeda, and living with her, and who begins to change his heart.

The first volume of Renaissance Eve is slated for December. Itou began the series in Monthly Shonen Gangan in 2012 and Square Enix shipped the fourth compiled volume in October.
The story follows people who have "Strange Blood," blood types that bestow special abilities. Chiaki Kaminaga has blood type "C" for "clairvoyance" and his friend Kaguya Daidōji has blood type "D" for "death."
---