News

Altair: A Record of Battles Anime Casts Kazuya Nakai, Kouki Uchiyama

posted on by Rafael Antonio Pineda
---
The official website for this summer's television anime of Kotono Katō's historical fantasy manga Altair: A Record of Battles (Shōkoku no Altair) revealed new cast members and a visual on Monday.

The new cast members include (Note: character name romanizations are not official.):
Kazuya Nakai as Balaban, the third generation Sultan of the Mizrak Devleti, a vassal and core state of the Greater Turkiye Devleti. He has an aggressive personality, but a great capacity for warcraft. He takes great pride in his appearance, and the ranks of his personal Yeniçeri guard are filled only with handsome soldiers. Mizrak's vassalge to Turkiye causes him great consternation.

Kouki Uchiyama as Beyazit, the younger brother of Sultan Balaban of Mizrak, a vassal lord of Greater Turkiye. He is a Bey, and Kulak ("ear" or intelligence official) of Liman, Turkiye's sole port city. He respects his older brother, but an incident drives a permanent rift between them.

Ai Kayano as Ayşe, the daughter of Sultan Fatma of the Balta Devleti, a vassal state of Greater Turkiye. She is the niece of both Sultan Baraban and Beyazit, and has long held feelings for Beyazit. She is strong willed, and possessed of good judgement, but this sometimes makes her act boldly beyond her position.

Nobunaga Shimazaki as Orhan, the son of Sultan Selim of the Kiliç Devleti, a vassal state of Greater Turkiye, and the betrothed of Ayşe. He is cheerful but soft-hearted, and Ayşe often calls him a crybaby. He distances himself from both war and statecraft.

Nobuhiko Okamoto as Ismail, the 45th son of Sultan Uzun of Biçki Devleti, a vassal state of Greater Turkiye. Keen and hungry for profit, he was raised in the Jin company as its successor. After the Jin company hires the Orkesta mercenary band, he is able to use them for information gathering.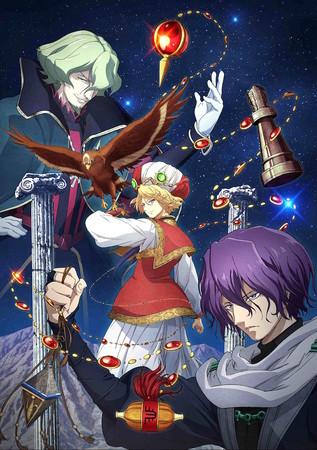 The anime stars: (Note: character name romanizations are not official.)
Ayumu Murase as Mahmut
Makoto Furukawa as Zaganos
KENN as Kyros
Katsuyuki Konishi as Sleiman
Kenjiro Tsuda as Rui
Kenichi Ogata as Khalil
Junichi Suwabe as Abiriga
Yu Kobayashi as Lelederik
Takahiro Sakurai as Graratto
Takuya Satō as Ibrahim
Yōko Hikasa as Shara
The series will premiere on July 7 in the late-night Animeism block of the MBS, TBS, and BS-TBS channels. The series will run for two cour (two quarters of a year).
Kodansha Comics released the first volume of the manga digitally in English on March 21, and it describes the story:
For generations the Turkiye Devleti and the Balt-Rhein Empire have stood in stern opposition to each other. Then one night, when an imperial minister is found assassinated, the two nations are plunged into a potentially explosive situation. As the generals of Turkiye's council cry for war, Mahmut comes to discover the devious truth behind the assassination. Thus the young pasha's battle for his country, peace, and trust in his fellow man begins!
Kazuhiro Furuhashi (Getbackers, Rurouni Kenshin TV series and OVAs, Mobile Suit Gundam UC) is directing the project at MAPPA (Kids on the Slope, Yuri!!! on Ice, In This Corner of the World). Noboru Takagi (Durarara!!, Baccano!, Kuroko's Basketball) is handling the series composition, Toshiyuki Kanno (Garo the Animation, Black Blood Brothers) is the character designer, and Takashi Igari (episode director of The [email protected], Punch Line) is the assistant director. Ryo Kawasaki (Fate/Grand Order: First Order, Luger Code 1951, Reikenzan: Eichi e no Shikaku) is composing the music.
The rock band Sid is performing the anime's opening theme song "Rasen no Yume" (Spiral Dream).

Katō launched the manga in Kodansha's Monthly Shonen Sirius magazine in 2007, and the 18th compiled book volume shipped on January 17. The 19th volume will ship on June 23. The series inspired the Shōkoku no! four-panel manga on Sirius' official website in 2012. The magazine serialized Shiina Soga's Shōkoku no Altair-san (Altair of the Tiny Nation) spinoff manga from 2012 to 2013, and Hirokazu Kobayashi and Chika Katō's Shōkoku no Altair Kaiden Tōkoku no Subaru spinoff series launched this past January. The first compiled book volume of Shōkoku no Altair Kaiden Tōkoku no Subaru shipped on January 17, and the second volume will ship on June 23.
Source: MoCa News

---