News

Rock Band Sid Performs Altair: A Record of Battles Anime's Opening Song

posted on by Egan Loo
Anime to premiere on July 7 in late-night Animeism block
---

The rock band SID is performing the opening theme song for this summer's television anime of Kotono Katō's historical fantasy manga Altair: A Record of Battles (Shōkoku no Altair). The anime's website also announced that the anime will premiere on July 7 in the late-night Animeism block of the MBS, TBS, and BS-TBS channels.
SID created the new song "Rasen no Yume" (Spiral Dream) specifically for the television anime. The band's vocalist Mao wrote that he thinks his band was able to create a "cool song with a sense of tempo" that matches the story after poring through the manga. The song's CD single will go on sale on August 2 in three versions (a limited first pressing with a DVD, a standard edition, and a limited standard pressing with an anime illustration).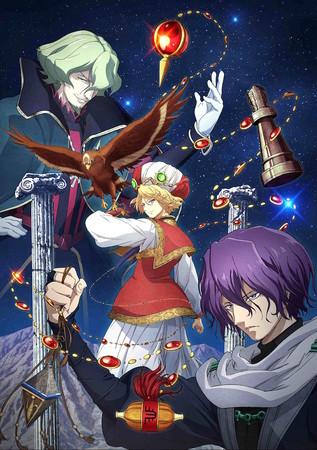 The manga's story centers on Mahmut, a young member of Türkiye Stratocracy's council who holds the political and military title of Pasha. The council's combination of warmongers and pacifists divide it. The threat of war and danger from the belligerent Empire put Türkiye's safety at risk. As the country's youngest military leader, Mahmut is determined to keep the peace. But with so much at stake, a long history of enemies and alliances draws the young man far into a political world he hopes to keep in check. The Pasha's journey is not easy, and war may prevail despite his efforts.
The show stars: (Note: character name romanizations are not official.)
Kazuhiro Furuhashi (Getbackers, Rurouni Kenshin TV series and OVAs, Mobile Suit Gundam UC) is directing the project at MAPPA (Kids on the Slope, Yuri!!! on Ice, In This Corner of the World). Noboru Takagi (Durarara!!, Baccano!, Kuroko's Basketball) is handling the series composition, Toshiyuki Kanno (Garo the Animation, Black Blood Brothers) is the character designer, and Takashi Igari (episode director of The [email protected], Punch Line) is the assistant director. Ryo Kawasaki (Fate/Grand Order: First Order, Luger Code 1951, Reikenzan: Eichi e no Shikaku) is composing the music.
The rest of the staff includes:
The series will run for two cour (two quarters of a year).

Katō launched the manga in Kodansha's Monthly Shonen Sirius magazine in 2007, and the 18th compiled book volume shipped on January 17. The series inspired the Shōkoku no! four-panel manga on Sirius' official website in 2012. The magazine serialized Shiina Soga's Shōkoku no Altair-san (Altair of the Tiny Nation) spinoff manga from 2012 to 2013, and Hirokazu Kobayashi and Chika Katō's Shōkoku no Altair Kaiden Tōkoku no Subaru spinoff series launched this past January. The first compiled book volume of Shōkoku no Altair Kaiden Tōkoku no Subaru shipped on January 17.
Kodansha Comics released the first volume of the manga digitally in English on March 21.
Source: Animate Times
---