News

Garo: Kaminokiba Live-Action Film's Full Trailer Streamed

posted on by Crystalyn Hodgkins
Film focusing on Ryūga opens in Japan on January 6
---
The official website of the Garo franchise began streaming a trailer for the upcoming Garo: Kaminokiba live-action film on Wednesday. The site also revealed a new poster.

The film will open in Japan on January 6, and stars:
Wataru Kuriyama as Ryūga
Miki Nanri as Rian
Sakina Kuwae as Ryūme
Miyavi Matsunoi as Amily
Tomohito Wakizaki as Daigo Akizuki
Moka Komatsu as Haruna
Shigeru Izumiya as D Ringo
Momoko Kuroki as Yukihime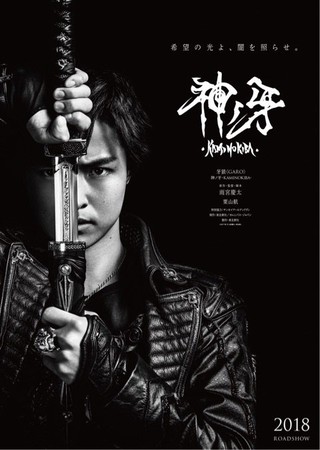 The film will focus on Ryūga Dōgai. Franchise creator Keita Amemiya is directing and scripting the film. JAM Project is returning from previous Garo installments to perform the film's opening theme song "Kaminokiba ~The Fang of the Apocalypse~."
The live-action Zero: Dragon Blood series, the newest entry in the franchise, premiered on January 6. The franchise is also getting a new live-action film focused on Raiga Saejima titled Garo: Yuena no Tabibito. The film is also planned to open in 2018.
The Garo the Animation and Garo: Crimson Moon television anime aired in 2014 and 2015, respectively, and Funimation Entertainment streamed both series. Funimation has also released both series on home video. Garo: Divine Flame, a film sequel to Garo the Animation, opened in Japan in May 2016. The latest anime entry in the Garo franchise, Garo -Vanishing Line-, premiered on October 6, and Crunchyroll is streaming the series with English subtitles. Funimation began streaming the series with an English dub on October 19. Garo: Crimson Moon is also getting an anime film project.
Section23 Films' Kraken Releasing brand announced in October 2016 that it has licensed the original live-action Garo series. The company released the first 13 episodes on Blu-ray Disc on October 17. HDIVE began streaming the series in June. Kraken Releasing announced last month that it will release the live-action Garo: Kiba - The Dark Knight! (Kiba ~Ankoku Kishi Gaiden~) special on Blu-ray Disc on February 20. Kraken Releasing also plans to release other installments in the Garo franchise.
The first 25-episode live-action series premiered on October 7, 2005 and has spawned multiple live-action films and television series.
Source: Eiga Natalie
---