News

Compile Heart Reveals Ryūsei no Varnir PS4 RPG for October

posted on by Rafael Antonio Pineda
Moero Chronicle's
Makoto Kitano
directs game with 5 character designers
---
Compile Heart revealed a new role-playing game titled Ryūsei no Varnir: Ecdysis of the dragon (Varnir of the Dragon Star: Ecdysis of the dragon) on Wednesday, and opened a website for the game on Thursday. The site is streaming a teaser video for the game, showing the game's staff and cast, and teasing the game's story.
Compile Heart teased a new game project with a "Witches x Dragons" theme on Tuesday.

The video begins with a proclamation commanding witches to consume dragons to live, and teases the story as being set in "a world where the bones of dragons tower over all," and centering on "a boy who possesses the power of witches, and witches who fight against the dragon's curse."
The game will ship in Japan for the PlayStation 4 on October 11.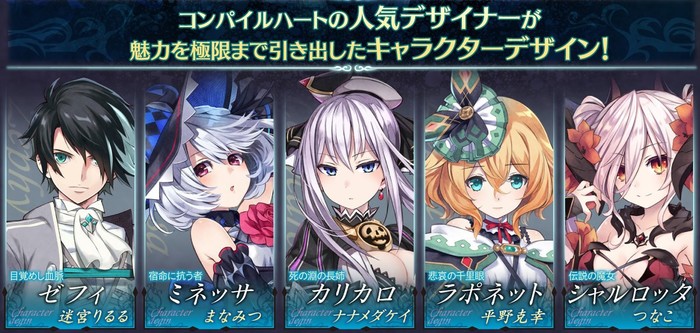 The game has multiple character designers, who each designed a different character. The game's cast and character designer are as follows (from left to right in image above):
(Note: character name romanizations are not official)
Daiki Abe as Zefy (designed by Riruru Meikyū)
Sayaka Senbongi as Minessa (designed by Hyperdimesnion Neptunia's Manamitsu)
Ayaka Fukuhara as Karikaro (designed by Mary Skelter and Death end re;Quest's Kei Nanameda)
Hisako Tōjō as Laponette (designed by Record of Agarest War and Genkai Tokki's Katsuyuki Hirano)
Sachika Misawa as Charlotta (designed by Fairy Fencer's Tsunako)
Compile Heart president Norihisa Kochiwa is credited as the game's producer. Makoto Kitano (Moero Chronicle) is directing the game. Falcom is credited for "dragon cooperation." Motoi Sakuraba (Tales of Zestiria, Valkyrie Profile, Star Ocean) is composing the game's main theme and battle music. Toshiaki Takayama (Dragon Drive, Valkyria Revolution) is credited for "giant dragon design."
Those who pre-order the game will get a soundtrack CD of the game's battle music, as well as one of five different character illustration shikishi signed by one of the game's character designers. The game will also get a limited edition that includes a visual book, five short story booklets for each of the five main characters, clear file illustrations, as well as a CD of voice performances by the main characters' cast members.
Sources: Compile Heart's official Twitter account, Ryūsei no Varnir's official website, Gamer
---