JapanFiles.com Partners with Spice Records for Orange Range and sodopp
January 15, 2009 - JapanFiles.com announces a partnership with Spice Records to release two early ORANGE RANGE albums and the newest release from all-girl-punk-trio and SXSW favorites sodopp.
Now on sale:
ORANGE RANGE - Orange Ball
ORANGE RANGE - Michishirube / Midnight Gauge
sodopp - POP RIDER
sodopp - Lookin' Color 8
ORANGE RANGE Bio:
ORANGE RANGE is a Japanese hip-hop and rock band hailing from Okinawa. They started when childhood friends, Kitao "Kat-chan" Kazuhito (former drummer) and Hiroyama Naoto (guitarist) got together and decided to form a band. They then recruited Miyamori Yoh (bassist), Hokama Hiroki (mid vox), Yoh's brother, Ryo (low vox) and Ganeko Yamato (high vox).
In 2002, they signed under Spice Music and released their first mini-album, Orange Ball, which carries their single, Michishirube. In 2003, they signed under Sony Music and released two singles, Kirikirimai and Shanghai Honey, in which the later debuted in #5 in the Oricon charts. After that, they gained even more fame when their next single, Viva Rock, was featured as the third ending theme song for the hit anime Naruto. Later in that same year, they released their first major album, 1st Contact. Through the years, their songs were featured in TV dramas, anime, commercials, movies (including the Hollywood hit 2005 Fantastic Four) and even major events like the 2006 FIFA World Cup in Germany.
sodopp Bio:
sodopp was originally formed in Kagoshima in 1999. After a member change, they settled on the current lineup of Satoko Kojima (vocals, guitar), Ayano Yamashita (bass, vocals), and Seina Yoshimori (drums, vocals). In 2002, sodopp won 2nd place at the "teens' festival" of Southern Kyushu. The band began to build their musical career opening for POLYSICS, touring Kyushu extensively and organizing their own gigs, which lead to sign Spice Records in 2006. sodopp's debut album "POP RIDER" earned heavy airplay on FM Kagoshima, a very rare support for newcomers. First released only in Kagoshima, its sales spread to Kyushu and Okinawa, then throughout Japan in August of 2007.
In March of 2008, sodopp played their first USA show as part of Japan Nite at SXSW (Austin, Texas, USA) along with avengers in Sci-Fi, detroit7, and ketchup mania. After going back to Japan, sodopp performed at "Sotsu-Fes. 2008," the Universal Studios Japan seventh anniversary special live (other guests: Ai Otsuka, Chatmonchy, FUNKY MONKEY BABYS, GO!GO!7188, Aqua Timez). sodopp even sold out their first solo gig at the band's home venue, SR HALL in Kagoshima.
Their second album "Lookin' Color 8" was released on August 27, 2008.
Be on the lookout for more Spice Records releases in the coming weeks on JapanFiles.com, including All Japan Goith, the do-nuts, Dirty Old Men, Atomic Poodle, and more.
sodopp Links!
sodopp on JapanFiles.com - http://www.japanfiles.com/sodopp
sodopp Official MySpace - http://www.myspace.com/sodopp
sodopp Official Website – http://www.sodopp.com
sodopp Videos!
sodopp - Real - http://jp.youtube.com/watch?v=m6LeK96YB68
ORANGE RANGE Links!
ORANGE RANGE on JapanFiles.com - http://www.japanfiles.com/orangerange
ORANGE RANGE Official Website – http://or.spicemusic.jp/top.php
About JAPANFILES.COM:
Supporting Japanese artists since 2004, JapanFiles.com specializes in MP3 sales and media promotion for Japanese music, with over 250 indie and major bands reaching their USA fans - rock, hip-hop, punk, and techno! All downloads are DRM-free and only 99 cents each!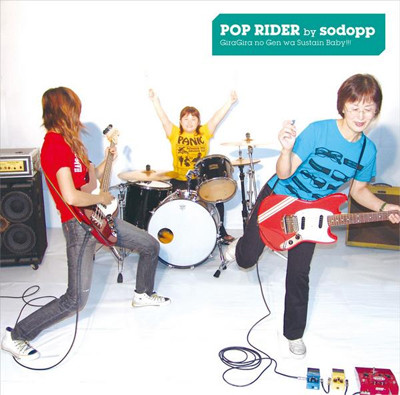 ---