Pico World Expands with Hatsune Miku Fashions
Pico World brings official Hatsune Miku items to Virtual World and Social Game Players

San Francisco, California, November 24, 2011– Hatsune Miku's Crypton Future Media and CyberAgent America today announced a collaborative partnership to expand the Hatsune Miku brand to Pico World players worldwide. Beginning today, limited edition Pico World Hatsune Miku virtual goods are being released in partnership with Crypton Future Media, with several of Crypton Future Media's premier characters including: Hatsune Miku, Kagamine Rin, Kagamine Len, and Megurine Luka. Pico World players and Hatsune Miku fans will be able to enjoy official Hatsune Miku virtual items within Pico World, a virtual world service with millions of users worldwide.
Pico World will be bringing items, designs, and styles designed in collaboration with Hatsune Miku and Crypton Future Media, Inc. to allow users to express themselves online with the style and fashions of characters Hatsune Miku, Kagamine Rin, Kagamine Len, and Megurine Luka. Items include: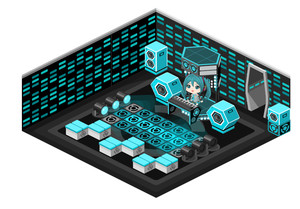 Hatsune Miku Style Outfit
Hatsune Miku Style Furniture
Hatsune Miku Wig and Head Phone
And many others!
"Partnering with Crypton Future Media will allow us to bring the exclusive Japanese styles, and more importantly the Hatsune Miku brand to fans worldwide," said Toshimichi Namba, Executive Vice President of CyberAgent America, Inc.
Come express yourself with the free-to-play virtual world service, Pico World, on Facebook. The latest Japanese styles and fashions are readily available at: http://apps.facebook.com/amebapico/.
What is "The HATSUNE MIKU Movement?"


HATSUNE MIKU is singing synthesizer software for Windows developed based on the voice of a Japanese voice actress Saki Fujita. Just typing in lyrics and melodies on a computer screen enables users to create synthesized singing voice.
The HATSUNE MIKU MOVEMENT have been covered by major internet media and won a variety of awards. At present, HATSUNE MIKU is active in various fields moving beyond the bounds of software – you can see her CDs, DVDs, figures, books, video games and live performance with computer graphics technology. For more information, please visit: http://www.crypton.co.jp/miku_eng
About CyberAgent America
CyberAgent America, Inc. was established in February 2008 as a fully owned subsidiary of Tokyo based CyberAgent. With extensive networks and over 10 years of experience in the Japanese internet industry, CyberAgent America is in a position to forge Japanese internet services in to American market, taking advantage of synergies between the CyberAgent group. For more information, please visit http://www.cyberagentamerica.com/.
---