×
remind me tomorrow
remind me next week
never remind me
ANN Newsletter • Can't visit ANN every day? Get the week's biggest and most interesting stories in your inbox every Sunday!
read more
New People Entertainment Celebrates Gantz II: Perfect Answer Release with San Francisco Screenings
Exciting Concluding Chapter Of Kinetic Japanese Sci-Fi Film Epic Based On Popular Manga Series Released On DVD/Blu-ray; NEW PEOPLE In San Francisco To Screen GANTZ I and GANTZ II On January 14th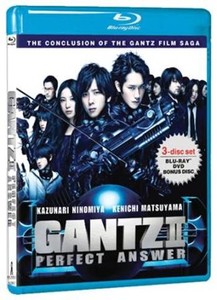 San Francisco, CA, January 4, 2012
–
NEW PEOPLE Entertainment
celebrates the recently announced release of
Gantz II: Perfect Answer
on DVD/Blu-ray with a special series of screenings of the entire GANTZ film saga on Saturday, January 14th at the S.F. Film Society | NEW PEOPLE Cinema located in San Francisco's Japantown. Tickets are $10. Additional ticket and film info is available at:
www.newpeopleworld.com/films
.
GANTZ (Dubbed) 1:00pm
Gantz II: Perfect Answer (Dubbed) 4:00pm
Gantz II: Perfect Answer (Subtitled) 7:00pm
All those attending the screenings of Gantz II: Perfect Answer will receive a free full-color GANTZ poster. A special ticket bundle is also available for $25 (DVD) or $30 (Blu-ray) that includes a movie pass, poster, and either the DVD or Blu-ray release.
How will we face the end? The GANTZ saga meets its ultimate conclusion in Gantz II: Perfect Answer, which offers an intensely gripping story-line yet to be known to even readers of the original manga series. Determined to resurrect his friends who have died on previous missions, Kei and other members trapped in the world of GANTZ aim to score the 100 points needed to break through and regain their freedom. But with the emergence of a mysterious man investigating the Gantz members, Gantz begins to act up and the next target shocks the members. Some fight for love, some for justice but what will each member sacrifice?
GANTZ and Gantz II: Perfect Answer are based on a popular manga series created by
Hiroya Oku
. The ongoing 31-volume sci-fi action epic has sold more than 16 million copies in Japan and is published in North America by
Dark Horse Comics
. The live-action films star leading Japanese actors
Kazunari Ninomiya
(Letters from Iwo Jima) and
Ken'ichi Matsuyama
(
Death Note
,
Detroit Metal City
).
Kazunari Ninomiya, best known in America for his role in Clint Eastwood's 2006 blockbuster, Letters from Iwo Jima, is both an actor and a singer. He is also world-renowned as a member of the Japanese boy band "
Arashi
," which topped Japan's music charts in 2009 with the three best-selling singles.
Ken'ichi Matsuyama is currently one of the most sought-after actors in Japanese film and he has won several awards including Japanese Academy Awards Best New Actor (2007) and Most Popular Actor (2009). Matsuyama is widely recognized for his part as L in Death Note (2006),
Death Note II: The Last Name
(2006) and
Death Note: L, change the WorLd
(2008) and also for his portrayal of Johannes Krauser II in the outlandish rock and roll comedy, Detroit Metal City (2009).
For more information on GANTZ and other NEW PEOPLE Entertainment films, please visit:
www.newpeopleworld.com
---