MangaGamer Announces Release of Tick Tack Demo Version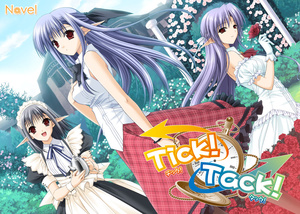 March 1st, 2013--We at MangaGamer are proud to announce the release of Tick Tack's Demo Version!
Rin, Nerine, Mayumi, and Itsuki are thrown back in time into the World of the Devils, right before Forbesii and Sage get engaged, and manage to mess up the timeline! Will you put things back in order, or make them worse?! Will you fix the broken timeline, or will you be too busy enjoying the girls around you?! It's up to you in this brand new game from Navel in the Shuffle universe!
The
trail version is available now
on our website!
http://www.youtube.com/watch?v=a5FCsLqbF3s
Tick Tack
The story begins one holiday. During a calm afternoon, Rin's group takes notice of a magical item in Nerine's room, and it is accidentally activated during a fuss caused by Itsuki and Mayumi. The four of them: Rin, Nerine, Itsuki, and Mayumi, are sent to the World of the Devils, 20 years in the past. The two girls they meet there will change history in a big way.
The girl who originally should have become Nerine's mom.
By wrecking a single vital conversation between her and the King of the Devils, a change in the future occurs. An opportunity is created between the King of the Devils, and a girl he was never meant to marry. And so, Nerine is caught in the aftereffects of that new possibility.
They can't return to the modern day like this! All four of them band together to return history to the way it should be. A mysterious encounter within the recurring, wildly swinging scales of history. That is where Rin will discover a history he never knew.
Tick Tack
Manufacturer: Navel
Genre: Adventure
Price: €29.95
OS: Windows XP(32bit), Windows Vista(32bit), Windows 7(32bit)
Text Language: English
Voice Language: Japanese
Age Rating: 18 and over
ABOUT
MANGAGAMER.COM
MangaGamer.com is the world's first legal download site for English translated Visual Novels. Since its launch in July 2008, it has offered services where fans can download and enjoy popular Visual Novels such as minori's
ef -a fairy tale of two
and OVERDRIVE's
Dengeki Stryker
right from their home. Don't forget to visit us on
Facebook
and
Twitter
!
---
discuss this in the forum (1 post)
|