September Issue of World's 1st Digital Manga Magazine "COMICLOUD" On Sale Soon
BookLOUD Inc. simultaneously releases the September issue of Monthly COMICLOUD (Vol.4, No.9)—the world's first digital manga magazine that entered publication in July 2010—worldwide on September 27, 2013 for the Kindle Paperwhite, Kindle Fire/Fire HD/Fire HD 8.9" and Android.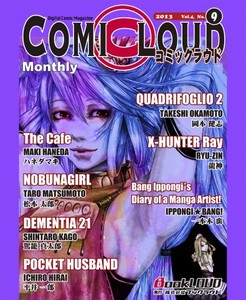 Cover illustration is made by Maki Haneda. "THE CAFE" 'Allow me to grant you a wish.'-- What is your answer?
Product Details
Title: COMICLOUD Vol. 4, No. 9
Genre: Digital Manga Magazine
Specs: Monolingual English & Japanese editions
Pages: 112 pages
Price: US$4.99
Hit Manga Series!
QUADRIFOGLIO 2 by Takeshi Okamoto
Koji, having recovered from his sickness, meets Yotsuba again. We've all thought of him as the bad guy, but he's got some surprising things to say. Meanwhile, what tomorrow will Yotsuba make for herself? Find out in this final episode of Quadrifoglio 2. The books (Vol.1 - Vol.4) have been released
DEMENTIA 21 by Shintaro Kago
Yukie Sakai lost her job and sled into debt. Then she was approached by the Organization for a Proper Population Pyramid. What are they trying to achieve? So that was the reason for the collapse of the pension system and increased medical expenses?! A controversial work showing the dark side of Japan... haha, that sounds so corny! The books (Vol.1 - Vol.2) have been released.
X-HUNTER RAY by Ryu-zin
After taking out al-Dolbel, Miabandul is now scheming up a way to make sure Ray never tells anyone about his treachery. Meanwhile, Maria receives a message straight from her mother, Milia... Ray puts on an awesome display of raw power! This is what X-Hunter Ray is all about.
IT'S BANG IPPONGI' S DIARY OF A MANGA ARTIST by Bang Ippongi
Bang-chan is contemplating about the difference between gag and comedy manga. And her conclusion is...? "The character must not be superior to the reader." Am I the only one thinking that this doesn't apply only to manga, but to all kinds of human relations?! This is part 2 in Bang-chan's mini-series about drawing manga!
POCKET HUSBAND by Ichiro Hirai
Rintaroh refuses to indulge Maria's selfish desires, but then she counters by ordering the execution of Rintaroh's dear Michiko... This slapstick chapter of Pocket Husband is reaching its climax! Can Rintaroh return safely to his dear wife Michiko?
NOBUNA-GIRL by Taro Matsumoto Sarsha interrupted the fight between Azuba and Kakura. But this wasn't to settle things with Azuba... I was surprised about the love affair between Azuba and Sarsha, but an even stronger swordmaster is coming?! I wonder if there's an end to this fight...
THE CAFE by Maki Haneda
Mami has inadvertently killed her stalker as he attacked her. Then a strange woman appears out of nowhere offering to grant her a wish... Maki Haneda has done it again! You never know where his horror stories are gonna go. I'll write no more! I don't want to spoil it for you.
Official Website
http://www.comicloud.net/
About BookLOUD Inc.
BookLOUD Inc. is dedicated to spread the excellent Japanese entertainment content around the globe! We are Japan's first digital publisher aiming to offer a new place where people can engage in social communication through e-books.
---