×
remind me tomorrow
remind me next week
never remind me
Subscribe to the ANN Newsletter • Wake up every Sunday to a curated list of ANN's most interesting posts of the week.
read more
Virtual Songstress IA to Premiere at NY Comic Con 2014
Virtual Songstress IA to premiere in the Live Concert Movie at NY Comic Con 2014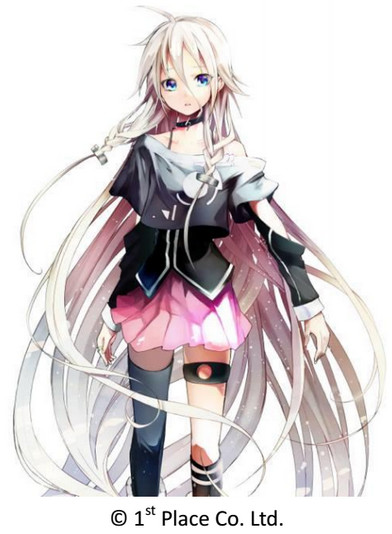 NEW YORK, NY (Sept 15th, 2014) – With Hatsume Miku opening for Lady Gaga's North American tour and the 3D hologram resurrection of Michael Jackson for the Billboard Music Awards, the world seems to have more than enough space for IA – one of Japan's latest virtual divas. IA (pronounced "ee-ah") will make her US debut at this year's NY Comic Con in the live concert movie screening to be held on October 9th at Javits Center/Room #1A05 from 5:15pm. It is from a Tokyo concert held earlier this year featuring IA and her live band that has never before been seen by an American audience. The concert movie highlights IA's sensational duet with megahit songstress, LIA, already known by US fans from her work "Tori no Uta" from the anime Air and "My Soul Your Beats" from hit anime Angel Beats!. It also features live performance with JIN, one of the most talented young musicians/producers and novelists behind the blockbuster multi-media installment known as "Kagerou Project", which is later adapted to "Mekakucity Actors" for its worldwide anime release.
At NY Comic Con, you can also visit exhibition booth #547 for IA related merchandises! DON'T MISS IT!
About IA
IA is virtual singer brought to life as a part of the VOCALOID™™3 Library on January 27, 2012. Upon release, the "IA" Vocaloid Library ranked first on Amazon's music production software, and just six short months after its release, IA managed to rake in over 10,000,000 views on Nico Nico Douga (a Japanese Social Video Site) and received glowing reviews from users and industry professionals alike. On November 28, 2012, she kicked off her work as an artist with the release of IA x JIN - "WORLD CALLING / LIVE DRIVE". Not only will fans fall for the appealing tone of IA's crystal-clear upper register, but the versatility of her vocal abilities. IA's up-tempo rock tunes and rhythmic dance music are also to be enjoyed by all. In 2013, IA made her international live debut at Tokyo Crazy Kawaii Paris in France (followed by Crazy Kawaii Taipei in 2014) and started expanding her fan base to all corners of the world.
»» VOCALOID™™ is a registered trademark of the Yamaha Corporation.
Music Videos
"Inner Arts" http://youtu.be/fJGT8cqZFRk
Written and produced by JIN, "Inner Arts" is the title track for "IA/VT -COLORFUL-"/Japanese PlayStation®Vita.
"See the Lights feat. IA" http://youtu.be/UFTfJnkYS8A
Written and produced by JIN, "See The Lights" is the lead single from IA×SUPER GT "CiRCUiT BEATS -SUPER GT 20th ANNIVERSARY-"released on 10/30/2013.
1stPlace Official Web: http://1stplace.co.jp
IA Official Site: http://1stplace.co.jp/artist/ia/
Twitter: https://twitter.com/IAWorldpage
Facebook: https://www.facebook.com/IA.WORLD.PAGE

---
discuss this in the forum (1 post)
|