×
remind me tomorrow
remind me next week
never remind me
Subscribe to the ANN Newsletter • Wake up every Sunday to a curated list of ANN's most interesting posts of the week.
read more
The Winter 2022 Preview Guide

The Case Study of Vanitas Part 2
---
What is this?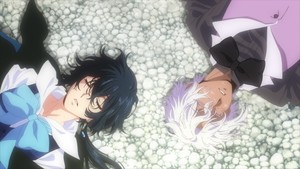 It's 19th-century Paris, and young vampire Noé hunts for the Book of Vanitas. Attacked by a vampire driven insane, a human doctor called Vanitas tempts Noé with a mad crusade to "cure" the entire vampire race. While allying with him may be dangerous, news reaches Vanitas that the Beast of Gévaudan has returned, and Noé is being brought along to investigate this phantom from the past.
The Case Study of Vanitas is based on Jun Mochizuki's manga and streams on Crunchyroll on Fridays.
---
How was the first episode?

Rebecca Silverman
Rating:
There really was a Beast of Gévaudan in the eighteenth century, and it really was described as Vanitas relates in this episode. As an added bonus, the Beast really was hunted by Louis XV's chief musketeer Antoine and has at least two Jeannes associated with it: its first victim was named Jeanne, and the woman who first saw it – and was saved when the cattle she was tending ran it off – was named Marie- Jeanne. Those folkloric/historical details, the fact that I immediately knew our heroes had traveled back in time by the clothing of the musketeers, and the allusions to Little Red Riding Hood (which has a high number of French variants) all made this easily my favorite premiere this season, and that's even without counting the fact that I was already looking forward to The Case Study of Vanitas' return.
Apart from the fact that this episode feels made for people with my exact confluence of interests, it also shows that the series has lost nothing in the break between seasons. It does pick up immediately after the end of the previous twelve episodes, so if your memory isn't at its finest, you may want to watch the recap episode that aired last week, because Noé and Vanitas (and Murr, of course) are immediately off to Gévaudan to look into the beast. Vanitas' bet that it's actually a vampire with a malnomen is on the money, but that doesn't mean that it'll be easy to fix the problem. What's more interesting is the way that Jeanne is related to the whole mess – we know that vampires are longer-lived than humans, but Jeanne has just admitted to being around in 1767, when the Beast last appeared. She stands to be Vanitas' greatest obstacle in dealing with the Beast, and that's the kind of relationship drama I'm ready for.
Visually and in terms of the previous season's character relationships, this remains right on track. The scene where Charlatan appears in the snowy forest of the past is excellently done in terms of Carnivalism, and the background, which looks like a bloody version of Van Gough's Starry Night, enhances the air of adjacent reality that is required of the Carnivalesque. Separating Noé and Vanitas right off the bat was a risk, but I think it's one that will pay off given where they were last season, and especially since Noé's been found by a mysterious man and his daughter/ward while Vanitas has lost his book. Given the nature of time travel, he could have lost it so that he can get it again for the first time, but we'll just have to wait and see. My only vague complaint is that the English and French titles don't match up – presumably the English matches the Japanese, but this episode is called "The Silver Forest" in French, not "Chance Encounter," while next week's is "The Witch's Castle" rather than "The Young Man and the Witch."
For the most part, that's neither here nor there. I'm just looking forward to diving back into this series, and it looks like it's not going to disappoint.
---

Nicholas Dupree
Rating:
Vanitas has been gone for three slutty, slutty months, but everyone's favorite, wretched little doctor is back with the pack of maladjusted vampires who misguidedly find him alluring, and they're ready to warm the hearts of viewers through the chilly winter months. Season one of Vanitas could at times feel meandering or slow-going, choosing to zero in on character moments or dole out tidbits of intrigue rather than the action spectacle one would expect from its premise. But this second half starts off with as much action and mystery as one can reasonably fit into 20 minutes, and it's a blast all the way through.
We begin with Noé and Vanitas reaching Gévaudan, searching for the legendary beast named after the region, but instead of a simple monster hunt things quickly spiral into a wild whirlwind as new and old parties arrive. Then our cast is seemingly transported to the far past, Charlatan arrives to swirl up even more chaos, and by the end of the episode nearly everything has been turned upside down for our heroes, especially Vanitas and his ever-useful book. It's a really exciting return for the show, and while I was already happy to be back with this cast and world, it made me extra enthusiastic to get back into the fray.
It helps that the cast, who made the first season the delight it was, are still in prime form. Noé's bright-eyed earnestness clashes delightfully with Vanitas' sardonic cynicism, and their belligerent chemistry is as charming as ever. Rather than the blushy, confused mess from last season's finale, we get to see Jeanne in full battle mode against the beast and it's a treat. Newcomer Astolfo is an incredibly over-the-top antagonist, but that just makes it all the more funny to watch Vanitas troll the ever-loving hell out of him with the most shit-eating grin ever drawn. It's all familiar and delightful, helping to ground what might otherwise be a chaotic mess of a premiere, and is a great reminder of why I enjoyed this show to begin with.
So yeah, Vanitas is back in fine form and promises to deliver more beautifully rendered gothic melodrama. I doubt I have to tell anyone who liked the first season to get onboard, but if you've ended this preview season thinking Winter looks a little sparse, this may be the perfect time to sink your teeth into this show.
---
discuss this in the forum (272 posts)
|
this article has been modified since it was originally posted; see change history
back to The Winter 2022 Preview Guide
Season Preview Guide homepage / archives