March comes in like a lion
Episode 18
by Nick Creamer,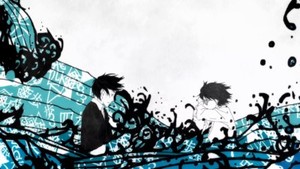 This week's March comes in like a lion started off exactly where last episode ended, with Rei once again joining Shimada for a workshop session. This time, the focus was on just one match and just one board state, as the group worked to analyze one of Shimada's Lion King defeats from the previous year. After some silly Star Wars imagery courtesy of Harunobu, Shimada asked for Rei's thoughts - but Rei found himself unable to articulate anything beyond a general sense of unease.
It's understandable that Rei would have difficulty describing his thoughts on strategy. For his whole professional career, he's worked all by himself, consulting books and poring over old matches alone. On top of that, his conception of shogi is based heavily on the "flow of the game" more than individual moves. Though his attempts to explain the game to the Kawamoto siblings leaned heavily on play mechanics, he always envisions his actual matches as things like fortresses being broken into or tides sweeping characters away. It's difficult to translate that perception into strategic advice for other people.
By forcing Rei to articulate his feelings in a generally understandable way, these workshops are already offering strong payoff to the questions of Rei's emotional well-being. But in terms of this episode, Rei's inability to connect with the others in strategic terms was mostly relevant for its contrast with the following scene. When Rei returned the next day at Shimada's urging, the two once again set up the same board state - but instead of talking strategy, Rei found himself sympathetically pressing Shimada on his feelings toward his hometown. Rei may still have a number of professional struggles, but his emotional growth has been tangible all through the show's recent episodes. Shimada has become one of the show's most sympathetic characters, coming across as passionate, vulnerable, and quietly dignified.
The articulation of their actual match was another visual highlight, as Shimada's A-level strategies saw Rei buried under a sea of plays. March has often returned to the "defeat as a drowning sensation" visual, but this episode's particular articulation of that idea was a standout, with thick ink lines and rich blue tones burying both of them in crashing waves. The focus on water made for a graceful transition from that match to Rei mulling over his thoughts in the tub, which ended in yet another solid emotional step for Rei. Far from the boy who almost napped himself to death over winter break, the current Rei's dedication to competing on Shimada's level makes it feel like both Harunobu and Shimada are rubbing off on him in a positive way.
After a charming scene with Rei and his teacher Hayashida, we next saw Rei reuniting with Hina and Momo. I liked how Rei came to terms with his relationship with Kyouko by articulating it to the sisters, and I also liked how Hina and Akari parsed the knowledge that Kyouko was his sister on very different levels. To Hina, Kyouko was merely a threat, so learning that she's his sister naturally de-fanged her worries. But Akari sees Rei more as one of her "children" than a crush or equal, so she naturally sees the unhealthy subtext of Rei's words.
The episode concluded by tying its two narratives together, with Shimada's thoughts on his hometown wrestling against Rei's ambiguous feelings on what "home" means to him. There were no answers this week, but there rarely are - families are complicated, and though Rei may be gaining more emotional confidence, he still has a long way to go. I only hope Rei has become a strong enough person to be the friend that Shimada needs.
Overall: B
March comes in like a lion is currently streaming on Crunchyroll.
Nick writes about anime, storytelling, and the meaning of life at Wrong Every Time.
---
discuss this in the forum (229 posts)
|
back to March comes in like a lion
Episode Review homepage / archives