RIGHT TURN ONLY!!
Girls On Parade
by Carlo Santos,

For those who may have wondered, yes, I did get evacuated during the Southern California wildfires, if only for 24 hours. Fortunately, my home was never under any immediate threat, but there were plenty of others who weren't so lucky.
It really puts things into perspective. When the sky is thick with the smell of armageddon, and an entire city is fleeing the forces of nature, the last thing you care about is whether some dinky Japanese comic is good or not.
---
FRUITS BASKET: ULTIMATE EDITION


Vol. 1
(by Natsuki Takaya, Tokyopop, $14.99)
FROM THE BACK COVER:
"Relive the first two unforgettable volumes of the world's number one shôjo manga in this collector's edition!
A family with an ancient curse ... and the girl who will change their lives forever ...
Tohru Honda was an orphan with nowhere to go until the mysterious Sohma family offered her a place to call home. Now her ordinary high school life is turned upside down as she's introduced to the Sohma's world of magical curses and family secrets. Discover for yourself the
Secret
of the Zodiac and find out why Fruits Basket has won the hearts of readers the world over!"
EVIDENCE FOR:
Those who are familiar with Marvel Comics will be relieved to know that "Ultimate Fruits Basket" has nothing to do with rewriting the storyline and having all-star manga-ka redraw the art. (Much as we'd like to see
Tsutomu Nihei
's take on it...) Rather, this hardback two-volume omnibus gives a big enough chunk of storyline to feel satisfying while still being in charatcer-introduction mode. Just because it's the start of the series, though, doesn't mean that it's shallow: the rivalry between princely Yuki and boisterous Kyo reaches surprising levels of introspection within the first few chapters, and the background story on family doctor Hatori is one of the most heartwrenching flashbacks ever committed to paper. Even the mysterious head of the household, Akito, achieves an ominous presence just by being mentioned in passing. A healthy dose of comedy also balances out the dramatic aspects: Kyo's violent nature makes for plenty of laughs, and the younger Sohmas like Momiji and Kagura are simply charming. This edition's larger page size enhances the liveliness and gracefulness of the art, which shines the most during those deep emotional pauses—the Sohma boys right after Tohru moves back to her grandpa's house; Hatori's recollection of his lost love. It's a great pickup for those who may have missed the Fruits Basket bandwagon the first time around.
EVIDENCE AGAINST:
The hardback binding is nice, but isn't this basically going to take up even more shelf space than two regular manga volumes? More importantly, however, the series' starting point lacks one key thing: plot direction. The character introductions and dramatic vignettes are nice, but there isn't much driving force from one chapter to the next—it's more like Tohru just farts around and meets various Sohma family members while trying to guess what their Zodiac animal is. In fact, that's also what makes her the weakest character in the cast—she's mostly a passive observer, letting other people's storylines develop while she just stands there with that Pollyanna smile, waiting for life to happen to her. If only the protagonist would actually, uh, protagonate ... The artwork also has its share of weaknesses, most of which involve the usual mainstream
shoujo
shortcomings: vague, cluttered layouts (most notably in the first volume), hard-to-distinguish characters (the best solution is to simply keep reading and get used to them), and lackluster portrayals of action (i.e. Kyo and Yuki's fights). Sure, it's a good series, but this early on, don't expect it to be perfect.
FINAL VERDICT:
This two-volume introduction to a world of intriguing characters and strong emotions isn't the most polished, but it still earns a
B
.
---
HIKKATSU!


Vol. 1
(by Yu Yagami, Go!Comi, $10.99)
FROM THE BACK COVER:
"In Earth's distant future, geomagnetic abnormaliites make every day a struggle to survive. The human race faces its greatest threat—not from aliens, meteors or global warming, but ordinary, everyday appliances! With even the most basic of machines going haywire, one man holds the hope of Earth in his hands: karate student Shota, who can beat any appliance into submission with his Repair Blow technique!"
EVIDENCE FOR:
The big joke in Hikkatsu! is that Shota's amazing repair-things-by-hitting-them technique works, oh, about 10% of the time—and somehow, it never gets old, because crazy guys smashing appliances and electronics are always funny. Think of the typical bumbling handyman, but now add in some over-the-top martial arts action, plus a future where all our worst technological inconveniences have come true, and you've got the makings of a unique action-comedy. If it's not already funny enough that Shota is a complete bonehead (check out what he does to his old karate master), then just look at the supporting cast he drags along: a loopy girl who talks to pigeons and is convinced that Shota's in love with her, and a shady entrepreneur who's dumb enough to think he can make money off of Shota's skills. Looks like the loose electromagnetic waves have been getting to our brains as well. A lively art style and quick pacing keep the comedic rhythm going, from pratfalls to one-liners to total miscommunication. The real visual treats, though, are in the backgrounds and action scenes—they're rendered in plenty of detail, making it look like a straight-faced futuristic adventure, but once you realize the silliness of what's going on, that just makes it even better.
EVIDENCE AGAINST:
Yu Yagami's brand of humor isn't going to click with everyone, and for those unlucky few, this series will turn out to be a very, very dull experience. After all, it's the dumb-and-dumber characters that make the whole story, and all they've got backing them up is a very conventional action-adventure plot. Shota's origin story plays out in Chapter 1, after which he meets the obligatory love interest, faces his first challenge, finds a willing sidekick, runs into a rival bent on revenge ... see how generic this all sounds? Basically, if you don't get "the funny" about how messed-up the characters are, all you're going to get is "the boring." The high page count per chapter also makes some stories drag out more than they really need to; it's like Yagami is trying to squeeze a couple more pointless jokes in there (Shota tries to repair Macs! Ha ha!) just to hit the page requirement. This weirded-out vision of the future seems to be so focused on the humor that it kind of forgot to brush up the other essentials of storytelling.
FINAL VERDICT:
No plot? No development? No problem! The humor and energy alone carry this one to a
B+
.
---
SCHOOL RUMBLE


Vol. 7
(by Jin Kobayashi, Del Rey, $10.95)
FROM THE BACK COVER:
"The love of Harima Kenji's life has made it clear that she will not return his feelings. Brokenhearted, Harima decides to run away and become a fisherman, sailing Japan's high seas. Once aboard, however, Harima finds himself up against mean-spirited shipmates and a brutal captain who is almost too muscle-bound to be real. Can Harima measure up?"
EVIDENCE FOR:
Hooray, another one of the
good
School Rumble volumes! This one puts Harima firmly in the spotlight, and the series is all the better for it. His wacky stint as a fisherman is simply the starting point for an even greater endeavor: entering a manga competition! (Good God, when did this turn into
Genshiken
?) Harima-as-manga-artist was always one of the funniest things about the series, but the competition deadline adds tension and plot momentum to the humor. In fact, some of that tension even falls in the romantic category as Harima has to pull several all-nighters with his artistic consultant
Yakumo
... thus giving everyone else in the school (including, of course, the love of his life, Tenma) the wrong idea. The jokes fly thick and fast, and the short chapters keep the story moving at a brisk pace. The fishing-boat scenes set the stage for some artistic flourish, but it's the childlike rawness of Harima's illustrations—behold, a self-insertion love confession scene!—that shows School Rumble at its best: pure, ridiculous fun.
EVIDENCE AGAINST:
How is it that this series continues to keep winning praise for doing the same thing over and over? Harima isn't any closer to confessing to Tenma than he was six volumes ago, and frankly, seeing the same repeated jokes of misdirection and stupidity has gotten old. Even his plan to take on a bizarre, character-building job is a replayed plot. (What was it last time ... fortune-telling? Raising animals?) Predictability is all over the place now, especially with the "everyone thinks Harima is in love with the wrong person" gag that's been circulating for who knows how many chapters. Add in the dense, cluttered paneling and filler-loaded dialogue, and what you get is an exhausting reading experience that doesn't get anywhere. Maybe focusing on Harima isn't such a good thing after all—we already know all there is to know about his character, and his situation with Tenma has been twisted in every way possible to the point where it's not fun anymore.
FINAL VERDICT:
Don't know what all the complaining is about, but much of the reason School Rumble works is because it
does
do the same thing repeatedly—with funny new twists each time. That's
B+
material right there.
---
SHINSHOKU KISS


Vol. 1
(by Kazuko Higashiyama, Tokyopop, $9.99)
FROM THE BACK COVER:
"Be careful what you wish for! Kotoko Kashiwagi is an aspiring doll maker who dreams of one day making dolls as life-like and beautiful as her idol's, the popular yet mysterious doll-maker 'Fool.' She'd also like nothing better than to meet him, but when she does, the circumstances are nothing like she imagined! First off, he kidnaps her. Second, he kisses her hand, and third, he informs her she's going to become his servant—or else!"
EVIDENCE FOR:
Rozen Maiden
taught us the wonders and delights of dollmaking—but it's Shinshoku Kiss that brings a more down-to-earth tone to the subject. Volume 1 works nicely as a "hobby" manga, showing us the tips and tricks of the craft through Kotoko's eyes. What really makes it compelling, though, is how it weaves the hobby element into a serious story about the characters: the retired artisan who could never match up to Fool, the business partners that Fool works with, and of course, Kotoko's own personal growth as a doll maker. There is, of course, a touch of magical fantasy at hand, but it's the engimatic personalities that really drive the series. Also, with the subject matter being what it is, attractive artwork is essential—and Higashiyama delivers splendidly. It doesn't take an obsessive ball-joint collector to recognize that the dolls shown here look damned good. The same might be said of the characters, who never look anything less than elegant, and the flowery backgrounds add to the aesthetic appeal. If you like pretty things, you'll like this one.
EVIDENCE AGAINST:
Despite the interesting choice of topic, this story just doesn't manage to clear that barrier between "decent" and "seriously good." Maybe it's because of the many illogical events that take place: the random kidnapping and apprenticeship of Kotoko, the random dog that grabs Kotoko's doll-in-progress in Chapter 2, the scary mysterious guy at the end of the volume. Then there's Fool's wacky magical power that he uses to put Kotoko under his control, which suddenly stops being an issue after about halfway. Honestly, it seems as if the story is charging ahead without stopping for a moment to clear up the plot holes—no, we'd rather just have Kotoko fall deeper and deeper into the mystery surrounding Fool. That's no excuse for sloppy storytelling. The impressionistic, sprawling style of the page layouts also looks more like the result of a disorganized mind rather than artistic expressiveness.
FINAL VERDICT:
Great atmosphere, great design, and an intriguing topic—if only the lackluster, wishy-washy story didn't average it out to a
C+
.
---
SUZUKA


Vol. 5
(by Kouji Seo, Del Rey, $13.95)
FROM THE BACK COVER:
"Yamato has been in love with Suzuka since the first time he laid eyes on her. But when his old friend Honoka surprises him with a kiss, he can't seem to take his mind off of her! Will hottie Honoka end up luring Yamato away from Suzuka?"
EVIDENCE FOR:
There's one thing about romance that Suzuka gets dead-on right: the mind games. It seems like everyone's playing one in this volume: Yamato fools around with Honoka despite having his heart set on Suzuka; Suzuka acts like she's not interested in Yamato even though she secretly is; and Honoka—well, crap, Honoka is the reason you should never trust the sweet, innocent ones, because they're always the most devious. It's a love triangle that's finally been set in full motion, and it's hard to stop reading when all it takes is "just one more chapter" to find out who makes the next move. The athletic competition setting adds a little subplot and symbolism too, as Yamato finds himself athletically unqualified but continues to train for the next level—which could very well be a metaphor for how he's trying to make himself worthy of Suzuka, right? And don't forget the little railway station mishap that adds a new twist to the romantic tension as well. Drawn with clean, sharp lines and scenes that shift effortlessly from bouncy comedy to wistful drama, this is one series that captures the rhythms of young love.
EVIDENCE AGAINST:
Goodness, these characters are stupid. If it wasn't bad enough that Suzuka herself is a passive-aggressive tsundere nutjob, she's also a liar about her feelings. And Yamato is in love with her
why
? It's for this reason that the romance fails at the most basic level, because if it's just going to be two idiots playing push-and-pull with each other, that's no love story—that's just overbaked teen angst. Honoka, meanwhile, is even less convincing, because she's spent the last four volumes pining like a sad little pot plant and then suddenly wins Yamato's affection by planting one kiss on him. Looking at it from that perspective, it's clear that she hasn't earned this at all. Hey, if you like soap operatic mind games, more power to you, but this is the kind of high school drama we can all live without, even in fictional form. Honoka's just a distraction for Yamato until Suzuka comes around, and with the next few stages of the storyline being that obvious, then there's really no point in reading.
FINAL VERDICT:
It's true that the characters are phenomenally stupid and the plot is completely telegraphed. But it's also true that that storytelling is addictive, well-paced and worthy of a
B-
.
---

KISSES, SIGHS AND CHERRY BLOSSOM PINK

(by Morinaga Milk, Ichijinsha, ¥857)
SUMMARY:
"
Yuri
manga-ka Morinaga Milk explores the many aspects of schoolgirl love in this collection of seven short stories. Two friends in junior high wonder if they can continue their relationship despite ending up in different high schools; a schoolyard ghost clings to a love that transcends time; an amateur writer in the lit club wonders how her romantic fantasies compare to the real thing. These stories and others reveal the ups and downs of young love."
EVIDENCE FOR:
Oh, man. This stuff is unbelievably, heart-meltingly cute—and not in the brainless
moe
-moe way, but because the feelings expressed are so honest. Morinaga's creation is a world of bittersweet monologues, longing glances, and innocence in a sailor fuku. Despite the gender restrictions, these feelings of first love are universal to everyone, and until now, no one has ever put them into such eloquent words and scenes. Not every ending is a happy one—sometimes the girl gets turned down, or she decides to keep her feelings to herself—but each short story feels complete. Surprisingly, there's even a "shared universe" going on: supporting characters from one story might show up as leads in the next, and vice-versa. It gives the whole volume a better sense of unity, without trying to force everything into a single mold. The language of emotion also comes out in the art, where screentone patterns and dreamy layouts evoke the many facets of desire, disappointment, joy, and heartbreak. This isn't just manga that you read—it's manga that you feel.
EVIDENCE AGAINST:
It may be an emotionally moving work, but that doesn't stop it from often plunging into cheesy melodrama territory. In fact, it probably does that
because
the stories are so emotionally loaded. It seems that everything ultimately hinges on some kind of dramatic confession, the most intolerable being the multi-page treatise in the final chapter. For goodness sakes, if you like a girl, just say so! Other cheap dramatic devices include the time-honored school play (why hello there,
Maria-sama ga Miteru
... and just about every other school series ever), the fine art of finger-sucking, and cooking together. Oh well, I guess it wouldn't be a heartfelt school romance if they didn't have prescribed school-romance-y things to do. Character designs aren't exactly the most creative either, drawing on the usual stable of plain Janes and long-haired beauties. Add in a whole lot of cluttered dialogue over the page and you get a yuri experience that's high on drama but only so-so in craftsmanship.
FINAL VERDICT:
True, it's not as subtle or artistic as the best of the genre, but it's definitely a satisfying read that grabs your heart in all the right places.
---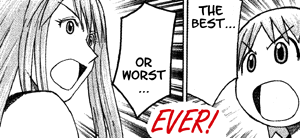 Sometimes, I just like to laugh ... at the misfortunes of others. Find out all about that in one of the
Best Manga I've Ever Read
:
SUPER CRUEL AND TERRIBLE TALES OF MANGAKA

(by Naoki Karasawa, Shogakukan, ¥714)
If
Even A Monkey Can Draw Manga
is the ultimate instruction book, then this must be the course reader. In a series of quick gag chapters, it says more about the manga industry than any pompous how-to manual or convention panel will tell you: the impossible editors and schedules that suck the life out of artists, the egomaniacs who are more in love with "being a manga-ka" than actually creating manga, the irreconcilable differences between men and women that have created Japan's comic-book gender gap. ("She draws guys screwing each other?!" "He draws pervo
otaku
fantasies?!") It's a satirical masterpiece that pulls no punches, and even more tellingly, is one of the few manga that has made me literally laugh out loud.
Admittedly, the art is simple and completely un-flashy—but that's part of the book's charm, taking things back to retro basics and saying to hell with shiny eyes and super
shounen
fighting attacks and wispy romantic heroines. Not that the art matters that much anyway: it's the sharp, cynical writing that carries this work from start to finish, right down to the silly little details like names and titles (admit it, you'd totally want to read a manga called "Mr. Poophead"). The characters and situations may be wildly exaggerated, but like all good satire, there's always that nugget of truth that makes it so darkly amusing (heck, you could even ask the
indentured servants
artists who work for Tokyopop). If, after reading such cruel and terrible tales, you still have the passion and drive to be a comicker, then congratulations ... you'll probably end up just like these poor fools someday.
---
discuss this in the forum (11 posts)
|