Shelf Life
How to be a mo-flo
by Bamboo Dong,
Some bands exist purely to be made fun of. Not because they're bad, not because they look ugly—sometimes it's just because they have a few tiny eyebrow-raising actions that mar them for life. What's too bad is that sometimes, as in the case for Japanese bands, it's only funny on one side of the ocean. Ours. Those same bands are most likely the most popular thing next to platform shoes in Japan (there one day, gone the next), and it's just our contextual view of them that makes them so unintentionally hilarious.
The example resting on the top of my mind right now is
m-flo
, a popular rap group in Japan. They're good musicians, but from my limited American perspective, they rock my boat from front to back with hearty chuckles. With their various collaborations with other artists, released in the format of m-flo Loves
Crystal Kay
, m-flo Loves Hirai Ken, etc, they give the music scene a talented dose of Run DMC and P Diddy inspired Japanese rap. Well, anyway, they have a song called Miss You by m-flo loves Yamamoto Ryuhei. It's a really good song, and extremely catchy—but I can't listen to it without laughing. In the intro, right after hearing Yamamoto sweetly croon, "DJ, play that music louder, onegai," VERBAL busts in with his line,
"Boom, clap. Boom, boom, boom, clap. Boom, clap. Boom, boom, boom, clap."
Boom clap? Welcome to Shelf Life.
Shelf Worthy

Heat Guy J Vol. #4 - Hidden Fangs
Geneon Entertainment (USA), Inc. 100 min. 4/8 $29.98 02/03/2004

With each passing volume, there's something more interesting about the show that makes you keep going back. In this disc, it's the added information that's handed to viewers, tying together a few loose ends, raising more questions, and generally sculpting more of the overarching story. As Daisuke makes plans to head to Offshore to figure out the details of his father's murder several years ago and lay to rest a piece of his past, he encounters a few barriers. With new characters to meet and reunions to be had, this series is getting more absorbing as time goes by. If you haven't seen this series yet, you might want to start at the beginning and give it a look see. It's not a masterpiece by any means, but as far as entertainment goes, it serves its purpose well.


Last Exile Vol. #2 - Positional Play
Geneon Entertainment (USA), Inc. 100 min. 2/? $29.98 02/03/2004

This stylish show is turning a few heads, and with its slick artwork and retro-modish art, it's easy to see why. While a few of the aspects in the design work against engineering common sense and design, it still gives the series a fascinating look that helps push the series along. After the broad first DVD, the second volume takes it down a step and zeroes in on our main characters. In the middle of this raging war, they have their own missions to accomplish, like making an important delivery, getting shafted, tumbling into a few fights, and getting even. Something fishy is definitely lurking in the shadows of this Great War, and like a microcosm of the political happenings, our heroes' stories are certainly getting a strong start. It's a bit slow, but none of it is pointless time-filler and it gives viewers a nice sense of where the series is heading. This is definitely a fun series and everyone should at least check it out once sometime their lives.

Rental Shelf

Superior Defender Gundam Force Vol. #01 - The Hero Arrives
Superior Defender Gundam Force Vol. #02 - New Allies
Bandai Entertainment 75 min. 1/2/? $19.98 02/03/2004

Holy crap on a stick, this show is voraciously cute. In a peaceful land, all is as happy as could be, filled with cute bunnies and lollipops. In a dark part of the galaxy though, a nefarious evil is brewing, and it's hell bent on destroying the happiness of Neotopia. Luckily, some wise-ass, whiny little smart kid lives in this land of bliss so he can deploy a slew of Bandai marketing gimmicks to deter the bad guys. Stuffed to the utter brim with cute little robots, they zip around beating back the forces of evil, all while selling an army of mini-Gundam models for kids aged 4 to 100. Targeting an audience of kids and comedy lovers, this show is pure, laugh-out loud fun. If you're one of those diehard Gundam fans that have the entire Gundam universe timeline memorized, you'll think this is the lamest thing ever invented, but if you're willing to just kick back and enjoy yourself, this'll be a fun way to beat off some free time.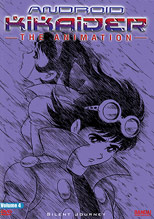 Kikaider Vol. #4 - Silent Journey
Bandai Entertainment 75 min. 4/4 $29.98 02/03/2004

This is certainly the week of Ishinomori Shotaro with the last installment of Kikaider and the first few breaths of Cyborg 009. As Kikaider ends with a boom, things really pull together and give viewers a nicely wrapped up ending with a pretty pink bow. Starting off with Saburo and his twisted mind, our heroes set out to take down Da Establishment and learn some valuable lessons about HALF (the traditional anime themes of Happiness, Ambition, Love, and Friendship). As a bit of angst and mystery get dripped into the melting pot, this series proves to be quite intriguing in all its different aspects. In the end, what's one of the most interesting things to watch is how Jiro has developed over time, and the exploration of the ideals of humans vs. robots. If you haven't been following the series though, I recommend you take a step back and check out the previous volumes first. This is just one of those volumes that work best only when compared to past episodes.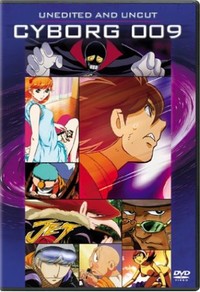 Cyborg 009 - Unedited and Uncut 1/2
Columbia Tristar Home Entertainment 198 min. 1 $39.95 02/03/2004
Cyborg 009 Vol. 1: The Battle Begins
Cyborg 009 Vol. 2: Good vs. Evil
Columbia Tristar Home Entertainment 89 min. 1/2/2 $24.98 02/03/2004

For some unknown reason, the back of each individual box (uncut set notwithstanding)screams out excitedly, "Contains four edited episodes!" and seems quite proud of the fact, to boot. Aside from being really ecstatic that this series is being released dubbed and edited only, it also breaks the precedent for having the ugliest character designs in the history of animation. Somewhere in time, nine people are kidnapped off the streets and modified into fighting cyborgs. Embodying the racial stereotype for their respective cultures, these oddly-shaped folks embark on a mission to destroy the Evil Organization that changed them into cyborgs. With a fire-breathing Chinese guy, an ex-slave Kenyan, a drunk Russian, and a whole gallery of interesting racial archetypes that only a 1960s series could offer, they set out to zip around on an exciting adventure meant to entertain children and chronic procrastinators. It certainly is a fun way to stave off work, but if you're the kind of person that lets character designs and animation get in the way of enjoying a series, this may not be the show for you.


Happy Lesson Vol. #1 - Mom-Ageddon
ADV Films 125 min. 1 $29.98 02/03/2004

Mom-Ageddon. Hyuk. In the event that you're living with five of your teachers, let me inform you beforehand that there's actually a term for this. It's called a "conflict of interest." And when you're a kid in a big house with your own collection of beautiful women, it's called "overdone." Granted, these females don't spend all their free time trying to sneak into the kid's pants, which is certainly refreshing, so that's a big plus. But even so, it's a brainlessly entertaining show, and if shows that follow the one guy vs. several women trend are your thing, I don't see why you wouldn't run out and watch this already. To cut a long story short, this show features an orphan who inherited a ridiculously big house from his parents. Because they feel sorry for him, five of his teachers have adopted him and now act as his "mamas." They embarrass him, give him advice, hook him up with girls, and in short, they do every funny thing you could possibly dream up for such a similarly themed series. If it's an energetic show you're looking for, Happy Lesson's it.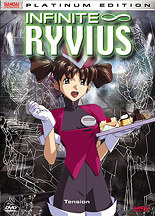 Infinite Ryvius Vol. #3 - Tension
Bandai Entertainment 100 min. $29.98 02/03/2004

When I first started this series, I could barely keep awake. With the expositional information that just wouldn't end (accompanied by my snoozes), interrupted every so often with the bass beats of random hip hop ditties, it just wasn't fun. Now with the third volume marching along, things are really starting to pick up. After spending some time on the red planet blowing stuff up and hurting things, the crew have been branded as terrorists. Naturally, people don't like them anywhere, and they sure as hell aren't going to let them stay on Mars. With that, the kids have to go out, find a place to stay, and for the first time, really test the boundaries and limits of what it means to be a team. These episodes really dive into the relationships between the characters, giving the series a lot more pizzazz than they ever attempted to have before. After viewers are prompted to care about what happens to these kids, the fights are definitely much more interesting after that. Give it a rental; it deserves a second chance.

That's it for this week! See you next time!
---