Shelf Life
Saber Teeth
by Bamboo Dong,

In other tidings, I hope everyone had a happy transition between the years! Hopefully no windows were broken, and no time was spent in any kind of jail. And now that we're all back together again, like a cuddly 50s sitcom family, we can get back to business. It's a short one this week, but I'll make it up to you.
Welcome to Shelf Life.
Alright, thanks for reading, and see you next week!

To kick off the year, Michael's wall o' anime and manga are displayed proudly below.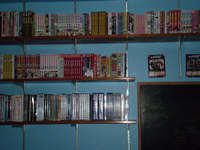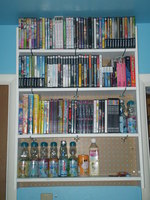 Very excellent.
Want to show off your shelves? Send your jpgs to shelflife at animenewsnetwork dot com. Thanks!
---
discuss this in the forum (38 posts)
|