×
remind me tomorrow
remind me next week
never remind me
Subscribe to the ANN Newsletter • Wake up every Sunday to a curated list of ANN's most interesting posts of the week.
read more
Shelf Life
The 2.22nd Coming
by Erin Finnegan,

Anime Boston
, which is April 22nd-24th , but this year we have a friends' wedding to go to on the 23rd. Don't worry, Bamboo will cover Shelf Life while I'm away.
Brotherhood wasn't the only franchise reboot title I watched this week.
Most of the week was revisiting old favorites, but I also checked out Vampire Knight, which I've never seen. (Coincidentally I've never seen or read Twilight…
There has been some chatter on Twitter lately (I'm @erinf on Twitter) likening me to different film reviewers. One reader has been trying to compare me to Armond White, but the more I read up on that guy, the more unsettling that sounds.
Anyway, I'll leave you with two of my favorite jokes from The Critic, and see you in two weeks with FLCL on Blu-ray.

This week's shelves are courtesy of Julian:
"Hey my name is Julian and I've only been collecting for the last 4-5 years or so. I'm proud to say that despite being 17 everything in my collection was purchased with my own money. I have around 150 DVD's (and some BD's and VHS's) as of right now. I try and buy all the series I love but I also impulse buy cheap anime or anime with nice artboxes sometimes as well, especially when some of my shows have expensive or not very good packaging (ie. Clannad). Also want to point out that I bought Galaxy Angel solely because it was recommended by a certain Mike Toole on one of his Anime Jump videos on this very website. (Anyone want to start a petition to get him to bring it back?) The smattering of posters and wallscrolls around my room come from a variety of places (con's, anime mags, etc). My all time favorite wallscroll is the Clannad one that hangs above my desk, I bought it on my first trip to Japan. I'm not a huge figure collector but I have a couple that I like alot. Most of my figures are either from Hong Kong or Japan, as I go to one of those places every summer now. I have alittle over 100% manga as well as a few years worth of Shonen Jump, about a years worth of Newtype and Megami and a shelf full of European comics such as Asterix and Obelix, Tintin and Snow, and The Adventures of Blake and Mortimer. I also play alot of games with another shelf being just devoted to them. My rarest game would probably be Blazblue Continuum Shift Limited Edition which I also bought in Japan. Thats it! Feel free to add me on PSN, XBL or MAL; my usernames is Jrittmayer. "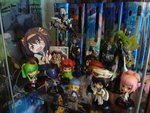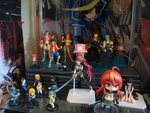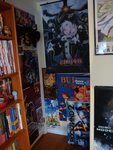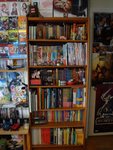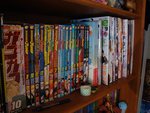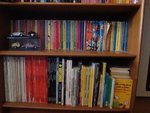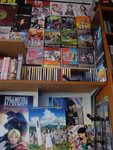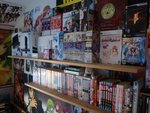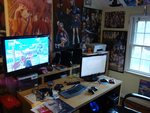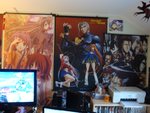 Pretty incredible, for only having started collecting 4-5 years ago!
Want to show off your stuff? Send your jpgs to [email protected] Thanks!
---
discuss this in the forum (69 posts)
|