×
remind me tomorrow
remind me next week
never remind me
Subscribe to the ANN Newsletter • Wake up every Sunday to a curated list of ANN's most interesting posts of the week.
read more
Shelf Life
TO For One
by Bamboo Dong,

Anime Expo
this upcoming weekend, so if you see me around, please say hi! We can brainstorm some survival tactics for the inevitable rise of zombies.
Having watched zombie films and TV shows for a good chunk of my life, I like to think that in the event of a zombie apocalypse, I would come out on top. With the exception of the super fast 28 Days Later running zombies, the slow ones seem like an enemy that can easily be one-upped by some cunning and not being a total dumb-ass.
For a total 180, I decided to pop in TO next, an OVA two-fer by Ping Pong director Fumihiko Sori. Its snail-like pace was pretty harsh after my zombie spree, but it turned out to be worth it.
Dear readers, thank you for reading this column. As always, it's an honor and a pleasure to write this. I hope you'll indulge me for three brief paragraphs, for something that I've been thinking about for the past few months.
In March, I went to Chicago for the Chicago Comic and Entertainment Expo. I had a good time, but one story in particular stood out that weekend, and will forever be remembered. And it didn't even happen at the convention. As I wrote back in March, my wallet and cell phone were stolen at dinner, and what ensued was a chase down the streets of Chicago after some heroin addicts, in a successful attempt to retrieve my things.
Of the friends I was with, who valiantly abandoned all caution and helped me in my time of need, one was the brave, funny, and compassionate Brad King. Even in the few hours I knew him, he lit up every room he was in, and when the chase happened, he was the first one to have my back. The kindness of strangers is often what makes this world turn, and I looked forward to spending more time with him for years to come. I was deeply saddened to learn a couple months later that he passed away in May, at the young age of 32. Few people have made such an immense impact on my life in as short of a time as Brad. I can only imagine how profoundly he touched those around him, who had the fortune of spending more time with him than I did.
As a huge fan of comic books, Brad was a supporter of the Hero Initiative, a charity that helps older comic book creators without insurance deal with their medical bills, and get back on their feet. I guess it's fitting that a fan of superhero comics would himself be so heroic, both to the people around him, and in the support that he gave others. I'm not asking that anyone donate money. I ask only that the next time you feel cynical about the world around you, to remember that there are heroes all around us, who do nice things simply because they can. If you have some spare time, check out the Hero Initiative, or stop by their booth at your next comic book convention. Brad's memorial page can be viewed here.

This week's shelves are from Paddy:
"Hey I'm Paddy and I have been collecting this junk for a good few years now. I don't have a "Big" collection compared to some people but I'm proud of what I have. My most loved piece would be my Assassin's Creed Brotherhood poster that I stole from work Muhahaha."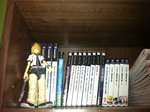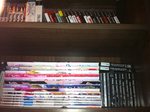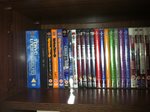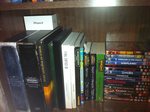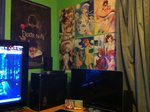 I appreciate that the email was entitled "Attack of the Posters." That should also be the name of a thriller about forum users. I'd pay $12 to see that.
Want to show off your shelves? Send your jpgs to [email protected] Thanks!
---
discuss this in the forum (58 posts)
|