×
remind me tomorrow
remind me next week
never remind me
Subscribe to the ANN Newsletter • Wake up every Sunday to a curated list of ANN's most interesting posts of the week.
read more

you
.) This will be my final Shelf Life column, as I've decided to step down. Bamboo will retake the column next week! (The Stream isn't going away, but Bamboo will tell you all about that next week.)
It's been very nearly three years now since my Shelf Life take-over. Shelf Life is a tremendous time commitment! I'm not sure how Bamboo did it for eight years. I probably spend on average 22-24 hours every week watching anime and writing about it, and although it's been tremendously rewarding, attending grad school part time, working full time, and writing Shelf Life has proven to be too much.
I've learned a lot writing Shelf Life; a lot about myself, about what it means to be an anime fan, about time management, and about writing. Having big discussions after each week's column is a lot more fun than a handful of blog comments, and it has meant more to me than getting paid to write about anime (although I certainly appreciate the money).
As a cautionary tale to younger readers, I'd like to mention that when I was a kid I wanted "to be a writer," and although I've arguably achieved that dream, this isn't quite what I pictured. I've never paid my rent solely through my writing (for here or any other venue). I make a living working elsewhere (you can read my resume at erinfinnegan.com). Some of my friends have even published books this year, and despite my childhood image of "authors" all my published friends work other jobs. Writing has become a sort of hobby-job, and I have a lot of feelings about that…
But enough of my sentimental blathering! On with the show. Last week I watched Ergo Proxy.
Oblivion Island also looks flashy, and I'm not saying it fails to deliver, but this isn't a package I wanted, so to speak.
Maybe watching the super-advanced technological, polished, high budget Oblivion Island back to back with This Boy Can Fight Aliens! was a mistake on my part…
If you've enjoyed reading my take on Shelf Life, please look forward to my future projects online. In addition, I continue to keep on writing for the print edition of Otaku USA magazine. Next year I hope to start an autobio webcomic, and I plan to continue podcasting at ninjaconsultant.com (which might be down right now for maintenance). I'm @erinf on twitter, and my homepage is erinfinnegan.com, so look for announcements there. My grad school website will be here, although the blog's not running yet.

Since this is my last column, here are my shelves.
Before I started Shelf Life, I used to review manga for popcultureshock.com/mangarecon. I had a good-sized manga library, and a very modest collection of anime. The anime took up two or three shelves, and I had two bookcases of manga. Post-Shelf Life I've moved all my non-anime DVDs to other shelves.
Before I wrote Shelf Life, I thought I was an anime expert. I thought I'd seen a lot of anime. I was wrong. Time and time again I've been surprised at how much more anime some of the forum readers have seen and/or own than I have.
For the purposes of taking these photos, I cleaned up the anime shelves and alphabetized them a couple weeks ago. The first one is a "before" photo. I have more anime toys, plushies, and posters, but a lot of them have been in storage since the last time I moved, so they are not pictured.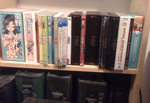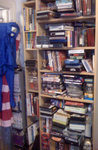 I apologize for the blurry phone-photos. You can't see all the manga because it's double-shelved, but if you're super curious about all my titles my account on librarything.com is, predictably, erinfinnegan.
Oh, the striped dress was my Sonoshee costume from Red Line, and the blue thing is my Lady Armaroid costume.
Take care everyone!
Erin Finnegan, Shelf Life Columnist 10/19/2009 - 10/8/2012
---
discuss this in the forum (59 posts)
|