Sound Decision
hyde
by Jonathan Mays, Jun 7th 2006

Hyde - Faith
—Tofu Records (June 27)
Less is more: Hyde less L'Arc, his music less heft. Mission, a refined rock stroll that frees Hyde to growl and soar without drowning in thick guitar lines, has the right idea. Countdown gets it wrong, suffocating its organic melody with relentlessly aggressive backbeats. Most of the album is somewhere in between. Faith is not brilliant like B'z, but certainly it will be one of the most popular J-Rock discs in America, and rightfully so.

It is worth spending some extra time listening to Mission, from its harmless suburban rock intro to the perfect bridge intervals that bring out Hyde's vocals. One might accuse him of going soft: "We'll play in harmony/It should be so easy/Come and dance with me" are hardly the marks of a hardened rock rebel. But neither is his maturity in waiting until the third minute to attack the high registers, or his newfound ability to weave sensible English lines into his songs. While ultimately trite, Hyde's theme seems genuine, which should also count for something.

For a pretentious title like Jesus Christ, the album's opening number is tepid until the second chorus, when a piano elevates the mood to a sort of desperate revelation, but in the end it is only a tease. Recapturing the moment later on is hopeless in part because of an unnaturally high bass line that has the strange effect of muting the entire band. The ominous piano solo compounds the problem by over promising and under-delivering as it hits the home stretch.

I don't go searching for classical analogues, but this one fits especially well: about six minutes into Tchaikovsky's Violin Concerto, the orchestra builds into the main theme on the back of stratospheric violin notes. A little over ten minutes later, it is time to set up the finale with the same melody, but while the violin breaks even the stratosphere (to the ionosphere, I guess), the orchestra dives low to create a startling level of tension. This is what Hyde could have done to punctuate Jesus Christ with the bang it deserves. In fact he tries such a move in the final seconds, but it is too late, like a boy trying to sound cool after his voice has just cracked. Of course all of this is nitpicking to the extreme, so take it with a grain of salt.

As the second Blood+ opening theme, Season's Call deserves note, though there is little to distinguish the song from Hyde's other mid-tempo outings, except maybe the radiant guitar chords in the verses. Even if the melody escapes you, the horn-like blare in the third beat will stay with you for a while. It's still a fine song, but when you're dealing with a fourteen-year rock veteran who has released a couple of dynamite solo albums like this one, the bar is raised considerably.

Dolly lends the spotlight to some of the borrowed help: musicians who have worked with Nine Inch Nails, Marilyn Manson, and The Cult. Their chugging guitars make Hyde's trademark wailing seem more orignal than it is. Even if the heavy metal backing is mostly a gimmick, it is a well timed respite in the middle of the album.

Speaking of gimmicks, the title track's electric bass transcends the label to give Faith a punch of reminiscence. Perfectly balanced through all its twists and turns, the song boasts a humble bridge that wisely relies on the drums to carry the load. It is probably not too insightful to say this song will be remembered long after the rest of the album has grown old.

Don't be fooled by the lukewarm words—Faith is a must-buy album and the best disc yet from three-year-old Tofu Records. There is plenty to nitpick, but you only nitpick when the fundamentals are strong, and in Faith, they really are.

Hyde Tour Schedule

July 2 – Anaheim – House of Blues
July 3 – Hollywood – House of Blues
July 5 – San Francisco – Slim's
July 6 – San Francisco – The Fillmore

Shojo Beat contest - Airfare & tickets to July 5 concert in San Francisco

Extra July 6 concert tickets - Requires Tofu forum signup


Fullmetal Alchemist Complete Best
—Tofu Records (May 30)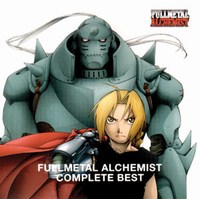 I'll spare you the great-idea-but-we-need-more babble and just say Fullmetal Alchemist has some cool songs, even if $20 is kind of pricey for only eight of them. Actually, we probably don't need more Ready Steady Go after this, this, and this.

In the search for a new angle, I found Melissa has some oddly forlorn lyrics for such a carefree light rock tune. Kesenai Tsumi marks the US debut of Nana Kitade and her heavy alto voice. Too bad the producer insisted on sugary, highly stylized vocals better suited for Morning Musume. She's better than that, as her US album will hopefully show next month.

Asian Kung-Fu Generation's mid-tempo Rewrite is appropriately titled, as L'Arc~en~Ciel has already covered this territory with more passion and originality. It's not bad, just not...bold, I guess. Crystal Kay deserves her own album over here, or at least a split one with Chemistry. In the meantime, Motherland adequately fills the R&B/Soul space. The retro strings in the chorus are somehow not as campy as you would expect.

I was about to give up on YeLLOW Generation's Tobira No Mukou He until the great syncopated chorus showed up with a timely spark of imagination. If you like Sowelu's minimalist I Will, I will recommend her Sweet Bridge album for even better material.

Fullmetal Alchemist Complete Best is sure to be many people's introduction to Japanese pop music. There are other, better discs on the market, like the one directly above this review, but as far as J-Pop primers go, this one does the job suitably.
---
discuss this in the forum (44 posts)
|