×
remind me tomorrow
remind me next week
never remind me
Subscribe to the ANN Newsletter • Wake up every Sunday to a curated list of ANN's most interesting posts of the week.
read more
Tankobon Tower
and then, there was was another column
by Allen Divers,
Another week, and another set of reviews. As this column has yet to reach the status of regular I figured I would share some of the thought that goes into its creation. Let's start with the various categories I use to rank the titles I look at each week. The categories themselves are simple; I divide up each week's releases into three categories. Buy It is the must have books. These are the ones you would be a fool to pass up. Borrow It is a list of titles that aren't exactly ground breaking or must haves, but shouldn't be ignored either. These titles often have simple stories, aren't exactly the most original tale our there, but still have a lot of positives. Bury It, well, that category contains the titles that aren't very good. I do what I can to list the good points, but again, these titles aren't the best things out there. On occasion, I use a forth category to sort the week's releases, the Honorable Mentions. This is where reprints and non-manga graphic novels fit in. Not necessarily ranked, these are the titles that are being shelved next to the manga and are still worth taking a look at.
The titles in each category are ranked from the best to the worst. The titles at the edge of each category could easily slide into the next category. This is all my opinion of course, and you may feel that I've been a bit unfair about a particular title. That happens, but I will always try to list as much of the positives and negatives about a particular title as possible so that you can decide on your own.
---
Buy it!

Fruits Basket Vol 1
Released by TOKYOPOP
Story & Art by Natsuki Takaya
$9.99 U.S.

Much like anything in life, when something good comes along, there seem to be a ton of carbon copies that pop up trying to cash in and end up ruining the entire batch. Luckily, a few gems, like Fruits Basket, make their way into the crowded arena and quickly rise to the top. Fruits Basket is one of the best romantic comedies to hit the bookshelves in a long time. The manga has been in high demand, even before the anime based off of it hit the shelves in North America. Fruits Basket is a true roller coaster of emotion, following the misadventures of a young girl named Tohru who tends to be the oni-giri in a basket of fruit. Being a bit of a social misfit herself, she comes across a family cursed to take on the various forms of the Chinese zodiac. What could easily be a gimmicky play for your hard earned dollars is actually a very heartfelt story that will easily make you laugh and cry at the same time. Simply put, Fruits Basket is good. If you love Shoujo titles, you must have this one in your collection.


Getbackers Vol 01
Released by TOKYOPOP
Story by Yuya Aoki
Art by Rando Ayamine
$9.99 U.S.

Where do you go when you lose something precious to you? In the world of Getbackers, you find yourself a retriever. So, what do you do if you can't really afford their services? You get Ginji Amano and Ban Mido, the Getbackers, who are so down on their luck, they'll do it just to get a burger. In typical and slightly clichéd fashion, these two, down on their luck retrievers, are so desperate for food that they end up taking on a job from a homeless man whose daughter has gone missing. Ever ready for action, these two leap at the chance to save a damsel in distress as well as the chance to get something to eat. The story builds into an action-filled adventure, mixing comedy, action and pretty boy looks that should have you rolling in the aisles. The artwork does a good job of building up the action and comedy elements, and is quite pretty to look at. Despite it's slightly clichéd beginnings, Getbackers is a solid adventure tale well worth picking up.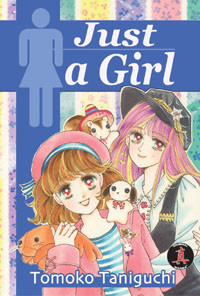 Just a Girl Vol 1
Released by CPM
Story & Art by Tomoko Taniguchi
$9.99 U.S.

Yet another great shoujo title from Tomoko Taniguchi, Just a Girl is a sweet story of newly acquired independence. Focusing around Erica, on her own for the first time, the story moves through her every day experiences as she makes her way in the world with the help of old friends and some new friends. The artwork is typical shoujo style, but the real heart of the story is in the dialogue itself. The focus is on character interaction and character development. Fans looking for a solid story with smooth and flowing art shouldn't have to look any further than this title.


Suki Vol 1
Released by TOKYOPOP
Story & Art by CLAMP
$9.99 U.S.

Get your Lolita reference guide ready, as here comes Suki, a story centered on a young and naïve girl named Hina who's new and handsome neighbor happens to be her new and handsome teacher at school. While it's easy to be blinded by the whole Lolita vibe, it's important to remember that it's not uncommon for Japanese school girls to have a crush on the handsome male teacher that influences their life and that a large age gap isn't always a deterrent in a relationship. This tale focuses on what it means to be in love, and follows a young girl as she decides if her feelings really are love. In the typical CLAMP style, this series moves smoothly in both dialogue and direction. Despite being a CLAMP title, does it really stand out from the amount of love stories out there? The appeal here is that this title pulls away from the standard shonen appeal of many CLAMP titles, and gives their fans something else to chew on.


Raijin Comics #42
Released by Gutsoon!
Monthly Anthology
$5.95 U.S.

For variety's sake, nothing beats a solid anthology. And after a few months of its new monthly format, Raijin Comics has settled into a solid monthly must have. This time around, Fist of the Blue Sky gets the main feature with two chapters of Kenshiro action. More is learned about the girl he left behind in Hong Kong. The rest of the titles in this month's issue are still in the middle of major storylines, so this may prove a bit rough for new users. Accompanying the regular features is a look at the Galaxy Angel manga as well as a three other interesting titles that are quite popular in Japan. The true appeal of the Raijin anthology remains their willingness to stick with the mature titles they carry. There are a couple of lighter titles, to help soften the blow of all the heavy series, but the focus remains on stories you don't see in other monthly anthologies. Coamix/Gutsoon has a major stable of titles, so hopefully they'll be able to expand Raijin Comics a bit more and get more manga goodness into our hands every month.

---
Borrow it!

Steam Detectives Vol 7
Released by Viz
Story & Art by Kia Asamiya
$12.95 U.S.

The world of Steam Detectives seems a wonderful homage to the classic film noir movies of the 40s and 50s. Of course, being a Japanese manga, there's always a little bit something extra thrown in. In the future retro vision of Steam City, Narutaki is a detective out to right the wrongs of evil doers everywhere. When Steam City is set to convict the criminal Le Bread for his crimes against the seven "Angels of Music," Narutaki suspects someone else is behind the crime. As if that wasn't enough, the Red Scorpion is back and this time, she has her sights set on a movie being shot in Steam City. Steam Detectives is a tale of good versus evil with solid artwork from the man behind the classic series, Silent Moebius. It's a simple tale, but is beautifully conveyed in the manga format.


Kindaichi Case Files, The Treasure Isle
Released by TOKYOPOP
Story & Art by
$9.99 U.S.

Mysteries are some of the best adventure stories out there. The problem is, most mysteries don't seem very mysterious as anyone familiar with the genre has probably seen every twist and turn possible. That's why the Kindaichi series of books end up here in the borrow section. I love a good mystery, and this series of books presents some whoppers, but when it comes down to it, they really come across as the Japanese version of the Hardy Boys or Nancy Drew. This time around, Hajime and Miyuki visit an island where a treasure hunting contest is taking place. Very quickly, contestants begin to drop dead and its up to Hajime and Miyuki to save the day. While a fun romp, that is a well written and well drawn the plot itself isn't all that new. You'll just have to decide for yourself whether or not this title and the entire series is a keeper.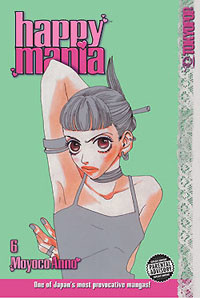 Happy Mania Vol 6
Released by TOKYOPOP
Story & Art by Moyoco Anno
$9.99 U.S.

Kayako has it rough. First she fights with Takahashi at his parent's house, then a cat fight with a fellow waitress at the bar. Taking the idea of a shoujo title to the extreme, Happy Mania continues to be a title worth checking out. Its extreme nature almost pushes this title into the borrow section, as you may want to check it out before you commit to it. The artwork is simple, but the story is very in-depth, drawing the reader in quite well. In short, it's a tough talking manga that spares no feelings as it barrels through the lives of the characters that inhabit it.


Planet Ladder Vol 6
Released by TOKYOPOP
Story & Art by Narushima Yuri
$9.99

Epic stories are a tough one to rank. In many instances it's a matter of either you like it or you don't, without a real middle ground to stand on. Planet Ladder falls in that category with a complicated plot line about a young girl who must decide the fate of nine worlds since only one of those worlds will be allowed to survive. With a simple artwork style, and heavy shoujo tones, Planet Ladder wastes no time as it moves towards its conclusion. This is a very difficult series to pick up in the middle, so if you're looking to try it out, start at the beginning.


Samurai Deeper Kyo Volume 5
Released by TOKYOPOP
Story & Art by Akimine Kamijyō
$9.99

Been there, done that describes a bunch of different Samurai tales, and unfortunately, Samurai Deeper Kyo falls into that category. Still on his quest for his body, Kyo is teased with its location by Yukimura. While the action is top-notch and the character's intriguing, you'll just have to look at this one as an acquired taste. Fans of the samurai genre will be thrilled, while more casual readers may not get it.


Les Bijioux Volume 1
Released by TOKYOPOP
Story & Art by Lee Young Yuu
$9.99

And our manwha of the week award goes to, Les Bijioux, which sounds more like a movie theater than a title of a graphic novel. And what's with those eyes, they creep me out! This one seems made for the ladies with super gorgeous pretty boys every where the eye turns; not bad for a fantasy world filled with dwarves and hunchbacks. The story is pretty much the run of the mill fantasy adventure with an oppressed people and a hero that has the power to save everyone. The story itself is nothing really outstanding, so it's up to the artwork to really grab the audience. This one is a definite borrow it!

---
Honorable Mentions

Magic Knight Rayearth 2 Vol 01
Released by TOKYOPOP
Story & Art by CLAMP
$9.99 U.S.

I've always maintained that if CLAMP is behind it, it must be good. So it should come as no surprise to anyone that I would highly recommend this reprinted classic. The only reason it's not in the Buy It section is the fact that it made it to print once already with the other two books in this continuation of the previous tale. The best way to experience this tale is with the original boxset thanks to a few extras thrown in. You also get the whole tale at once, so there's no worry about those nasty cliff-hangers. Unfortunately, if you missed out on the box, and your local retailer no longer has access to it, you'll have to be satisfied with the singles. You'll end up paying about the same, but without the pretty book of extras. Oh, guess you want to know about the story as well. After the bitter-sweet ending of the first book, the girls make a tearful reunion at the Tokyo Tower one year later. Once again, they are sucked into the world of magic and are reunited with old friends. Things are looking bleak as three nations are invading the world of Cephiro. While a bit more of the same from the first series, its still solid CLAMP goodness.

---