The Gallery
Comitia 90
by Evan Miller,
It's been a while since I've broken this banner out, but since this column calls for it...


We take a peek across the ocean again this week for a look at Japan's largest convention devoted to solely to original manga and dōjinshi. The event bears a few similarities to Artist's Alleys in North America, but the differences are quite telling.
---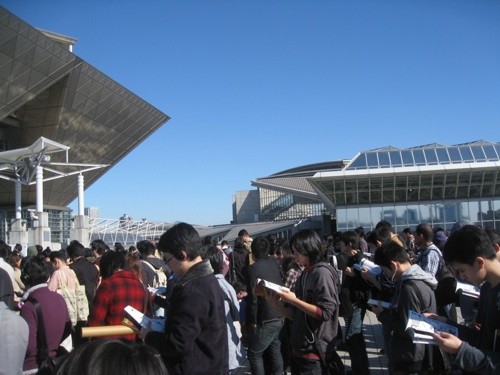 The line: Manga fans crowd the deck of Tokyo Big Sight
A Romantic Dinner:

A

Boy and Girl

talk jam in the ghost-themed

Ruins

(

Shioyuki

); princesses ponder food in the

Tsumamigui

anthology (

homepage

)
I noticed the men first.
Lines upon lines of them, crowded on the upper deck of the Tokyo Big Sight convention center under sunbeams that seemed more reminiscent of summer temperatures than the chill of late fall. The last time I was here for a dōjinshi convention - Haru Comic City - I wondered where the male fan base for manga was hiding. For Comitia - a twice-yearly sokubaikai (literally "selling event") devoted to the sale of original manga - the number of male otaku was clearly greater. That's not to say that they outnumbered the women, however; there were just as many women pacing the aisles of Comitia, and a cursory glance here and there yielded that about 75 percent of the artists selling work were female. While all of this may sound like it lines up with how most people stereotype the Japanese dōjinshi scene, things like jewelry sales, a smaller percentage of pornographic material, and an unusually approachable publishing industry are signs of just how many differences still exist between the world of Japanese manga and the North American fan scene.
Now in its 25th year, Comitia is the largest "original work only" dōjinshi sokubaikai of its kind. While that may sound impressive, the size of the event is telling. Comitia only occupied one of the ten major halls in Tokyo Big Sight - just a bit larger than the Artist's Alley at a convention like Anime Expo or Fanime Con. The smaller size reflects the relatively small number of fans, manga-ka and dōjinshi artists that actually specialize in original work, as compared to fan artists, who regularly hold conventions three or four times the size of Comitia and only retail fan work based on certain series (For comparison: among the tables at Haru Comic City, barely 4 percent were devoted to original work). The tables on the show floor were divided according to genre, with the biggest sections devoted to shōnen, shōjo, seinen, and illustrations. Other genres represented on the floor included manga with animals, historical manga, Boys Love manga, and (in the corner farthest away from the door) adult manga.
Regardless of which section you visited, it was quite easy to find the most popular artists in each genre. The Comitia guide book, Tia's Magazine (which doubles as an admission ticket), gives special attention to many of the popular artists and artist groups (also known as "circles") and lists the location of all of them. Consequently, it was not tough to find people in line circling table locations and then rushing into the hall to quickly grab their treasure of choice. As a result, some tables sold out of their entire stock of books within the first five or ten minutes of the show, leaving the stragglers behind to scrape through what was left. That's not to say that there wasn't a ton of good stuff left to choose from, however. Each section had a unique blend of artistic styles and storylines, with volumes priced as low as 100 yen.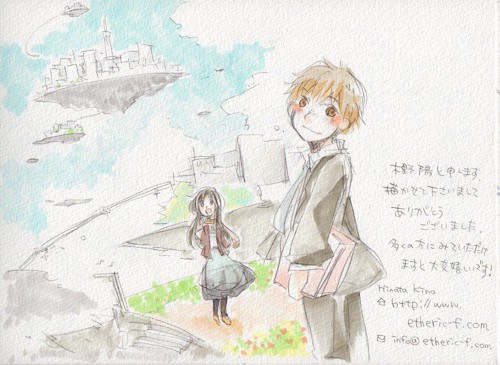 Exclusive sketch for ANN by Hinata Kino,
Etheric F
.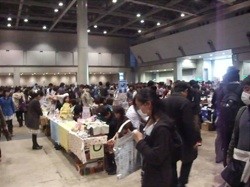 The Hall
I hit the floor with an open mind, eager to pick up a little of everything to get a good variety of reading material. It would be inaccurate to say that everything at Comitia was pure gold; there were more than a handful of artists that clearly need to keep trying to refine their style. My first acquisitions included a small gag manga about a living donut who makes a living by working at a donut shop, a manga anthology centered around the theme of food, an illustration book that follows a group of High School Girls forming their own band, a science fiction story set in a future where the city of Tokyo flies above the Earth, and many others. I also brought a sketch book to the floor, since a handful of artists at every dōjinshi event in Japan will usually be willing to sketch something for you for free. The creator of the story about Tokyo has agreed to let me publish her sketch here, which she graciously did in color. It can be a lot of work for an artist at the show, but for many artists, it's just another way artists are accustomed to showing their appreciation to their customers. "I usually fill up on sketch books fast," said the author as she sketched my work. "Even though it is work, it's more fun to do this than just sit here and sell things."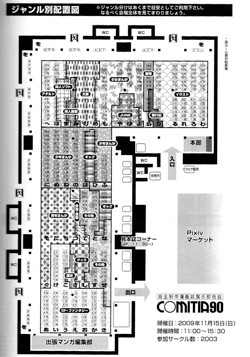 Floor Guide Page
While Comitia may sound like a paradise exclusively for manga, it is important to note that the show floor offered much more than just dōjinshi. There was a sizeable section where people sold crafts like jewelry and key chains, much like some artists at North American conventions. Taking this concept even farther, another area was composed almost entirely of tables selling "fan music" - in other words, music (much of which was done in an anime theme-style) created for the Comitia audience. At these tables, sellers eagerly offered passers by headphones so that they could sample their work. Taking another technical leap forward, one section next to the music section was devoted entirely to fan created video games - a good percentage of which were aimed at an adult audience. While this may sound like it keeps with the stereotype that all Japanese dōjinshi conventions are filled with porn, it is important to note that beyond the adult and game sections, the presence of adult material at Comitia was mostly limited. In fact, Comitia had a few groups that I'm accustomed to not seeing at events like these: families, walking around the show floor with children of all ages.
One important thing to note about Comitia is that it was not the only event taking place in Tokyo Big Sight at the time. Right outside the room where Comitia was taking place, Japanese art web portal pixiv was holding a "market" for illustrators and creators to promote their artwork. Attendees of both shows were encouraged to attend the other - perhaps an indication of how much the internet has changed the manga fan community worldwide in a relatively short amount of time. However, if traffic flow is any indication, the large number of people attending Comitia compared to the smaller numbers for pixiv's event are a sign that traditional manga buying methods aren't going away any time soon. Near the end of the show, the booth for shipping company Kuroneko Takkyūbin was by far the busiest booth on the floor as patrons queued up to send their purchases home.

A "real" guide to Japanese Culture, courtesy of
Marutar
While most artists were attending Comitia on their own or with friends, a few groups (mostly seated in the "miscellaneous" section) were attending the show as part of a group from a university with a program in the arts or manga design. Most university manga clubs in Japan publish their own anthology of original work once or twice a year, so it was no surprise that some groups actually had tables at Comitia. The students admitted that life as a manga artist isn't looking that great, considering the strain that the publishing industry is currently under. However, most remain optimistic. One artist admitted to me that they "can't really picture doing anything else," and that there's more to being an artist than just drawing manga. Others remarked that the popularity of manga outside Japan is another factor that convinces them that things will turn around eventually.

In fact, some of the names synonymous with keeping the manga industry going had a major presence at Comitia, despite it's somewhat small size. Shueisha, Shōgakukan, Media Works, Bandai Visual, and many other companies were at the event, sitting in an area of the hall devoted exclusively to portfolio reviews. Unlike the somewhat unfriendly feeling of portfolio reviews in the states, company representatives sat in the open at large tables, speaking briefly - but eagerly - to each and every artist that chose to meet with them. As I watched the scene unfold, I couldn't help but think of the recurring belief in American circles that Japanese manga publishers have some kind of "magic system" that allows them to find talent. While it is true that publishers and editors often do a lot to groom their talent in Japan, the portfolio review that I witnessed at Comitia seemed to reflect a far more friendly approach to finding talent than the "don't call us, we'll call you" methodology employed by some publishers in North America.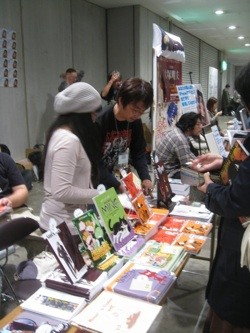 The Pop Japan Booth
Speaking of North America, it bears mentioning that one of the special groups attending Comitia was a tour group organized with Pop Japan Travel, who were at the show to sell a book of work by artists attending the tour. Featuring a diverse slate of artists from North America and elsewhere - including big names like Queenie Chan, Becky Cloonan, and Svetlana Chmakova - the book was published in Japanese and sold on the show floor at a special booth. Seeing the work of international talent get attention from the audience at Comitia was welcome, and as one of the artists remarked to me, being at an event like Comitia might be the first step for North American creators searching for international reception of their work.
While I've attended many dōjinshi sokubaikai in my life, I don't think I have ever witnessed a more perfect cross section of Japanese manga fandom than the one I saw at Comitia. Because all of the work at the show was original, the show felt less divided, and the crowd didn't cater to a specific kind of fan or gender specifically. You could find nearly anything here; my personal best find of the day came when I found a guide that offers an introduction to "real" Japanese culture, complete with instructions on how to commit harakiri and rip your opponent in half (tip of the hat to Deb Aoki for showing me where the booth was). While many attendees came with a specific shopping list in mind, I can only hope that they stopped to shop at the other booths. The future of the manga industry may have its question marks, but if the industry presence at Comitia is any indication, the creativity in the community isn't going to dry up anytime soon.
Historical and Fantastical:

Historical manga cover by

Tsukimi-ya

and a candy loving witch (©cheese dorayaki)
---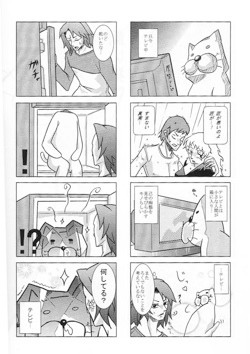 The cat gag manga Yosaku
The homepage for Comitia, in all of its glory, can be found
here
. As I mentioned before, if you're interested in searching for a sokubaikai elsewhere in Japan, or for other gatherings that are series-specific,
Ketto dot com
lists them all. Both of these webpages are in Japanese (sorry!).
---
Are you an aspiring manga artist looking for some extra page views? Do you have a friend or loved one who draws extremely good original manga but needs a boost? Don't just sit there! Submit two links to your work, including one original piece (no file attachments please! File attachments will be dragged on a sightseeing tour until they pass out), to evan [at] animenewsnetwork dot com, and you could be featured in a future Gallery column!
All works © the dōjin circles featured. Permission has been granted by all artists featured to display work on this page.
---
discuss this in the forum (5 posts)
|