The List
8 Essential Time-Travelling Heroines
by Lynzee Loveridge,

Whether it's a magic key, a good, old fashioned time machine, or a walnut; girls will find a way to travel through time and save the world. Paradoxes abound, are swept under the rug, or are completely ignored (I'm still thinking way too hard about Looper) leaving plenty of opportunities for our heroines to right wrongs, prevent deaths, and try to carve out a perfect future. Rarely does it work out in their favor.
This list is rife with spoilers, due mostly to the fact that most time travelers aren't upfront with their traveling abilities from the get-go.






8. Makoto Konno (The Girl Who Leapt Through Time) The indecisive Makoto gains the power of limited time travel after interacting with a walnut-sized device. The character doesn't use the power to fight aliens or anything particularly extravagant. She does what most average people would do; perfects her grades, avoids awkward situations with her male friend, and makes sure she gets to class on time. As far as heroics, Makoto does use her powers for the greater good by the end, once she gets her love life sorted out.






7. Chibiusa (Sailor Moon) The youngest character on The List and secondary heroine Chibiusa/Sailor Chibi Moon first travels into the past in hopes of recruiting Sailor Moon to save her family in the future from the nefarious Black Moon Clan. Like a lot of time travel stories, an evil group has turned the future into a wasteland of death and only the protagonist, or in this case the protagonist and her band of superpowered friends, can prevent it.







6. Sayoko "Arashi" Arashiyama (Natsu no Arashi!) Arashi gets the distinguishing role of being both a time traveler and and ghost. Arashi died during World War II and takes up the mission to save her family and friends from American air raids. To do this, she requires a living human, so Hajime ends up traveling to WWII-era Japan with her. The character isn't particularly high on the list, as her time traveling takes a backseat to the series' slice-of-life focus.







5. Mikuru Asahina (The Melancholy of Haruhi Suzumiya) The SOS Brigade attracts members of all walks of sci-fi life: ESPers, an android, and in Mikuru's case, a time traveler. Mikuru is sent to the past to observe anomalies caused by Haruhi's abilities. Her further-future self is also sent back in time to give Kyon information on occasion, a fact identifiable by birthmark on her chest. Mikuru has access to all kinds of information, but good luck getting any of it out of her: hypnosis keeps any potentially altering information under wraps.







4. Suzuha Amane (Steins;Gate) Hyperactive bicyclist and part-time worker Suzuha traveled to the past to locate her father and prevent SERN from acquiring a time machine. In her original timeline, SERN creates a dystopian future and the next World War. Despite first appearances, Suzuha is invaluable to Okabe's success in returning to the correct timeline and preventing mankind's downfall.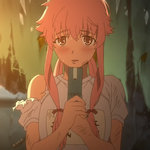 3. Yuno Gasai (Future Diary) So, not every female protagonist is rainbows on sunshine. Yuno is a brand of crazy all her own and hops through timelines to construct a way for her crush and stalking victim, Yuki, and her to be together forever while surviving the The Diary game. To Yuno's credit, Yuki loves her too, even though everything about the relationship is terrifying. Yuki owes his life to the crazed killer and he would have died more times than can be counted if she didn't stick by his side.








2. Haruka Kudō (Noein) Elementary school girl Haruka contemplates running away from before she gets wrapped up in a cross-dimensional time travel adventure to save her best friend, his alternate self, and defeat his other alternate self. She possesses the "Dragon Torc," which is like manifestation of the Schrödinger's Cat concept. Ultimately, she proves herself capable for her young age and manages to salvage her timeline from destruction.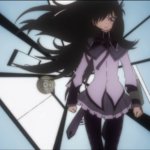 1. Homura Akemi (Puella Magi Madoka Magica) Homura relives tragedy after tragedy in hopes of saving her best friend, and ultimately the world, from destruction. If Homura can be faulted for inadvertently creating the situation she hopes to prevent, she can also be credited for destroying the system of despair magical girls were trapped in. Both were unintentional side-effects to her goal of saving Madoka but her tenacity to prevent Walpurgis Night earns her her the #1 spot.






The new poll: Would you buy clothes from any of these anime fashion designer characters?
The old poll: The last poll asked which of the Hetalia characters would you take to lunch? I guess I'm surprised that America took first place. I mean, wouldn't the two of you just eat American food?
There were a TON of options for the sake of representing all the current anime characters, but I'm only going to list the top 10:
America 12.5%
Japan 10.7%
Canada 9.6%
Germany 6.2%
Italy Veneziano 6.0%
Prussia 4.0%
Hungary 3.9%
Liechtenstein 3.1%
Russia 2.6%
China 2.6%
France 2.3%
---
When she isn't compiling lists of tropes, topics, and characters, Lynzee works as Associate Editor for Anime News Network, blogs about women and LBGT topics in anime and manga on her blog Engendered Dilemma, and posts pictures of her son on Twitter @ANN_Lynzee
.
---
discuss this in the forum (54 posts)
|
this article has been modified since it was originally posted; see change history