This Week in Games
Summer Holiday Chill
by Heidi Kemps,
Hey all! It's the 4th of July week, there's jack squat for new releases, and most of the big gaming announcements this week are going to come from publishers at Anime Expo. I've gotten wind of a few of these announcements, but since a lot of them are under embargo I can't write about them yet. Phooey. Well, good things are coming, and you should pay attention to ANN over the next few days for sure!
Perhaps it's for the best that this week's column is going to be short, then – the news from Anime Expo is going to be dominating this site for the next few days, and I've got a few review projects to work on, so it's probably best that I save the juicy bits for next week. We've still got some cool news to talk about, however, so let's check out a few headlines!
BLEACH CAST MEMBERS JOIN JUMP FORCE
Even though Bleach has wrapped up, it's still got a sizable fan following in Japan and abroad, so it makes sense that it'd be incorporated into Bandai-Namco's ambitious crossover project. Ichigo Kurosaki, Rukia Kukichi, and Sosuke Aizen are all joining the melee. No trailer yet, but there have been a handful of screens shown.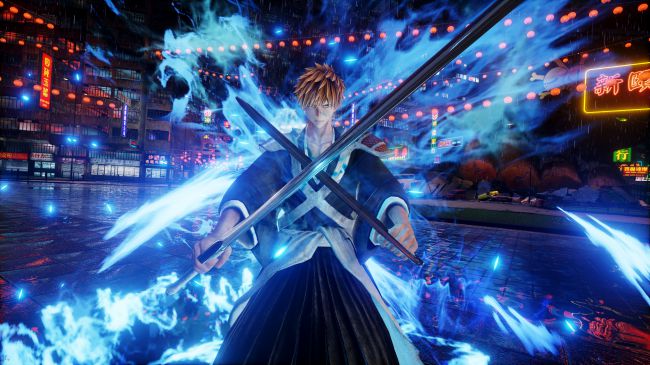 With Bleach confirmed, what'll be the next major Jump property to join the battle? I feel like Yoshihiro Togashi's going to get one of his series in this, be it Hunter X Hunter or Yu Yu Hakusho. We'll probably get more details either at AX or GamesCom.
TAITO IS MAYBE MOVING BACK INTO CONSOLE DEVELOPMENT
Taito is one of the oldest and most storied of Japanese game companies, and throughout their existence, they've have many ups and downs. They're now currently owned by Square-Enix, who basically let Taito do as they please as long as it means S-E has a bunch of Taito-owned arcades to put Lord of Vermillion arcade cabinets and Final Fantasy UFO catcher prizes in. That means console development has fallen by the wayside as Taito's focus has narrowed to arcade and mobile games.
However, this week we got news of two games that might signal a slight shift in priorities. The first is Darius Cozmic Collection for the Switch, a compilation of Taito's famous shooter series that contains arcade ports of Darius, Darius II, Sagaia (basically the overseas version of Darius II), and Darius Gaiden. However, if you spring a bit extra for the special edition box, you get even more games: Darius Twin and Force (both originally on the Super Famicom), Sagaia for the Master System, the (surprisingly good) MegaDrive port of Darius II, and a port of the PC Engine's Darius Alpha, which is among the most expensive PCE games out there. Seriously.

As a Darius fan, I wouldn't say any of the console games are essential (and the SNES games are, uh, honestly kinda bad), but they're certainly nice to have in a package like this. Beloved porting house M2 is handling the duties, so there will likely be loads of nifty extras included that you never even knew you wanted. No word on a release outside of Japan yet, but here's hoping Square-Enix US lets us have it.
The other big Taito-related announcement is a collaboration with Natsume, developers of the excellent remake Wild Guns Reloaded on PS4, PC, and Switch. Natsume was the developer responsible for reimagining several classic Taito properties on the Super NES: The Pocky and Rocky games are revamps of Taito's arcade classic Kikikaikai, and they also made a sequel to the cult arcade hit The Ninja Warriors for the platform. The latter is what we're interested in, as it's now getting the Wild Guns Reloaded treatment and getting a remastered release on Switch

Details are a bit sparse on the tentatively titled Ninja Warriors Again, as the news is derived from a leaked Famitsu issue, but an interview that accompanies the announcement apparently mentions that Taito wants to put their IPs on more platforms moving forward, and more announcements will be forthcoming. This makes me extremely excited, because dangit, I just love Taito so darn much and I want everybody to be able to discover some of their amazing arcade output from the 80s and 90s.
Also, I recently filled out a Square-Enix survey where jokingly I said the game I wanted most was a Raimais remake directed by Yoko Taro. Now, somehow, this seems almost feasible, and that gives me a weird sense of joy.
NEW RELEASES
Nobody wants to release a new game when July 4th is in the middle of the week. There's some good stuff next week, at least, but for now you all can enjoy the stuff from the Steam sale you just bought. That reminds me, I want to play more Darius Burst CS…
So that's about it for this week. We'll have all the hot news from AX next week, along with a look at an upcoming smartphone game. If you really want to read more of my writing, however, how about taking a look at this piece I did about Konami's contentious relationship with Tokimeki Memorial fandom in Japan? They really have been jerks for quite some time.
Catch you all next week – stay safe and cool!
---
discuss this in the forum (1 post)
|
RightStuf - Anime, Manga and More
What's the difference between a "union dub" and a "non-union dub" and why does it matter? Justin digs in to the details.
― Anonymous asked: This might come across as a naive question but what does it mean when a role is 'non-union' and why are so many anime roles non-union? For clarity I am a trade union rep myself but for an office job in the UK and I have an idea of what SAG, Equity and the other ...
James takes a look at an '80s mecha classic, while Paul breaks down this week's new blu-ray releases, along with a Yuri!!! on Ice-tastic Shelf Obsessed collection.
― I'm sure I'm just adding to an already loud chorus here, but y'all really should be watching Mob Psycho 100 (or catching up on the first season if you missed it). I can already tell I'm going to go back through this show a second or thi...
This Universal Century timeline film works well as a complement to Gundam Unicorn, but struggles to stand out as its own story. Kim Morrissy has the details in our full review.
― The only thing I knew about Mobile Suit Gundam Narrative before I watched it was that hilarious key visual showing three characters striking an awkward pose together. You might have seen it too because it was an Internet mem...
James Cameron and Robert Rodriguez spent 200 million dollars and roughly 20 years trying to bring Yukito Kishiro's beloved cyberpunk manga to life. Now that it's finally here, is it any good? Let's find out!
― It's been a long, long, long and rocky road to release for Alita: Battle Angel. First announced in 2003 by a post-Titanic, pre-Avatar James Cameron who'd spent his Oscar afterglow making nerdy ...
Our feisty heroine has some choice words for a tengu who doesn't know how to treat his bride, as this soothing otherworldly romance continues.
― It feels very clear that Odanna (also known as Kijin) is playing a long game with Aoi. Whether he initially planned it that way or not is much more up in the air, because it seems as if he honestly didn't realize that the young woman wouldn't be thrilled to ...
Gang warfare between delinquents in Japan can be a dog-eat-dog world, but what if all the street toughs are actually adorable stray cats? Rebecca Silverman checks out this feline twist on classic gangster manga.
― If the cult '80s song "Stray Cat Strut" had a manga adaptation, it would look an awful lot like this. Nyankees is a gag manga about street toughs who are actually stray cats living in urban...
Mob Psycho 100 stumbles a little and leaves the way open for a strong contender! Did your favorites sink or soar? Find out in our weekly user rankings.
― Our team of reviewers are following 27 anime series of the Winter 2019 season and readers are rating each episode as the reviews go up. So let's have a look at what ANN readers consider the best (and worst) of the season. Keep in mind that these ra...
Sunrise's mecha-stuffed take on Batman: The Animated Series is 20 years old this year. Does it still hold up? Matthew Roe takes a deeper look.
― Studio Sunrise is a name that even the most casual anime fans should be able to easily recognize. Founded by former members of Osamu Tezuka's Mushi Production in 1972, they took the medium in a different direction - stories by committee. With productions fir...
Which manga do you think deserve a lavish rerelease? Deb weighs in.
― Which forgotten or underappreciated manga do you think deserve a big splashy omnibus rerelease? Hm. This is a tough one, since a lot of terrific manga that would have otherwise not have had a chance to get an official release five or ten years ago are now getting picked up for publication. As a result, my "impossible dream" or "re...
The Future Trunks arc brings a whole new dimension (or two) to the world of Dragon Ball, as Goku Black's threat rises. Sam Leach weighs the strengths and weaknesses of this storyline on blu-ray.
― One of Dragon Ball's more distinctive quirks is how stakes routinely escalate so high that our heroes end up standing toe-to-toe with gods and even befriending them like it's no big deal. Our understanding ...