This Week in Games
Summer Holiday Chill
by Heidi Kemps,
Hey all! It's the 4th of July week, there's jack squat for new releases, and most of the big gaming announcements this week are going to come from publishers at Anime Expo. I've gotten wind of a few of these announcements, but since a lot of them are under embargo I can't write about them yet. Phooey. Well, good things are coming, and you should pay attention to ANN over the next few days for sure!
Perhaps it's for the best that this week's column is going to be short, then – the news from Anime Expo is going to be dominating this site for the next few days, and I've got a few review projects to work on, so it's probably best that I save the juicy bits for next week. We've still got some cool news to talk about, however, so let's check out a few headlines!
BLEACH CAST MEMBERS JOIN JUMP FORCE
Even though Bleach has wrapped up, it's still got a sizable fan following in Japan and abroad, so it makes sense that it'd be incorporated into Bandai-Namco's ambitious crossover project. Ichigo Kurosaki, Rukia Kukichi, and Sosuke Aizen are all joining the melee. No trailer yet, but there have been a handful of screens shown.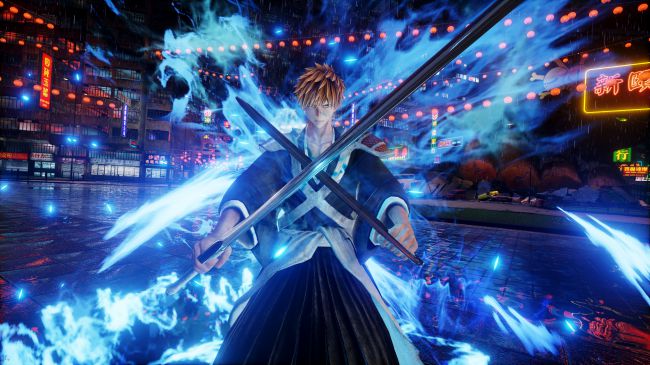 With Bleach confirmed, what'll be the next major Jump property to join the battle? I feel like Yoshihiro Togashi's going to get one of his series in this, be it Hunter X Hunter or Yu Yu Hakusho. We'll probably get more details either at AX or GamesCom.
TAITO IS MAYBE MOVING BACK INTO CONSOLE DEVELOPMENT
Taito is one of the oldest and most storied of Japanese game companies, and throughout their existence, they've have many ups and downs. They're now currently owned by Square-Enix, who basically let Taito do as they please as long as it means S-E has a bunch of Taito-owned arcades to put Lord of Vermillion arcade cabinets and Final Fantasy UFO catcher prizes in. That means console development has fallen by the wayside as Taito's focus has narrowed to arcade and mobile games.
However, this week we got news of two games that might signal a slight shift in priorities. The first is Darius Cozmic Collection for the Switch, a compilation of Taito's famous shooter series that contains arcade ports of Darius, Darius II, Sagaia (basically the overseas version of Darius II), and Darius Gaiden. However, if you spring a bit extra for the special edition box, you get even more games: Darius Twin and Force (both originally on the Super Famicom), Sagaia for the Master System, the (surprisingly good) MegaDrive port of Darius II, and a port of the PC Engine's Darius Alpha, which is among the most expensive PCE games out there. Seriously.

As a Darius fan, I wouldn't say any of the console games are essential (and the SNES games are, uh, honestly kinda bad), but they're certainly nice to have in a package like this. Beloved porting house M2 is handling the duties, so there will likely be loads of nifty extras included that you never even knew you wanted. No word on a release outside of Japan yet, but here's hoping Square-Enix US lets us have it.
The other big Taito-related announcement is a collaboration with Natsume, developers of the excellent remake Wild Guns Reloaded on PS4, PC, and Switch. Natsume was the developer responsible for reimagining several classic Taito properties on the Super NES: The Pocky and Rocky games are revamps of Taito's arcade classic Kikikaikai, and they also made a sequel to the cult arcade hit The Ninja Warriors for the platform. The latter is what we're interested in, as it's now getting the Wild Guns Reloaded treatment and getting a remastered release on Switch

Details are a bit sparse on the tentatively titled Ninja Warriors Again, as the news is derived from a leaked Famitsu issue, but an interview that accompanies the announcement apparently mentions that Taito wants to put their IPs on more platforms moving forward, and more announcements will be forthcoming. This makes me extremely excited, because dangit, I just love Taito so darn much and I want everybody to be able to discover some of their amazing arcade output from the 80s and 90s.
Also, I recently filled out a Square-Enix survey where jokingly I said the game I wanted most was a Raimais remake directed by Yoko Taro. Now, somehow, this seems almost feasible, and that gives me a weird sense of joy.
NEW RELEASES
Nobody wants to release a new game when July 4th is in the middle of the week. There's some good stuff next week, at least, but for now you all can enjoy the stuff from the Steam sale you just bought. That reminds me, I want to play more Darius Burst CS…
So that's about it for this week. We'll have all the hot news from AX next week, along with a look at an upcoming smartphone game. If you really want to read more of my writing, however, how about taking a look at this piece I did about Konami's contentious relationship with Tokimeki Memorial fandom in Japan? They really have been jerks for quite some time.
Catch you all next week – stay safe and cool!
---
discuss this in the forum (1 post)
|
RightStuf - Anime, Manga and More