×
remind me tomorrow
remind me next week
never remind me
Subscribe to the ANN Newsletter • Wake up every Sunday to a curated list of ANN's most interesting posts of the week.
read more
Anime Spotlight - Gargantia on the verdurous Planet
by Justin Sevakis,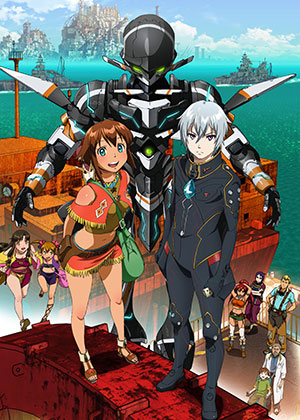 April, 2013 (Japanese Premiere)

Key Staff
Original Concept, Series Composition & Script: Gen Urobuchi

Original Concept & Director: Kazuya Murata

Original Character Design: Hanaharu Naruko

Chief Animation Director & Animation Character Design: Masako Tashiro

Animation Production








Introduction
If there was a city that connected ships floating on the sea, what kind of life would people live there?
Ever since I was a kid I admired the world of oceans and ships. It's been more than a decade since I first began wanting to depict a tale of the people and their active lives in that world.
I started working on the concept for this all by myself, but thanks to Gen Urobuchi, Hanaharu Naruko, and all the other various staff listed below, I really feel like it's finally taking shape.
As director, my goal is to depict a world that makes people want to go there, want to live there, and to show the growth of Ledo a young foreigner who wanders into this world.
He's a child soldier who's only way of life has been fighting at the ends of the galaxy, but I wonder what choice he'll make when he meets people who can enjoy life away from land?
I hope to let everyone experience a world that makes them wish they could live together with these charming characters, and that's what I'm looking forward to most right now.
December 10th, 2012
Kazuya Murata, Director
From the moment this anime was in its planning stages, one of the themes I set for it was to incorporate a message for our young people in their late teens and early twenties—in other words, those are just about to enter society, or those who have just entered society and feel lost at sea. I made a point to keep this theme in mind as I composed the story, so it has a different flavor from the many other works I've created in the past. I hope that this work will act as encouragement for all of those who are being forced to struggle hard in the harsh climate of our frozen job market.
February 1st, 2013
Gen Urobuchi (Nitroplus), Series Composition & Script
Story
A boy who came from the heavens, encounters a city of ships, Gargantia
In the distant future a young boy, Ledo, is raised in space knowing nothing but war, until he comes to Earth, a planet whose surface is nearly covered in water, where he witness the sea for the first time.
On the vast seas with an aquamarine glow, people form huge fleets and live a humble, but happy life. Ledo is the only foreigner in this world with foreign customs and language, but he's not alone.
What can he do to make a living here? What should he live for now? His days on this verdurous planet will make him face those questions.
Characters
Ledo is a second lieutenant in the Galactic Alliance of Humankind. His combat skills are great, but he grew up knowing nothing other than war. As a result, he's not very good at expressing his emotions, and often misunderstood. During combat he's swallowed by a rift in space-time and castaway to the remote planet, Earth, where he's rescued from cold sleep by Gargantia. In the midst of an unknown environment and a language he doesn't understand, he starts communicating with the people of Gargantia in order to survive, and slowly he begins to have a change of heart. He's 16.

Amy is a young messenger aboard Gargantia. She's active, filled with curiosity, and she always has a smile on her face. Once she meets Ledo after he wakes from cold sleep, she grows very interested in him, and volunteers to be his guide on Gargantia. She treasures her younger brother Bevel. She's 15.

Saaya is a messenger, just like Amy. She's friends with Melty, and the three are always together. She's bit laid back, but tight when it comes to money. Both men and women admire her glamorous figure. She's 15.

Melty's another messenger like Amy and Saaya. She's younger than the other two, and she still looks young, so she's trying to stretch herself. She likes handsome men and tales of romance, but she's never been in love. Her mischievous grin is one of her notable traits. She's 14.

Bellows runs a salvage operation focused on recovering artifacts of old civilization from the sea. She's the one who discovered Ledo and Chamber at the bottom of the ocean and pulled them up. She excels at operating the heavy labor robot, Yunboro. She's a caring older sister figure who's strict when it comes to work, and her comrades all have great faith in her. She's 18.

Ridget serves as the aid to Fairlock, captain of the Gargantia fleet. She's calm, diligent, logical, and holds a strong sense of responsibility. However, that also means she's too serious and stiff, so many keep their distance. She's 22.

Pinion is a young man who handles maintenance and repairs on Gargantia. He gets carried away easily, but everyone trusts his knowledge and skills when it comes to machinery. He dreams of making it rich one day by dragging treasure up out of the sea. He's 20.

Fairlock is the captain who commands the Gargantia Fleet. He's well experienced, and always stays calm. He puts the safety of his fleet above all else.

Joe is a young welder who specializes in creating and severing the attachments that join the ships together. He's a true craftsman who's strict about his work.

Kugel is a Lt. Colonel in the Galactic Alliance of Humankind. He is an excellent solder and takes command of battles against the Hideauze. He's Ledo's superior officer.

Chamber is the Machine Caliber that Ledo pilots. It comes equipped with a "Pilot Support and Development Interface System" charged with training its pilots to become excellent soldiers via communication and capable of taking autonomous action. He's an important companion to Ledo.

Heavy Yunboro

The largest grade Yunboro, equipped with four huge arms for heavy labor. It takes three men to operate, one for each pair of arms along with the main operator.

Submersible Yunboro

A Yunboro model used by salvage operations to haul materials up from the bottom of the sea. It's design features many rounded edges to help withstand water pressure.

Medium Yunboro

This Yunboro is often employed in battle due to its ease of use, and it's possible to attach armor plating to the front of its frame. It comes equipped with small guns for Yunboro use and a needle gun that fires sharp metal rods.

Striker is the Machine Caliber that Kugel pilots. It's a more high-tech model than Chamber, and often used by commanding officers of the Galactic Alliance of Humankind. It comes equipped with the Pilot Support and Development Interface System and uses it to gather and organize the information needed for its pilot to act.
Cast
Ledo

Kaito Ishikawa

Amy

Hisako Kanemoto

Saaya

Ai Kayano

Melty

Kana Asumi

Bellows

Shizuka Itou

Ridget

Sayaka Ohara

Pinion

Katsuyuki Konishi

Bevel

Fairlock

Hideaki Tezuka

Joe

Yuuki Hayashi

Kugel

Yūki Ono

Chamber

Tomokazu Sugita

Striker

Ayumi Fujimura
Staff
Original Creator

Oceanus

Original Concept

Kazuya Murata
Gen Urobuchi (Nitroplus)

Director

Kazuya Murata

Series Composition
Script

Gen Urobuchi (Nitroplus)

Character Design

Hanaharu Naruko
Makoto Ishiwata (Nitroplus)

Music

Animation Character Design
Chief Animation Director

Masako Tashiro

Gargantia Image Design

Setting Research and Design

Prop Design

Art Director

Art Supervision
Art Design

Hiroshi Katō (Totonyan)

Color Design

3D Director

3D Technical Director

Monitor Works

Special Effects

Director of Photography

Editing

Sound Director

Music Production

Animation Production

Production I.G

Opening Theme

"Kono Sekai wa Bokura wo Matteita"
(This World Was Waiting For Us)
by Minori Chihara

Ending Theme

"Sora to Kimi no Message"
(The Message for You and the Sky)
by ChouCho
---
discuss this in the forum (236 posts)
|
back to Anime Spotlight Spring 2013 - The List
Anime Spotlight homepage / archives