×
remind me tomorrow
remind me next week
never remind me
Subscribe to the ANN Newsletter • Wake up every Sunday to a curated list of ANN's most interesting posts of the week.
read more
Anime Spotlight - Alice & Zoroku
by ANN Staff,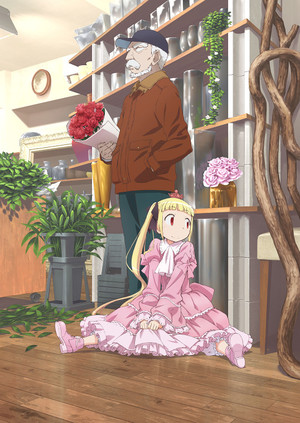 On air starting April 2, 2017
Streaming available at: Crunchyroll

Key Staff
Director: Katsushi Sakurabi

(Lunar Legend Tsukihime, Gunparade March)

Series Composition: Fumihiko Takayama

(Gunparade March, Sweet Blue Flowers)













Introduction
An emotional science fiction fantasy story about finding something precious once forgotten. This anime adapts the award-winning manga that won the 17th Japan Media Arts Festival's New Face Award in 2013.
Story
So, this is a story about my beloved, irreplaceable family.
Up until that point, the girl didn't know about the "outside world." It was filled with things she had never touched, scenery she had never seen, and people she had never met... In the face of such a broad new world, she was surprised, wavered, and her eyes were opened on the impulse of curiosity.
The girl's name: Sana. She was born and raised at a facility called the "Laboratory" without ever knowing anything about the outside world. This girl has the special power to materialize anything she imagined. Those with special powers like Sana were called "Alice Dreams."
And so, in this new world on the outside, the girl met an elderly man. His name: Zoroku Kashimura. The elderly man was a stubborn one who hated "incorrect things" and would not budge from his opinion of "bad things are bad." Sana's meeting with Zoroku would greatly change her destiny.
The mysterious organization that is hunting Sana down, other Alice Dreams that appear one after another, and kind people that Sana encounters... By going through the looking glass, "Alice," a girl who knows little to nothing about society, learns about the true form of the world.
...Yes. This is a story of when I was still freely able to go to the dream world.
Characters
Sana
Voice: Hitomi Owada

A girl who escaped from the place called the "Laboratory" because of her admiration for the outside world. She has the superpower to overwrite the laws of physics of anything around her at the will of her imagination. It might be because she holds this great power that she is quite selfish and naïve about the world. She meets Zoroku while on the run from a mysterious organization.

Zoroku Kashimura
Voice: Akio Otsuka

An elderly man with grey hair, thick eyebrows, and an expression that always makes it seem like he's unhappy. A man of few words, Zoroku hates things that are incorrect or unjust. If you looked up "stubborn old man" in the dictionary, you'd probably find his picture right next to it." He lives together with his granddaughter Sanae. His life changes when he calls out to Sana when he finds her in trouble in town.

Sanae Kashimura
Voice: Aki Toyosaki

Zoroku's granddaughter who always has a smile on her face. She started living with her grandfather after her parents passed away when she was young. She's a gentle, easy-going girl who is good at cooking.

Asahi Hinagiri
Voice: Natsumi Fujiwara

A girl who was kept at the same laboratory as Sana, and just like her, she is one of the Alice Dreams. Her power allows her to summon anything, as long as it has a chain attached to it. She's the free spirit elder sister of the Hinagiri twins.

Yonaga Hinagiri
Voice: Akari Kito

The younger sister of the Hinagiri twins. Just like her elder sister Asahi, she's one of the Alice Dreams that was kept at the laboratory. She has the ability to summon an arrow to shoot at will. The opposite of her unbridled sister, Yonaga is a cautious girl who often takes on a support role.

Shizuku Ichijo
Voice: Ami Koshimizu

A woman from the government's Cabinet Intelligence Bureau Special Mobile Unit who supports Sana after she escapes to the outside world. Shizuku is an Alice's Dreams herself with a strong superpower. She apparently has a primary school teaching license.

Ryu Naito
Voice: Hochu Otsuka

An old acquaintance of Zoroku and Shizuku's superior at the Cabinet Intelligence Bureau. He's had his eye on the pharmaceutical company Kreis & Clark Japan for quite some time. He seems like a quite loose and easy-going man, but he is in fact quite capable.

Noriko Yamada
Voice: Yuki Hirose

A genius hacker who single-handedly created the system that can locate Alice's Dreams. She did this because she loves Shizuku... perhaps even a bit too much. She was scouted by the Cabinet Intelligence Bureau for her impressive skills. Noriko often teams up with her beloved Shizuku.

"Minnie C." Tachibana
Voice: Mamiko Noto

Real name: Miriam C. Tachibana. A former member of the American military, she gained the power to summon her husband Joe's arms at any time after he passed. After discovering this power, she was invited to work at Kreis & Clark Japan. She loves Japan so much that she always wears a Kimono.

Koichi Kito
Voice: Masaya Matsukaze

A staff who works at the Kreis & Clark Japan laboratory. He sheltered and researched Alice's Dreams with the most irregular of superpowers, including Sana. After Sana escaped the lab, he took command of the force tracking her down.

Kureo
Voice: Shu Uchida

One of the Alice's Dreams kept at the laboratory. A boy with a pessimistic air to him who has the power to materialize any inanimate object he draws.
Cast
Sana

Hitomi Owada

Zoroku Kashimura

Akio Otsuka

Sanae Kashimura

Aki Toyosaki

Asahi Hinagiri

Natsumi Fujiwara

Yonaga Hinagiri

Akari Kito

Shizuku Ichijo

Ami Koshimizu

Ryu Naito

Hochu Otsuka

Noriko Yamada

Yuki Hirose

"Minnie C." Tachibana

Mamiko Noto

Koichi Kito

Masaya Matsukaze

Kureo

Shu Uchida
Staff
Original Story

Tetsuya Imai (serialized in Tokuma Shoten's Monthly Comic Ryu magazine)

Director

Katsushi Sakurabi

Series Composition

Fumihiko Takayama

Character Designs

Kazunori Iwakura

Art Setting

Yoshinori Hirose

Art Director

Takumi Yanagihara

Color Setting

Kana Tanabe

Director of Photography

Yoshio Okouchi

Editing

Masahiro Goto (REAL-T)

Music

TO-MAS

Opening Theme Song

"Wonder Drive" by ORESAMA

Ending Theme Song

"Chant" by toi toy toi (kotringo edition)

Sound Director

Yoshikazu Iwanami

Animation Production

J.C.STAFF




©TETSUYA IMAI/TOKUMA SHOTEN, ALICE & ZOROKU COMMITTEE
---
discuss this in the forum (1 post)
|
this article has been modified since it was originally posted; see change history