×
remind me tomorrow
remind me next week
never remind me
Subscribe to the ANN Newsletter • Wake up every Sunday to a curated list of ANN's most interesting posts of the week.
read more
Anime Spotlight - Spiritpact -Bond of the Underworld-
by ANN Staff,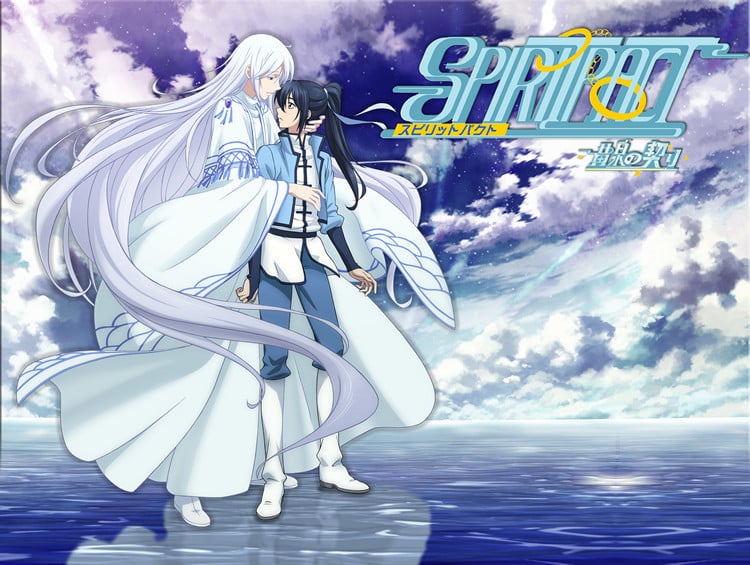 Broadcast starts February 24th, 2018 (JST)
Key Staff
Director: Li Haolin

("Spiritpact")

Animation Production: Emon Animation Company

("The Silver Guardian (TV)" as Animation Production, "Hitori no Shita - the outcast (TV)" as Animation Production. "Attack on Titan (TV 2/2017)" as Editing Studio)




Introduction
The Fantasy Anime Spiritpact is back with a new season.
Spiritpact is a popular web-manga published on Tencent Comic platform. On December 2017, it has reached up to 250 chapters leading to more than 3.3 billion of views. Adapted into animation by Haoliners, it has become famous in China during its broadcast and especially among girls fans. The first season receiving a Japanese localization with popular Voice Actors, was broadcast from January to March 2017 on Tokyo MX. This time, to please the numerous fans, the new season will be simulcast at the time in China and Japan, so don't miss it!
The new official website will share information about the series (story, cast, staff, visual...). Returning cast from season 1, like Yūichi Iguchi, Shunsuke Takeuchi will be back but look forward to new cast joining this season 2!
Spiritpact -Bond of the Underworld- will be broadcast on TOKYO MX from February 24th 2018(Saturday)at 21:00 (JST). The series will have 12 episodes.
Story
Tanmoku Ki is a Youmeishi, a Priest responsible for preserving the balance between the human world and the spirit realm. Putting his own life on the line to do that, he is not only the continuous target of evil spirits who want his spiritual power but also of people who want to inherit his status. Relentlessly fighting evil spirits, Tanmoku Ki is helped by You Keika, his "Spirit Shadow". Is their relationship simply that of a Youmeishi (Priest) and Spirit Shadow? Under what kind of fate did the two meet?
In this new season, we will discover the back story of Tanmoki and who will learn through his memories who Shouken is.
Character Names & Descriptions & Seiyuu
You Keika

Voice: Yūichi Iguchi

Was 23 years old when he passed away. Unfortunately, he ended up losing his life in an accident. However, after he forms a pact with Youmeishi, Tanmoku Ki and becomes his Spirit Shadow. By doing so, his appearance reverts to that of a 14-year-old. This makes him seem unreliable, but he's in fact very powerful. He's curious about Tanmoku Ki's past.

Tanmoku Ki

Voice: Shunsuke Takeuchi

This young man is 18 years old. He is the head of the Tanmoku Clan, a family with a long and reputable history of raising powerful Youmeishi—exorcists. Blessed with the traits of a Youmeishi, he became the clan head at just the age of eight. He has great spiritual power, and is always calm and cool. To someone like Tanmoku, who has spent his life in solitude, You Keika is a very special existence to him, since he's the only one who treats him like anybody else. Ever since Meeting You Keika, Tanmoku has started gaining back some of his traits as a normal human being.

Shinryu Shouken

Voice: Takuya Satou

A guardian dispatched by the Shinryu family to serve the Tanmoku Clan. His master is Tanmoku Ki. Despite his bright mind and great strength, he also has a tendency to have a one-track mind. He shows deep loyalty toward Tanmoku Ki, but it appears he has a secret he's hiding from everyone...

Shin Shiyou

Voice: Rumi Okubo

An 18-year-old girl Due to her special physical make-up, she was chosen to be Tanmoku Ki's fiancee. Despite being an arranged engagement, she is seriously in love with him. She is making an effort to throw aside her tomboyish personality in order to become a suitable wife who can support Tanmoku Ki and stand by his side. She is absolutely gorgeous, but is in fact an otaku who loves video games. She watches over Tanmoku Ki and You Keika in her own way.

Shinryu Sekijin

Voice: Susumu Chiba

Older Brother of Shinryu Shouken and head of the Shinryu Clan. Being much older than Shouken, he is severe but still love his brother. He is the one who sent Shouken to the Tanmoku family. Sekijin is an important character in this second season.
Cast
You Keika

Yūichi Iguchi

Tanmoku Ki

Shunsuke Takeuchi

Shinryu Shouken

Takuya Satou

Shin Shiyou

Rumi Okubo

Shinryu Sekijin

Susumu Chiba

Tanmoku Jiun

Tanmoku jimei

In Tetsu

Kau
Staff
Original Work

Spiritpact by Ping Zi published by Tencent Animation& Comics

Director

Li Haolin

Scenario

Qi Ling zi

Character Design

Eun-kyung Kwon

Chief Animation Director

Eun-kyung Kwon

Color Design

Kim-ju Kim

Art Director

Young-jae Kim

Director of Photography

Nakamura Shintaro

Editing

Li Haolin

Animation Production

Emon




©️TENCENT Animation& Comics /SPIRITPACT Production Committee
---
discuss this in the forum (3 posts)
|