Anime Spotlight - Grimms Notes the Animation
by ANN Staff,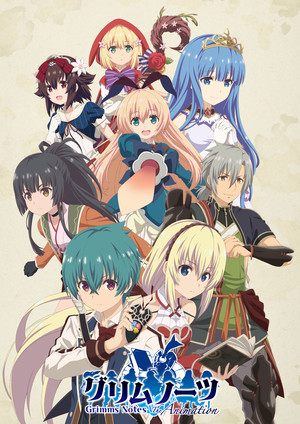 Premieres on January 10, 2019
Streaming available for North America at HIDIVE


Key Staff
Director: Shizutaka Sugawara

(RIN-NE (TV), D-Frag! (TV))

Series Composition: Hiroshi Yamaguchi

(Desert Punk (TV), Rosario + Vampire (TV), Sky Wizards Academy (TV))











Introduction
We are people whose fates are determined by the "Tome of Destiny," which dictates what roles we shall play from birth until death.
Each person is given a tome when they are born. It is our fate to act out the script—the "Tome of Destiny"—for our entire lives. However, a boy named Ex was born with the "Blank Tome," an empty slate. He meets others born with "Blank Tomes"—Reina, Tao, and Shane—and together, they embark on a journey to find their own purpose. This is a fairy tale, told a countless number of times.
Character Names & Descriptions
Ex

Voice: Ryota Osaka

A boy living in the Fantasy World who holds the "Blank Tome." He was raised without any particular destiny to speak of, but embarks on a journey to create his own destiny after meeting Reina and the others. He can conjure up the "Wild Card" that is able to connect the souls of all heroes.

Reina

Voice: Reina Ueda

A girl called the "Tuning Maiden." She is able to "tune" the Chaos teller, and has the power to return the Fantasy World to its former glory. She has a special power called "Miniature Garden Kingdom," and her past is a mystery.

Tao

Voice: Takuya Eguchi

A big-hearted and free-spirited young man who calls Reina "milady," he accompanies her on her journey to "tune" the Chaos teller. He has made a pact of siblings with Shane, and he calls the team the "Tao Family."

Shane

Voice: Miyu Kubota

A girl who is like a little sister to Tao. It's hard to know what she's thinking and she's very laid-back, but she supports the team on their journey after her sharp senses allow her to realize the truth. She's a heavy weapon/weapon customization fanatic, and has a variety of skills at her disposal.
Cast
Ex

Ryota Osaka

Reina

Reina Ueda

Tao

Takuya Eguchi

Shane

Miyu Kubota

Loki

Takahiro Mizushima

Curly

Sumire Uesaka

Alice

Miyu Kubota

Little Red Riding-Hood

Risa Taneda

Cinderella

Reina Ueda

Snow White

Aoi Yūki

Robin Hood

Junji Majima
Staff
Original Work

"Grimms Notes" (SQUARE ENIX)

Director

Shizutaka Sugawara

Series Scripts

Hiroshi Yamaguchi

Character Design

Kentaro Matsumoto

Music

Mirai Kodai Gakudan

Sound Director

Fumiyuki Go

Animation Production

Brain's Base

Opening Theme Song

"Innocent Notes" (PONY CANYON) performed by Ayana Taketatsu

Ending Theme Song

"Endless Notes" (DIVEⅡentertainment) performed by i☆Ris


©SQEX/GNA,TBS
---