Contest Winners
December 25, 2002

Grand Prize winners:

From Liz:
That poor DVD's all alone. We think it deserves some friends, do the two Eva Movies sound good to you?
---
from Rick:
Yes, it's real. And it's permanent.
Photos of the work in progress are available as proof upon request.

Words fail me, you get the DVDs and the "Wow!" award. You're even forgiven for sending us a 1 meg bmp.
---
Runners-up:
From Chibimiyu Hime
Why bother? You won't live to enjoy it. We'll send you a watch so that you can count down your remaining seconds in life.
---
From Oliver:
Spent Money, got crappy fansub. There's a lesson in this.
---
From RADHASRISEN64:
evangelion is most of my life i am entering the contest for the evangelion watch because when i wear it at school it will remind me of the greatst anime, figures,anything ever made..... o ya ,and ive told over 10 people about the evangelion series and they love it!!!!!!!!!!!
this is my rei figure one of my prized possions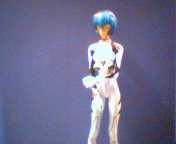 V not good resolution but this is eva unit 00 holding the lance

these are the death+rebirth and end of eva movies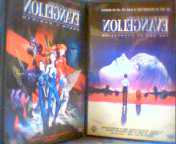 V figure of eva unit 1 berserker it couldnt stay standing up thats y my fingers are there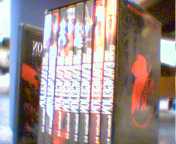 eva tv series perfect collection box set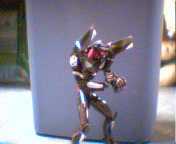 eva unit 3, one of my favorites
Well, you already own the ovies, no point in sending you those.
---
From Jeff40k:

I'll give you a watch if you promise to send a jpg next time instead of a BMP, deal?
---
From Daniel:
This photo was taken by me two years ago, it reminded me of the role Shinji played. My friend, Devon was the model. As you can see, he is looking towards the front of the bus. I wanted to convey the message of loneliness and observation. Shinji was a very lonely person, yet he had many friends around him. Shinji just sits there and observes other people's actions. This loneliness atmosphere drags you in, it makes you want to be friends with him.

We're sending you a watch to give to Devon.
---
And from David:
Okay, you've supported the companies enough, you get a free watch. Thank you to everyone that entered and congratulations to all the winners. Unfortunately due to the holiday, we probably won't be able to mail your prizes out ot you until the 30
th
.
---
back to Evangelion Contest
Contest homepage / archives