Evangelion Contest
November 25, 2002
Neon Genesis Evangelion Contest
Manga Entertainment
has graciously donated two copies of
Neon Genesis Evangelion: Death and Rebirth
as well as two copies of
Neon Genesis Evangelion: The End of Evangelion
for ANN to give away in a contest.
If you want the pair of movies (both DVDs), you need to
show us why you deserve them
. That's it, send us a picture that you feel shows us that you deserve to have these two great DVDs.
You can include an explanation of the picture if you feel necessary, but pictures that don't need explanations will probably be better received.
We'll send a pair of DVDs to the two people we feel most deserve them.
And to six runner-ups, we'll send a nifty
Evangelion Watch!
Contest Closed, see the winners
here
.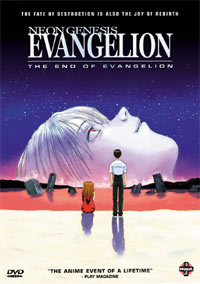 Fine Print: Anime News Network reserves the right to cancel this contest at any time (in case the Zentradi invade the Earth or some other drastic thing like that happens). Contest is open to any and all residents of the planet Earth and neighbour parallel dimensions, however prizes will only be shipped within the continental United States and Canada (So if you win, but you live in Antarctica or a dimension with warring giant robots, you have to arrange to have it sent to someone living in the appropriate area, and they can send it to you.) Contestant names, e-mail and mailing addresses will not be given out to any one and will be erased when the winners have been confirmed. Non-winners will not be contacted, spammed or harassed in any way apart from recruitment officers of the Galaxy Police. We reserve the right to retroactively add new rules when and how we see fit.

---