Samurai 7 on IFC
May 9, 2006

CONTEST IS OVER — WINNERS HAVE BEEN POSTED HERE
---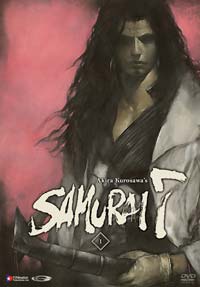 Samurai 7, Gonzo's retelling of Akira Kurosawa's classic
Seven Samurai, is
currently airing on IFC
, the Independent Films Channel.
IFC has graciously offered 5 copies of FUNimation's
Samurai 7 Volume 1
to be given out to five randomly selected readers. All you need to do to be eligible is enter below. While you're at it, check out IFC's
website for Samurai 7
and play their awesome
Samurai Kittens game.
Contest Closed
Contest Ends:
Saturday May 13 at 23:59 Eastern Standard Time.
The Fine Print: Anime News Network reserves the right to cancel this contest at any time (unlikely to happen). Contest is open to any and all residents of the planet Earth and neighbour parallel dimensions, but prizes will only be shipped within the continental United States and Canada (So if you win, but you live in Antarctica, you have to arrange to have it sent to someone living in the appropriate area, and they can send it to you.) Winners' names, e-mail and mailing addresses will be provided to IFC and their publicity firm, non-winners' names, e-mail and mailing addresses will not be given out to any one and will be erased when the winners have been confirmed. Non-winners will not be contacted, spammed or harassed in any way. We reserve the right to retroactively add new rules when and how we see fit.
---
discuss this in the forum (4 posts)
|