Mardock Scramble Give-Away
March 5, 2012

Our friends at Section 23 have provided Anime News Network with 5 copies of Sentai Filmworks upcoming release of Mardock Scramble.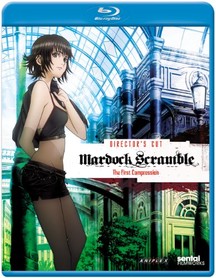 To stop the unstoppable you need the irresistible. To kill the un-killable, you need someone for whom death no longer has a meaning. And to catch the perfect serial killer, you need the one person who knows his methods the best... his last victim.
Murdered and now reborn, female cyborg Balot exists for only one reason: to track down the man who killed her and bring him to justice. But can even the ultimate hybrid between ghost and machine take down a monster who wipes his own memory? Or will a shadowy cabal of gruesome mutants who want her body parts for their own perverse purposes get to her first?
This new, special edition director's cut of Mardock Scramble deepens the mystery, providing even more insight into the dark psyche of the cyborg assassin and her dangerous assignment!
Contains both the original theatrical release of Mardock Scramble: The First Compression as well as the director's cut featuring five minutes of extended scenes and new footage.
The Fine Print: Although unlikely to happen, Anime News Network reserves the right to cancel this contest at any time. Contest is open to any and all residents of the planet Earth and neighbour parallel dimensions, but prizes will only be shipped to addresses serviced by FedEx (elsewhere, you have to arrange to have it sent to someone living in the appropriate area, and they can send it to you.) Winners' names will be posted on AnimeNewsNetwork.com in March 2012, their mailing addresses will be provided to our sponsor (Section 23) and their shipping agent of choice (ex: FedEx) and no one else. Winners' addresses and e-mail addresses will be erased once the prizes have been shipped. Non-winners' names, e-mail and mailing addresses will not be given out to any one and will be erased when the winners have been confirmed. All entrants, winners and non-winners alike, will receive one e-mail from Anime News Network regarding this contest. We reserve the right to retroactively add new rules when and how we see fit.
---
discuss this in the forum (16 posts)
|
this article has been modified since it was originally posted; see change history