×
remind me tomorrow
remind me next week
never remind me
Subscribe to the ANN Newsletter • Wake up every Sunday to a curated list of ANN's most interesting posts of the week.
read more
Anime Expo 2003

Yuki Kajiura concert

by Bamboo Dong,
The Main Events hall of the Anaheim Convention Center was packed to capacity Fourth of July night, piled with thousands of eager fans waiting to hear a concert by
Yuki Kajiura
. Sponsored by
Pioneer Entertainment
, Ms. Kajiura is famous for her work writing the soundtracks of both
Noir
and
.hack//SIGN
. The concert marked the first performance of her solo project in both the US and Japan, coinciding with the release of her CD, entitled "Fiction."

Licensed for release by Pioneer, "Fiction" was actually released in the United States before it premiered in Japan. The CD features a few remixed songs from the Noir and
.hack
soundtracks, including Canta Per Me, Fake Wings, Key of the Twilight, and others, with the rest of the CD showcasing original songs composed by Kajiura. The program list was bedecked with music from the two anime series, but also included the performance of one of her original songs, "Vanity." Imparting her dark, lyrical music to the crowd, Kajiura captivated the attendees both with her music and her cheerful asides to the audience between pieces. She was much beloved by the crowd, even when she slipped up and gave out a few spoilers for .hack.
With Kajiura herself on the keyboard,
Emily Bindiger
on vocals, and
Susumu Nishikawa
on the guitar, the concert kicked off with a spirited rendition of "Open Your Heart." Soon after, the young violinist
Hitoshi Konno
was added to the ensemble, where he managed to captivate many of the girls in the Events hall. There were times when the audio balance was off, making certain parts of the concert sound more like a cacophony of noise than Kajiura's usually graceful music, but the audience remained more than pleased with the performance.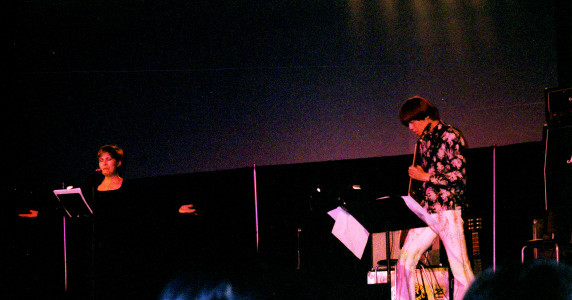 After an encore performance of "Key of the Twilight" at the end of the concert, fans were given the opportunity to buy copies of the "Fiction" CD. The CDs didn't last very long, selling out in minutes, but the experience of the concert was something that won't leave fans' memories anytime soon.
---
back to Anime Expo 2003
Convention homepage / archives