×
remind me tomorrow
remind me next week
never remind me
Subscribe to the ANN Newsletter • Wake up every Sunday to a curated list of ANN's most interesting posts of the week.
read more
G4 Presents San Diego Comic-Con 2008

G4 Presents: Comic-Con '08 - Afro Samurai: Resurrection

by Zac Bertschy,

Afro Samurai: Resurrection
Funimation and Gonzo's panel dedicated to their upcoming Afro Samurai sequel movie, Resurrection, got off to a prompt start, with one of the film's executive producers, Leo Chu, introducing the series' creator, Takahashi Okazaki, along with star and executive producer Samuel L. Jackson. Series composer The RZA was held up in traffic, and was expected to show up later.
The panel began with some basic questions for Okazaki and Jackson, the latter of which explained that the only way he'd do a sequel was if the material was just right. Okazaki is apparently quite slow with getting material finished, and Jackson had specific ideas about exactly what he wanted to see in the film – a self-described fan of the material, he thought his tastes – which he said were "violence, sex and rock & roll" – would jive with what other fans wanted. A brief discussion of the new Afro Samurai action figures from DC Direct preceded the film's trailer.
The plot of the film finds a villainess voiced by Lucy Liu who has uncovered Afro's father's skeleton and plans on resurrecting him to lead an army of the undead, which naturally Afro needs to stop. After the trailer, pages from the upcoming manga series were showcased. Okazaki revealed that it had taken him 3 years to complete the manga – which has a different ending from the original animated series. The 300-page manga, compiled into two volumes, will be released by Seven Seas, with the first volume releasing in September and the second releasing in January.
Shortly afterward The RZA showed up, and discussed his take on the film's music. He explained that while the first one was an attempt to illustrate musically what was going on inside Afro's head, his score for the sequel film focused on Lucy Liu's villain character. Specifically, he wanted his music to express "the meanness of a mad bitch" and that "hell hath no fury like a woman scorned".
Up next was a demonstration of the upcoming Bandai Namco Afro Samurai game, with the game's executive producer showing off the combat system, which allows Afro to target specific limbs. The game will be released alongside the film and the manga, in January 2009. The film itself will premiere in January on Spike TV; no home video release date was specified.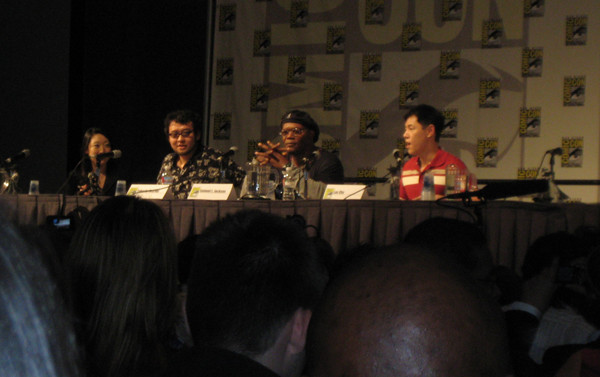 ---
discuss this in the forum (3 posts)
|
back to G4 Presents San Diego Comic-Con 2008
Convention homepage / archives