×
remind me tomorrow
remind me next week
never remind me
Subscribe to the ANN Newsletter • Wake up every Sunday to a curated list of ANN's most interesting posts of the week.
read more
Otakon 2010

Experiments in the Anime Industry - noitaminA

by Crystalyn Hodgkins,

Alex Leavitt, Department of Alchemy webmaster and Comparative Media Studies student at MIT, led a panel about the Noitamina television slot. After a late start due to problems of people getting into the convention, the panel kicked off with Leavitt explaining a mainstream definition of anime and discussing the breakdown of anime based on its three distribution types: television, film, and direct to... (video, internet, etc). Leavitt noted that the type of anime helps determine how it is made and what kind of profits companies may get out of it. Leavitt then showed the audience a caption of the top 10 anime rankings from about two weeks ago. Leavitt explained that many of the top-ranking titles shown on television are not usually the titles popular in America (ie: Sazae-san and Doraemon).
Leavitt then explained that most anime that is geared toward the otaku crowd is shown late at night on TV in Japan, and explained the history of how it became that way. When audiences railed against Neon Genesis Evangelion airing where a more mainstream audience could watch, one TV station experimented by showing Those Who Hunt Elves late at night, and it was successful.
Leavitt explained that Noitamina ("Animation" spelled backwards) is a late night block on Fuji TV. Leavitt compared the Noitamina block to "Toonami" and "Adult Swim" on American TV, and gave a brief history of each. The Noitamina block began airing in 2005, and it airs from 12:45 - 1:15 am on Thursday night. It was recently expanded so now it airs from 12:45 - 1:45 am. The purpose of the Noitamina block is to try to branch outside of the typical young male demographic. Leavitt made a note that until the recent agreement between Noitamina and Funimation, many of the series shown during this block have not been licensed in the U.S.
Leavitt then presented the titles shown during the Noitamina block, which are as follows:
2005 - Honey and Clover and Paradise Kiss
2006 - Ayakashi - Samurai Horror Tales, Jyu-Oh-Sei, Honey and Clover II, and Hataraki Man
2007 - Nodame Cantabile, Mononoke, and Moyashimon
2008 - Hakaba Kitarō, Library War, Antique Bakery and Nodame Cantabile: Paris
2009 - Genji Monogatari Sennenki, Eden of the East, Tokyo Magnitude 8.0, and Kūchū Buranko
2010 - Nodame Cantabile: Finale, House of Five Leaves, The Tatami Galaxy, Moyashimon live action, and Shiki
Upcoming - Kuragehime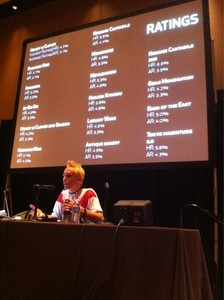 Leavitt discussed the plot of each title and showed clips from some of them. Leavitt discussed that most of these shows are geared toward older teenage and adult women, which is not the typical demographic for most other anime shown on late night television.
Leavitt then noted that the Noitamina experiment worked, and showed a slide of the ratings of each show. The highest rating for each show peaked out between 3.7 and 6.6 percent. Leavitt noted that 6.6 percent is an average rating for television dramas and news shows, and that comparitively, most ratings for late night anime are between 0 and 1 percent.
Leavitt concluded the panel by talking about another recent experiment in anime, the "Anime no Chikara" block, which has aired Soranowoto, Senkō no Night Raid, and Occult Academy. Leavitt noted that these shows have not been very successful, and the future of the block is currently up in the air. He also noted that the target for the Noitamina block is slowly merging into something that does not just include women.
Update: Ayakashi - Samurai Horror Tales link fixed. Thanks, configspace.
---
discuss this in the forum (28 posts)
|
this article has been modified since it was originally posted; see change history
back to Otakon 2010
Convention homepage / archives