×
remind me tomorrow
remind me next week
never remind me
Subscribe to the ANN Newsletter • Wake up every Sunday to a curated list of ANN's most interesting posts of the week.
read more
Anime Expo 2011

Opening Ceremonies

by Carlo Santos,
As expected, the Opening Ceremonies at Anime Expo 2011 got off to a late start, but attendees were still buzzing with excitement after waiting in line for over half an hour.
Voice actor Kyle Hebert and AX Live webshow host Courtney Kraft began with opening remarks about the many events one could look forward to at Anime Expo. CEO Marc Perez also added that this was the 20th year of Anime Expo and would like to "make it a big party."
On a more serious note, Perez noted that the proceeds from this year's Charity Auction would go to the Japanese Red Cross, as part of the continuing relief efforts for victims of the March 2011 earthquake. Well-known AX interpreter and ukelele-ist Taka Karahashi also stepped forward to talk about his first-hand experiences with the earthquake, having been in the Fukushima area when it happened.
After that, the event returned to its positive tone as the first guest, blogger and pop culture expert Danny Choo, was met with an enthusiastic round of applause.
Next up was visual designer Takaaki Suzuki, best known for his work on titles like Last Exile and Strike Witches. Suzuki reminded attendees to look forward to the world premiere of Last Exile: Fam, The Silver Wing at the convention. Suzuki was joined by mecha designer Makoto Kobayashi, whose resume includes hits like Last Exile, Gundam Z and ZZ, Samurai 7, and Trinity Blood.
Singer Maon Kurosaki got a warm welcome and offered a brief self-introduction in English. Fans could look forward to her repertoire of songs, including the themes to Highschool of the Dead, at a special late-night concert.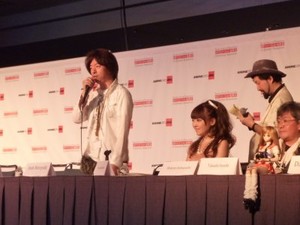 Coming from another dimension of the music world was Crypton Future Media CEO Hiroyuki Itōh, whose most famous creation—"virtual idol" Hatsune Miku—would be giving a concert on Saturday. Right after Itoh came Wataru Sasaki, marketing director for Crypton and another key player behind the Vocaloid phenomenon.
Up next was Kenta Sugano, a game designer from Idea Factory and best known for titles like Record of Agarest War and Hyperdimension Neptunia. Also joining him was Idea Factory's lead artist Katsuyuki Hirano, character designer for Spectral Souls and Record of Agarest War.
For a change of pace, veteran voice actor Toshio Furukawa came forward, getting a rousing cheer for roles like Urusei Yatsura's Ataru and Dragon Ball Z's Piccolo. Furukawa belted out one of Piccolo's classic lines, which got the crowd worked up.
There was also a positive reaction for Nippon Ichi Software's Sohei Niikawa, creator of the Disgaea franchise. Niikawa invited fans to check out his products at the NIS booth in the Exhibit Hall (and perhaps get a chance to see him dressed up).
Voice actor and director Taliesin Jaffe was introduced with a long list of roles, but clearly got the most enthusiastic cheer for being the director of the Hellsing dub.
After Jaffe's introduction came an embarrassing technical glitch as the introduction video for Hatsune Miku, failed to play. However, this was redeemed by the appearance of fan favorite Vic Mignogna, who stormed the stage dramatically and introduced himself with almost as much excitement as the actual crowd.
After Mignogna got the crowd amped up, technical staff finally got Miku's brief self-introduction video working, but at just 10 seconds long, it was clear that she was saving herself up for the concert.
Next up was manga-ka Izumi Matsumoto, creator of classic romantic comedy Kimagure Orange Road. Old-school fans and newcomers alike gave Matsumoto a welcoming round of applause.
Vocaloid songwriter Onyx Kobayashi, producer of the hit song "Saihate," came forward and, like many others, expressed his anticipation for the upcoming Miku concert, saying that there would be "fresh new surprises" in store.
Electro-pop ensemble NIRGILIS took the stage next, and fans familiar with their theme songs for Eureka Seven, D.Gray-man and Deadman Wonderland could look forward to the group's live performance at Club Nokia later on Friday night.
Voice actress Miyuki Sawashiro got a round of applause for her many roles including Angel Beats!, Durararara!!, and Arakawa Under the Bridge. She introduced herself in English and expressed her excitement about meeting international fans at her focus panel.
Webcomic artist Fred Gallagher, creator of Megatokyo, also took the stage and expressed his excitement to be attending his first Anime Expo (not counting the one in Tokyo several years ago).
Voice actor Toshiyuki Morikawa was introduced with a litany of roles that played out like a Who's Who of shonen, but clearly his role as Final Fantasy's Sephiroth was the big crowd-pleaser. Morikawa greeted fans with a roar of "Konnichiwa!" and got a very enthusiastic response. "It's been a while," he said in his best Sephiroth voice, which of course got a wild reaction from attendees.

Finally, pop vocal trio Kalafina took the stage, and introduced themselves in carefully practiced English. The group responsible for theme songs to shows like Black Butler and Madoka Magica got excited fans looking forward to their Saturday afternoon concert.
A number of guests including the Highschool of the Dead creative staff, co-directors of Last Exile: Fam, The Silver Wing and Gundam 00 director Seiji Mizushima were not available for the ceremony, but still greeted fans with pre-recorded videos, reminding the Anime Expo crowd of what they could look forward to.
With the entire roster of guests complete, the traditional daruma ritual was carried out, with Izumi Matsumoto filling one eye of the giant, round-headed good luck charm. So began the four-day spectacle of Anime Expo 2011.

---
discuss this in the forum (1 post)
|
this article has been modified since it was originally posted; see change history
back to Anime Expo 2011
Convention homepage / archives