EB Games Expo 2011 - Gold Coast
by Luke Carroll,

I don't think it's a far stretch to say that almost anyone who likes anime also has a little (or big) thing for video games. The similarities between the two are almost endless and at times franchises even cross between the two mediums. There is one thing video games can do that an anime never will – let you interact with it. So when gaming retail giant EB Games announced that it was holding a convention of its own, the gamer in me had to attend and catch some nice cosplay along the way!
I'm not going to lie, I almost had a spring in my step as I arrived to the Gold Coast Convention Center for the first session. The massive gaming banners draping the outer walls were a confirmation that I wasn't dreaming – that behind those convention doors were dozens of games waiting for me to play. My ever growing happy mood suddenly was brought back to life however when I met the worst enemy of any convention, the line. Or in my case and the other unfortunate souls who ordered tickets online – lines.


Once inside however that initial welcoming became a non affair, because the sight I was greeted had brought the spring right back in my step. Gaming kiosks littered the hall, massive banners surrounded each booth and large projections played continual loops of gaming footage. And for those like me wanting to experience company presentations first hand, the moderate staged arena to one side had them running regularly during each session as well. It was everything a video games convention should be.
As with most conventions, special events only occurred on a certain day, or session in this case. Saturday Daylight for instance had a keynote presentation from EA figurehead Peter Moore and members from the DICE team. Saturday Twilight had chiptunes and other live music as well as the World Cyber Games Finals; and Sunday had two cosplay competitions as well as an orchestral performance featuring music from many 8-Bit classics.


Originally, the plan for Saturday was to play some games before watching the company presentations. However the delay that resulted from getting inside meant that the games would have to wait. The company presentations started out well with Sony giving us a quick look at the new Vita handheld and their plans for it; and Namco Bandai showing off the Final Fantasy XIII-2 demo that everyone could play in the hall. However things slowly degraded from there. Bethesda showed footage of Skyrim, Ubisoft had the Black Eyed Peas Experience crash multiple times (thankfully?), and THQ's presentation of Saints Row the Third had dressed up actors giving the most cringe-worthy performance I have ever seen.
Finally it was time for EA's special presentation. Keynoted by popular figurehead Peter Moore, the presentation covered EA's present and future endeavours, as well as a discussion of Battlefield 3 featuring members of the DICE team. With the lines way too large to play many of the big games afterwards, it served as a wonderful way to finish the session on.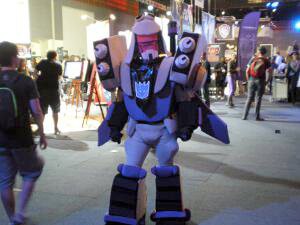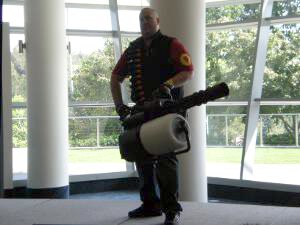 With only the same company presentations being shown on Sunday, the morning was free to give the games on the floor a go. With over 50 games on show there certainly was a lot of selection. Unfortunately the large attendance meant that everything, including food and even the EB store had line up. And popular games? Unless you were holding a VIP pass, you could be lining up for quite a long time. Modern Warfare 3 for instance had filled their day's reservations within an hour. Nevertheless, there were still plenty of choices where only a little wait was necessary.
The afternoon brought with it two different cosplay events; Just 'Cos and Cosplay Evolved. Taking place outside the main arena, Just 'Cos was very much the general cosplay competition of the two. Cosplayers were moved through at a steady pace, allowing time for some quick pictures and a couple of short questions. Competitors took the form of everything from Master Chief and Ezio, to Darth Vader and even the Witch-King of Angmar from Lord of the Rings. Cosplay Evolved on the other hand was a much more serious competition, playing out similarly to Madman's National Cosplay Competition. Contestants were required to enter via a 1 minute video on the EB Expo's website. Winners from there were given the chance to perform on stage in the Arena area, utilising extra video footage they shot to aide in their cosplay performance.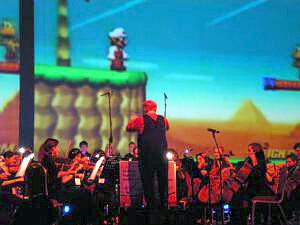 Following their performance and awards, the expo still had one final show up its sleeve, an orchestra performance. Entitled 'An 8-Bit Collection' and performed by the Brisbane Regional Youth Orchestra, the music was anything but old. Tunes played included themes from standard games including Mario and Final Fantasy VII, to non-standard games such as Battlefield 1942 and Age of Empires. It was a wonderful performance, and a great finale to the expo.
Overall, the EB Expo 2011 was a wonderful experience. Although the long lines certainly made playing a few of the games nigh on impossible, there was still enough there to keep anybody busy for quite a while. With the Expo moving to Sydney next year, hopefully they'll use this experience to make an even greater event.
---