Cracked Plastic - 1/144 HGUC Grypps War Set
by Richard Winters,

Recently Bandai has taken the opportunity to take some previously limited HGUC boxed sets and mass release them. I've taken the opportunity to grab these and shall review them (
As if you needed a excuse - Ed
). Here is the Grypps War boxed set. This is a HUGE box. The front is a piece of artwork special commissioned for this set showing the three mechs against the backdrop of space.
It contains 3 HGUC kits, a massive, full colour instruction and background book, and a truly impressive set of stickers.

We shall start with the main attraction, the kits. First up is the Zeta Gundam. This was my first HGUC Zeta kit. It's a very modern kit which means its incredibly well engineered with a mix of ABS and polycaps for the parts. It can be displayed in mech mode or wave rider mode with the assistance of the included stand. It's fully molded in colour so you can get a good result with just a Gundam marker. What else is there to say, it's the Zeta, one of the most iconic Gundam designs. If you like gunpla and don't have one, this kit makes for a fantastic option as the retail price on the set is only 13 bucks more than the original.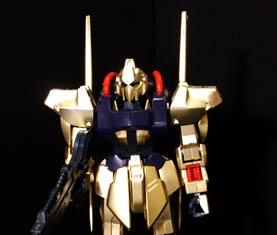 Second is the infamous Type 100, or Hyaku Shiki. This older kit was originally phenomenally, brain hurting expensive as it was plated with honest to goodness gold. In order to reduce costs (the original Hyaku Shiki cost me as much as this whole boxed set did) this release is plated with a much lighter yellow and significantly less bright chrome. This is actually a good thing, as it very closely matches most "gold" metallic paints. As with all plated kits, you WILL get horrible jagged marks on the places where you cut the part off the sprue. To make things worse, this mold has degraded slightly over its life resulting in some parts with poor coating. If you didn't have the ability to get some paint onto it it's going to look pretty horrible.

But it will not require too much work for even an inexperienced painter to get this kit up to an acceptable standard. It is somewhat disappointing to me that my favourite design in this collection was in such poor shape. Hopefully further batches will have increased quality control. Fortunately it is as posable as ever, but this will warrant some work before you can display it.



Lastly is the workhorse, the Gundam Mk-II. This design is also a bit older and has been re-released a fair bit. In order to add some desirability Bandai have chosen to recolour the Gundam Mk-II in this offering. Instead of white it is a very attractive medium grey as well as the red, blue and yellow parts having been produced in darker shades. With a simple panel lining in black, this becomes an incredibly menacing looking kit. The kit manages to ride a great line between detail and posability.

The instruction booklet is fantastic. It contains, in Japanese text, a plot summary of the Grypps Conflict, full instructions for the three kits, and detailed discussion and photography of the remaining kits from the Grypps Conflict. It also has suggestions for adding the high detail stickers to the three kits

Finally there is the "extra" sticker sheet. Inspired by the high detail markings that come with master grade kits, Bandai have produced an A5 sheet with high detail markings in 1/144 scale. Enough have been included that you could feasibly plaster up not just the three kits in the boxed set, but several other Grypps War vintage models you might have. Faction markings, warnings, unit numbers and the like are included. While they are canon, they are not show accurate of course and the sheet is NOT pre cut, meaning you are going to spend a lot of time with scissors and a model knife if you want to use them.


So over all:

The pros: Insanely cheap.
The cons: Lower quality than individual releases.

Price: A
3 kits for an insanely good price.
Availability: A
Got it off the shelf in Australia.
Production quality: C
Unfortunately the disappointing Hyaku Shiki and uncut stickers drag down an otherwise great boxed set.
Design: B
The older kits show their age in comparison with newer Bandai HG 1/144 kits. Nothing major to complain about.
Final Rating B+
Grab it if you can. Rant highly recommends this boxed set, because no matter what else, its essentially 2 free kits.

Ed's Note: I would like to welcome Richard Winters to our team, he's been working with us for almost eight months to get this column off the ground and now it's finally online and posted. You may recognize this manic modelling maestro from the Manifest Zoid Workshops, hopefully in the future he'll be able to walk us through one of his princess customs! This column will only get better over time so please let us know what you think through the forums.
---
discuss this in the forum (2 posts)
|