News

Mizuki Productions Posts Discovered Plot Details For Unreleased Shigeru Mizuki Work

posted on by Rafael Antonio Pineda
The official Twitter account of Mizuki Production revealed the story draft for a manga labeled "Nekoman" by the late manga author Shigeru Mizuki. The manga describes a story about a "baby of justice who connects the human and cat worlds." Mizuki had apparently only finished the concept of the story before passing away.
水木が書こうとしていた漫画の、プロットが見つかりました。〜猫界と人間界をつなく正義のベビー「ネコマン」〜! 原案のみで終わってしまい残念!読みたかった!笑 pic.twitter.com/zzI5S6v45h

— 水木プロダクション (@mizukipro) June 27, 2017
Mizuki passed away on November 30, 2015.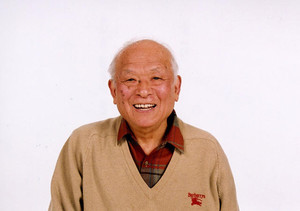 Mizuki was born in Osaka in 1922, and he grew up in Tottori Prefecture. He was drafted into the Japanese Imperial Army during World War II, where he injured — and later lost — his left arm. He penned multiple manga based on his experiences in World War II, such as Onward Towards Our Noble Deaths and Watashi no Hibi.
Mizuki was famous for his manga about yōkai — Japanese supernatural creatures. His manga and research into yōkai is largely responsible for the popularity that yōkai stories have today.
Mizuki was the first Japanese creator to win a major award at France's Angoulême International Comics Festival when he won the Fauve d'Or: Prix du Meilleur Album in 2007 for NonNonBâ. He was also honored as a Person of Cultural Merit by the Japanese government in 2010.
North American publisher Drawn & Quarterly has released many of Mizuki's works in English, such as NonNonBa, Kitaro, Hitler, Onward Towards Our Noble Deaths, and Showa: A History of Showa Japan (Comic Showa-Shi), the latter two of which were nominated for a Harvey Award in 2012 and 2014, respectively.
Mizuki's Showa 1939-1944: A History of Japan and Showa 1944-1953: A History of Japan manga won the 2015 Will Eisner Comic Industry Award for Best U.S. Edition of International Material—Asia in July.
Thanks to Liam for the news tip.
---