Trinity Blood Interview
by Bamboo Dong,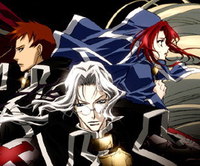 With Trinity Blood rapidly approaching its climactic finale on Cartoon Network, and nearing the last few volumes of its Funimation DVD release, it's prime time to chat with two of the show's biggest characters, Abel and Cain Nightroad, and gather their thoughts on this dark tale.
The series originates from the mind of Sunao Yoshida, who tragically passed away in 2004, leaving the story unfinished. His good friend Kentaro Yasui (Ragnarok) took up his work, completing the novels and manga, both of which can be found in North America from Tokyopop. The manga is comprised of seven volumes, with the novels ringing in at twelve—six in the Trinity Blood: Rage Against the Moons collection and six in Trinity Blood: Reborn on the Mars. The story was later adapted into a 24-episode series by Gonzo, and was directed by Tomohiro Hirata, who made his directorial debut with Peacemaker.
Interview - Page 1 | 2 | 3 | 4
About the actors:
Troy Baker
The voice of Abel Nightroad, Baker has also lent his voices to popular characters like Gennosuke from Basilisk. He recently starred in "Commanche Moon," the prequel to the famed Lonesome Dove movie series, where he played the part of Pea Eye Parker alongside actors like Val Kilmer and Steven Zahn.
Mike McFarland
Both the ADR director for Trinity Blood and also the voice of Cain Nightroad, McFarland has also provided the voices for many favorites, including Master Roshi of Dragonball fame and Goemon from Lupin III. The seasoned ADR director has also lent his talents to series such as Fullmetal Alchemist and The Galaxy Railways.
---
discuss this in the forum (3 posts)
|