×
remind me tomorrow
remind me next week
never remind me
ANNual Pumpkin Carving Contest 2020 w/ Ciarán Strange! • It's a match made in Halloween! Voice actor Ciaran Strange is joining our Spooktacular Pumpkin Carving Contest as a guest judge! Click to find out how YOU can win over US$1,000 in anime!
read more
A Backstage Guide to the American Anime Awards
by Bamboo Dong,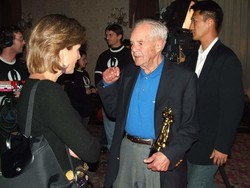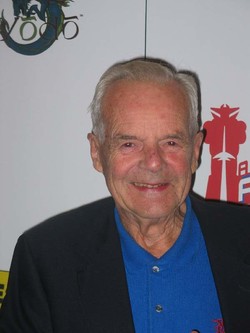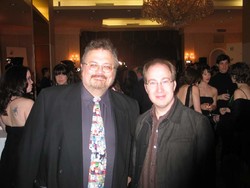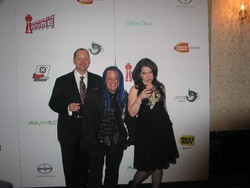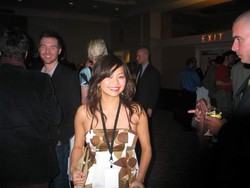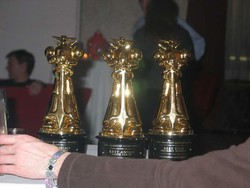 ---
Best Cast:
Fullmetal Alchemist
Best Manga:
Fruits Basket
Best Male Actor in a Comedy:
Dave Wittenberg (Zatch Bell)
Best Actress in a Comedy:
Debi Derriberry (Zatch Bell)
Best Theme Song:
Rewrite (Fullmetal Alchemist)
Best Anime Feature:
Final Fantasy 7 - Advent Children
Best Package Design:
Fullmetal Alchemist
Best Anime Comedy:
FLCL
Best Actor:
Vic Mignogna (Fullmetal Alchemist)
Best Actress:
Mary Elizabeth McGlynn (Ghost in
the Shell: Stand Alone Complex, 2nd Gig)
Best Anime Short Series:
FLCL
Best Anime Long Series:
Fullmetal Alchemist
---
While tens of thousands of attendees packed the halls of Javits Hall this past weekend, eager to meet their favorite artists and creators, and peruse the mountains of comic books kept in pristine wrapped condition, there were also thousands of fans there for something else—anime and manga. This year, in particular, was a hallmark year for anime. Not just the industry, but for the fans as well, with the introduction of the first annual American Anime Awards.
Held at the historic New Yorker Hotel, the ceremony celebrated the achievements of the American anime industry, from the actors and actresses, to the series and movies. There were twelve categories in total, with five nominations in each. And, it was quite obvious to all the guests in attendance (comprised of industry members, Japanese licensors, voice talents, press, and fans) that anime cleans up well.
Expectations prior to the event were varied, but the high production values and the smooth, classy execution ended up making the event quite the spectacular achievement. With appearances from some of the American industry's most beloved voice actors and directors, fashion designer Chloe Dao (who also dressed the presenters), and comedian Pierre Bernard (from Late Night with Conan O'Brien), the ceremony was nothing short of polished. Even the awards, named the Mechas and made by the same company that makes the Oscars, added to the first-rate character of the event.
Even though the entire event took less than an hour, the path to the American Anime Awards was long and started sometime last summer. The event is the creative brainchild of John Ledford, CEO of A.D. Vision. His desire was to have an awards show that somehow involved the Anime Network. His only two requirements were to make sure it was fair, and to make sure that it would give the anime medium the spotlight and promotion it deserved.
One of the most important factors was deciding on a location. In the end, New York Comic Con was chosen, largely because New York is such a central location, both for the entertainment industry, the media, and licensing, and also because of the professionalism of New York Comic Con.
Then there was the other most important thing—the actual awards and nominations. In July, publishers, distributors, and members of the press were each asked to nominate two candidates in 12 "Best of" categories. The only criteria was that it was available in 2006, either on TV (first run or rerun), in print, or on store shelves. Of course, this led to some raised eyebrows and questions, such as whether or not the rules were too lax and too all-inclusive. According to Chris Oarr, spokesperson for ADV, "Our main objective was to build a big tent, so the rules were as inclusive as possible," and that the fan-voting stage would "reflect what's going on right now."
After the nominations were collected, all the nominations were collected onto a ballot and 43,000 fans voted for their favorites in each category. The top five vote-getters were then compiled into a list of finalists and posted online.
Despite organizing the event and footing the bill for it, ADV chose to remove themselves entirely from the voting procedure. To promote Ledford's call for fairness, the final 5 nominations were tabulated based on number alone, and no attempt was made to override any of the choices. The job of counting the fan ballots was given to ICV2, who used a third party survey site to do all the tedious work. Incidentally, the finalists weren't even known until three weeks before the event, leaving Joey Goubeaud of ADV's video team working tirelessly to compile clips for all the categories.
Still, there were many criticisms about the nominations and the voting process. Because of the lax rules, there was no way to exclude the nominees to just recent titles—for example, Akira was nominated for best film, despite it being around for over a decade. There was also the problem of allowing companies to submit their own nominations, without a set of rules or standards to override decisions. One particular example was Johnny Young Bosch's nomination for Best Actor in a Comedy; the ballot stated that he was nominated for his role in Akira, a film that can hardly be called a comedy by any stretch of the imagination.
The voting process also fell under criticism. With winners being entirely decided by fans, there were concerns that it would become nothing but a popularity contest. While it's true that "popularity" is a good indicator of fandom's collective voice, it also doesn't allow for technical merit, critical praise, or sales figures. The online ballot system also made it far too easy to allow ballot stuffing, or an influx of fans from niche fangroups and communities.
Aside from the voting procedure, one industry representative also mentioned that there were no available categories for technical achievement, such as best production, best direction, best sound mixing, or any other category that would highlight the production aspect of anime.
Despite concerns with the nomination and voting, though, the actual awards ceremony itself was a hit. The show went off without any visible hitches, and fans who were able to get tickets to the event had a blast. One has to wonder how much cash was pumped into this project, but unfortunately, it's a closely guarded secret.
What we do know is what didn't cost them any money, and that was, surprisingly (and somewhat refreshingly), the special guests, namely Chloe Dao and Pierre Bernard. They were kind enough to volunteer their time and efforts for a variety of personal reasons (Bernard is a big anime fan.).
Fans of the Bravo TV series Project Runway are probably very familiar with Dao's name, as well as her fashion line. The winner of the second season, she continues to run a successful women's boutique in Houston. Pierre Bernard is himself widely known for his rants on pop culture in "Late Night with Conan O'Brien." One rant in particular may stand out in fans' memories—his tirade on Robotech. It's somewhat fitting, then, that he would have the best seat in the house for the events, right on stage in his Recliner of Rage.
Although many attendees were expecting Bernard to have a more active role in the Awards ceremony and deliver a monologue, his participation was surprisingly limited. Mainly, his role was to sit in his recliner, while the different presenters pre-emptively tempered his "rage" by supplying him with pillows and refreshments. Unfortunately, for those in the audience unfamiliar with the "Recliner of Rage" segments on "Conan," the humor was largely lost.
What may surprise fans is that with all of the night's proceedings, much of it is owed to the man in charge of the production, controversial ADR director Stephen Foster. With his creativity and his sense of dignity, he was tagged to head the project. Apparently, he has quite a skill for cajolery as well. When asked how Dao and Bernard were recruited for the event, Oarr simply said, "Stephen Foster can be very persuasive."
The event proved to be a success for more than just ADV. Other company representatives were happy with the way the Awards turned out, too, both from the wins garnered, and just the overall presentation. Lance Heiskell, the brand manager for Funimation's Fullmetal Alchemist, which took home five Mechas, remarked, "I was thoroughly impressed with the great production. It made you feel like you were at the Oscars."
Glamour and velvet rope aside, the joyous spirit of the event was probably best captured in the speech delivered by Peter Fernandez, legendary writer, director, actor (notably the voice of Speed Racer), producer, and recipient of the first annual American Anime Outstanding Achievement Award. When the attendees finally took their seats after a rapturous standing ovation, he said, "I've been in the industry for many, many years, but this is the first time I've ever received an award."
With anime rapidly becoming a powerhouse in the entertainment industry, its scope and influence deserves all the accolades and recognition it can get. Although it was far from perfect, the first ever American Anime Awards was a magnificent production and hopefully, the start of a proud new tradition.


































































---
discuss this in the forum (6 posts)
|