Tales from Earthsea - Australian Premiere Report
by Jon Hayward,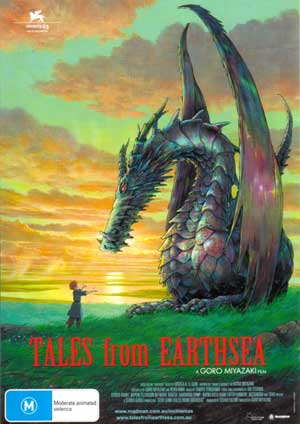 Over twenty years ago, acclaimed director Hayao Miyazaki approached American author Ursula K. Le Guin about creating a film based on her ever popular Earthsea novels. Having known of only Disney animations, and disliking them, Guin turned the offer down. Nearly a decade and a half later, after seeing Miyazaki's masterpiece My Neighbour Totoro, Guin had a change of heart, and was very soon in talks with the renown director about making an Earthsea film. It was then that she was informed that the director would infact be Hayao's son, Goro Miyazaki, who had yet to direct a film. With Hayao's assurance that the project will be well looked after, the deal was struck and the film was made.
On April 15th, 2007, Madman Entertainment held the premiere for the Australian theatretical release of Tales from Earthsea at the Dendy Cinemas in Brisbane. Ghibli and anime fans alike packed the refurbished theatre for what would eventually be a sold out screening. Once everyone was seated, Madman's Production and Marketing Assistant, Sylvester 'Sly' Ip took to the microphone to give the patrons a short speech and welcoming to the premiere. From there it was into the screening of the film.
Tales from Earthsea is a visually breathtaking adventure story about the importance and value of life and death in the world. Set in the fantasy world of "Earthsea", a world consisting of islands encircled by the sea, Tales from Earthsea is a film about Arren, the Prince of Enlad, who after stabbing his father the king to death, fled his country. Constantly fighting his shadow of misery and doubt, Arren regularly finds himself insecure and frightened. During an encounter with a pack of wolves, Arren meets a wise man called Ged (Sparrowhawk), an Archmage who is on a quest to find what is causing the world to become unbalanced. The two become travel companions on a journey to find out the origin behind all the disasters.
| | |
| --- | --- |
| | |
The story itself is well thought out; however it fails to explain and execute the plot most of the time. Events such as the reasoning behind Prince Arren's stabbing of his father are not given an explanation until the end, and are not very convincing. The villain of this film, the wizard Cob, is not introduced until quite a fair way into the film. She is given very little background about herself and her motives. This ultimately leaves her feeling like a tacked on villain that the filmmakers suddenly realized they needed halfway through production. The middle portion and the final ten minutes of the film are very well done however. Overall, the story is quite well done, only to be let down by a lack of convincing explanations and background information.
Studio Ghibli is well known for creating some of the best breathtaking visuals and beautiful music ever to grace the animation world. This unique style that Studio Ghibli rarely derives from, once again is done beautifully in Tales from Earthsea. The background art steals the show however; featuring some of the most detailed and visually pleasing backgrounds that only a cinema could bring the most out of. The music is quite superb, with tunes that suit the film perfectly. The main theme in particular is sung brilliantly in the film. The atmosphere it created whilst playing is something that I had not experienced in a long time.
Tales from Earthsea is a good movie that is unfortunately held back by a lack of information for a number of events and characters. Whilst it has the feeling of a Ghibli film, it definitely has a more mature tone that distinctly sets this away from the majority of Hayao's works. Whilst it's impossible to not compare the two, I believe that Goro has tried well to create his own style within his fathers. For what it is, Tales from Earthsea is a great adventure film that features a number of stunning visuals and music scores; but just don't go in expecting a Hayao movie.
Editor's Note: Apologies must be made, somehow this review was not posted and we are only correcting the mistake now. Tales from Earthsea will start screening in Melbourne this thursday.
---
discuss this in the forum (1 post)
|