×
remind me tomorrow
remind me next week
never remind me
Subscribe to the ANN Newsletter • Wake up every Sunday to a curated list of ANN's most interesting posts of the week.
read more
Maid in the USA - A Visit to Royal/T
by Sara Pocock,

As the doors to Culver City's newest art gallery/café open, two rows of girls stand waiting and beaming, each holding a tray filled with delicate pastries and Japanese snacks. One girl balances a tray piled with dainty martini glasses filled, as it turns out, with espresso. Another sports a basket overflowing with heart-shaped lollipops. As customers walk by, they are greeted with bright "Hello!"s and "Please have one!"s, and as the trays gradually empty, some of the servers take a moment to smooth their aprons and adjust their lacey hats. Oh! I almost forgot to mention—these girls are all dressed as maids.
Welcome to Royal/T, LA's first Japanese-style cosplay café. Partly inspired by the dozens of maid cafés in Toyko's (in)famous Akihabara district, Royal/T serves as a café, art gallery and retail shop, each space infused with the sensibilities and eccentricities of modern Japanese culture. The walls of the café are lined with the work of some of today's most sophisticated contemporary artists: Takashi Murakami, Yoshimoto Nara, and Hideaki Kawashima, just to name a few. The gallery space boasts an impressive private collection owned by Susan Hancock, the owner of the space and brainchild for this eclectic experience. The collection includes pieces from all the above artists in addition to other great names like Aya Takano, Yayoi Kusama, and Keisuke Yamamoto. And to tell the truth, it's difficult to tell where the gallery ends and the café begins—especially when you have maids roaming all over the art space with trays of parfait.
It is entirely fitting that the work in the gallery is made up of primarily Superflat artists. Superflat is a Japanese postmodern art movement in which fine art is highly influenced by (and often subtly satirizes) manga and anime; essentially, high culture meets pop culture. Royal/T is primarily an art space; Susan Hancock originally just wanted a space to share her collection with the world. At the same time, it's a playful romp through the familiar otaku culture we all know and love. For instance, one wall of the café is plastered entirely in Plexiglas filled with anime DVDs. Larger-than-life-size photographs of Japanese girls dressed in Gothic Lolita fashion adorn corridor walls and in the back gallery, an entire wall is filled with a digital projection of girls adorned in maid costumes, singing and dancing. A humongous sticker on Royal/T's front window boldly declares (or predicts?)"Kawaii Kills."

Similarly, the retail shop is almost bewildering (in a good way) in its vast scope and range of products. Toys from urban vinyl favorite Kidrobot are well represented, as are art books and screen prints of contemporary Japanese artwork. Anime-related figurines from series such as Magikano are also present. The theme of fine art vs. pop art is so tangible it even manifests itself in the gallery patrons. One well-dressed couple to my left talk between themselves earnestly about the symbolism of an Aya Takano painting in which a mountain grows out of a woman's stomach while a T-shirt clad man on my right muses, "There sure are a lot of hipsters here."
The special guest for the gallery/café/store opening is noted fashion photographer Masayuki Yoshinaga, signing his book Gothic & Lolita.
The entire space is an immersive, unique experience. The theme of the gallery show is "Just Love Me," and to be honest, it's hard not to. The food is excellent, the artwork is some of the best in the world, and there's just enough otaku spice thrown into the mix to appeal to a wide variety of anime and manga fans. For any person interested in contemporary Japanese art and culture, there is a lot to like here.
The maids help, too.
Behind the Scenes
Interview with Susan Hancock
I had the pleasure of talking to Susan Hancock, the owner of the space and also the artwork. She talked about her collection, as well as some of her future plans for the space.
This is a really great space you have here.
This is the VIP room. And for us, VIPs are artists. You know, in a lot of places in LA, the VIP rooms are for movie stars, right? But for us, it's gallerists and artists. So they can come here and hang out. They can call and reserve it for the day, play videos or clients' videos they might want to sell, show other artists a video, or you know, have lunch and dinner here.
I was told that all the artwork in this space is from your collection.
Yes.
Wow, that's kind of amazing.
Thank you. Yeah, and it's going to change about every four months.
Is it all going to be this kind of Superflat Japanese art?
Probably. Each curator will probably look at my collection. This first curator's name is Yukie Kamiya and she's from Japan. She had one cut of my collection—obviously, my collection's a lot bigger than this—but she sliced it one way and came up with "Just Love Me" as her theme. But for the next show, I've already chosen a collector and his look will be totally different. Obviously, he might use a few of the same pieces because I think a few of the pieces belong here forever. [laughs]
They definitely work with the space.
The dog [Yoshimoto Nara's Your Dog], Murakami's stuffed animals…
Can you explain a little bit the concept of combining this contemporary art with the Akihabira-inspired maid café? How do these two things come together?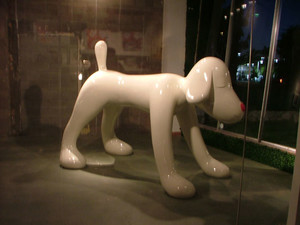 Well, a lot of that was my design team's idea. Yukie actually took me to meet Goto Design, the design firm in New York that's done a lot of work for Murakami—they did the Little Boy catalog, and so I went to them with the idea. I already had this space here in Culver City. I already knew I wanted to be in Culver City, and I already knew I wanted a Japanese café. When I was over in Japan, [Yoshimoto] Nara had some Japanese cafés that he has his work in. [Note: Yoshimoto Nara's café at the 21st Century Museum of Contemporary Art, Kanazawa, is called Studio Café, yngm:k More information can be found here.] I thought, "Oh, that's really cute." It makes me happy and I want to share it with children, you know? So then I wanted to also have a store where I could sell [artwork and merchandise] because again, when I went to Nara's show over there, people were lined up to buy his things. They really wanted to buy Nara's products. A lot of the Japanese products, actually. People just don't have that opportunity over here, so I wanted a store and a café, and a space to show my art and share my art. [Goto Design] were the ones that came up with the idea of the maid café.
It's very interesting.
Isn't it? Yeah, and already some young Japanese people have been coming by, some young kids, and they've been saying they're going to come in and dress up in cosplay like these girls here [points to giant photographs of Japanese girls dressed in Lolita attire] in the Gothic Lolita fashion and we really welcome it. [Laughs] We hope it'll really happen.
Do you hope to have a diversified crowd coming in here, like the people who are interested in the more pop culture aspects of Japan like animation and comics, as well as the people who are more interested in the fine art?
We hope it'll be a really diverse group. We want Culver City. I love Culver City, so I want a lot of the people from Culver City to come in and enjoy the space, and I just—Culver City's a really welcoming community.
How much of the design and layout of the space was inspired by the Japanese cafes? Was it a lot of inspiration or very little inspiration?
Oh, a lot. The Plexiglas, definitely. A lot of Plexi was inspired by that, because think of all the Japanese things behind Plexi [Note: Truer words have never been spoken! Owners of extensive figure collections, you all know this to be true]. And Lesley [Chi] and Takaya [Goto of Goto Design] picked a lot of the look of the place based on all the maid cafés. There's 80 of them, now. So a lot of it was based on that look. Our architect was really into it, too. He's done a few museums, like three or four museums. And so he really got stoked about the idea, so he really went right along with it.
Interview with Sandra Westwood
I also had a chance to chat with Sandra Westwood, who runs the cafe.
What is the concept behind Royal/T?
The concept is based on Japanese maid cafes, but we're adjusting the idea a little bit to the United States. I think in Japan, the food doesn't always come out of a real kitchen, and we wanted to serve more of a healthy comfort food. So, we do have things like Japanese rice curry, or Omu-rice but we also have like salads with shrimp served with tuna. There's some onigiri on the menu. Pastries are specially being created for Royal/T, but yeah, I think the main difference is we have a fresher, healthier California menu with a Japanese twist, instead of Japanese maid café food.
How does the art work with the idea of a cafe?
Well, the art is a private collection of Susan Hancock and she wanted to share her art with the world. She has a lot of Japanese pop art and stuff like that. Goto Design in New York came up with the concept of combining the maid café with the art and a retail store as well. Susan just really wants to share her art with the world. She had educational programs with schools and stuff like that to teach people about this kind of art.
The Maids
Of course, who could forget the maids? They all seemed excited to be there, and were all having a good time. As one told me, "I've never been to Japan or to a maid café before, but I've seen pictures and things. I don't know how they act there, but I think it's fun. The outfits are cute."
Another commented about the costumes, "They're really comfortable, actually! It's not weird at all. [laughs] Wearing the maid outfit is really exciting because of the way people react to it. Everyone is really nice and wants to take a picture with you. It feels really good."
The overall consensus seemed to be the same no matter who I asked-- "The outfits are really cute!"
---
discuss this in the forum (83 posts)
|