"New People" Second Floor
by Evan Miller,


Second Floor: Fashion

Welcome to the fashion-centric floor of New People. Our first stop: the store Black Peace Now, which I am sure has some kind of deep meaning that I'm not getting. The store is a mish mash of darkly themed clothes, a few "lolita" themed outfits, shoes, and accessories.

For example, here we have a shirt with some kind of a spiderweb pattern on it. This fine fashion accessory can be yours for the very reasonable price of...

...damn. Yes folks, the prices may scream "Union Square," but trust me - you're in Japantown, the same place with the cheap hardware store and the bargain priced rice bowls. Of course, this was far from being the most expensive item on the floor, but don't worry - not everything in the shops is overpriced. For example: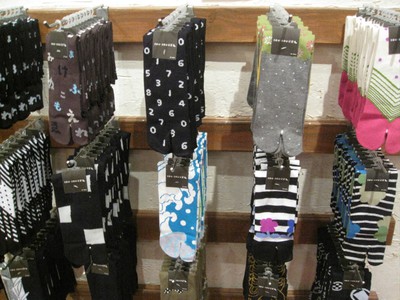 Shoe retailer Sou Sou has an interesting wall of socks in their store. They also sell special shoes that have a seperate area in the shoe for your big toe. It's not as bold a fashion statement as, say, those platform shoes with goldfish in them - but the prices aren't so bad and the socks looked rather comfortable. You know, the kind of thing you would like to have on your feet if you stood in a line like this one: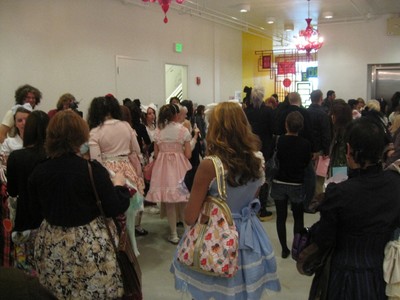 This, my friends, is the line for the Baby, the Stars Shine Bright store. What makes this line even more insane is that it includes most of the 300 attendees who earned the right to enter New People first. According to a volunteer that I chatted with, most of the people in line planned what they wanted to purchase ahead of time on the website and simply rushed to get it the moment they were allowed to enter the building. Hey, they know what they like - who am I to question that? As long as they don't trample anyone to death on their way to purchasing their outfits, I'm cool with it.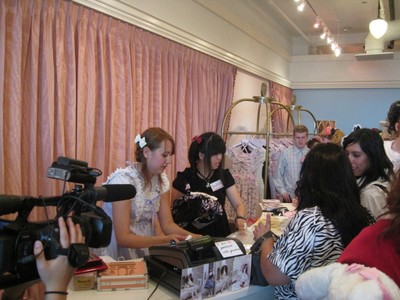 Just out of curiosity, I took a few moments to watch people queue at the registers for Baby, The Stars and see just how much they were shelling out. The typical dress was retailing for 350 dollars or so, which is a long, long way from being cheap - but compared to the alternative of importing dresses and tailoring them (which other lolita fashion fans have been known to do), it might not be so bad.

Feeling a tad overwhelmed, I stepped into the final store on the fashion floor, 6% Dokidoki. The shop had a kind of goth lolita-meets-Willy Wonka look to it; if I had been tackled by an oompa loompa at any point, I don't think I would have been shocked. There's even a carousel in the front of the store by the gigantic window that looks over Post Street. I stepped over to get a closer look...

...and proceeded to get about three phone calls in a matter of minutes from people who could see me from the ground. As you can see in this shot, I'm looking just a wee bit confused. I blame an overdose of frills, doilies, and bright colors for my mental condition.
Scroll down for more photos of the fashion floor in all of its splendor; then join me as we head to the last location on our tour: the Mezzanine.
---
this article has been modified since it was originally posted; see change history
back to "New People" Grand Opening in SF
Feature homepage / archives