The Fall 2017 Manga Guide

Splatoon
What's It About?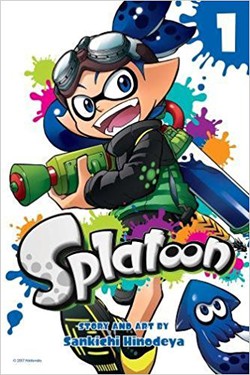 In Inkopolis, an urban landscape inhabited by humanoid squid known as Inklings, turf wars where teams of players paint designated areas with weapons such as inkzookas are the end-all of Inkling existence. Goggles, the happy-go-lucky leader of the low-ranked Team Blue, guides his team against various skilled foes in the challenge to win the Corocoro Cup. Each talented team leader he encounters displays various one-of-a-kind quirks, but Goggles and his teammates—Specs, Bobble Hat, and Headphones—have the drive and the can-do attitude to face whatever challenge the tournament sends their way.
Penned by Sankichi Hinodeya, Splatoon volume 1 (12/12/2017) will be available in paperback from VIZ Media for $9.99. It's based on a popular Nintendo third-person shooter video game series for the WiiU and the Switch.
---
Is It Worth Reading?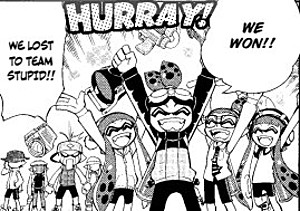 Rebecca Silverman

Rating: 1.5 (for the uninitiated)
Before you pick up this manga, there's an important question you need to ask yourself: have you played the game Splatoon? If the answer is yes, there's a good chance this will make a whole lot more sense and likely be more fun, but if like me your experience with video games tends more towards the visual novel than the shooter, you may want to sit this one out. That isn't always the case with game adaptations, but Splatoon's first volume is very heavily invested in the idea that you're already familiar with the basics of gameplay, and the result is a book that's largely confusing, albeit fun to look at. The story simply starts with Team Blue fighting another group of Inklings without any explanation of the rules or even hints as to what the creatures are called. Just all of sudden, there you are – watching two groups of weird monsters fight with either paint or colored ink. In medias res can work to pull you into a new story if it then goes back and explains what led up to that starting point, but Splatoon doesn't do that; I spent the first two chapters waiting for a reason for what was going on that never came. This could have been alleviated at least somewhat had the volume opened with chapter zero rather than chapter one, which was a one shot published before the main story began serialization, and if you aren't familiar with the franchise, I would highly recommend starting at the end of the book with it, because it gives us a lot more world information than the main story itself. It still isn't perfect, but it's a whole lot less confusing.
Fortunately for Splatoon, it has a lot of fun with its art and characters. Even if you aren't sure what's going on, looking at the Inklings is pleasant, and the gag about Goggles forgetting and/or losing his clothes is silly, but handled in a way that should be funny for younger readers. And this is a volume for an elementary-aged audience – with its rounded art, nonviolence despite the game's shooter status, and goofy dialogue, a kid who knows the franchise could have a lot of fun. But again, you really do need to know what you're getting into, because Splatoon isn't here to introduce you to the games – it's here to enhance something you're already a fan of, which narrows its appeal considerably.
---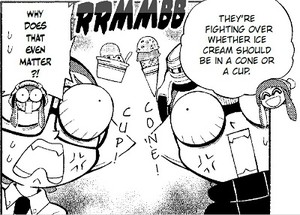 Amy McNulty

Rating:
Even without having played any of the games on which this manga is based, it's clear from the manga alone why this world of funky aesthetics and round-faced, spunky characters is popular enough to get a manga adaptation. The aesthetics are the biggest draw here, from the shape-shifting squids themselves to the sprawling urban landscape. Unfortunately, for a game that depends so much on color—not only is it part of its aesthetic appeal, but it's also the whole point of the game, to paint more of a landscape in your team's color than your opponent does in their color—the complete lack of color in a black and white manga is an almost insurmountable drawback of the medium. True, there's tone to indicate some light from dark colors, but it's still difficult to tell a blue splotch from a yellow-green one, for example, and an excess of tone used throughout this first volume is often more distracting than helpful. Why, for example, does one opposing team leader, Rider, have checkered patterns on his skin? While all the characters share a similar look, typically hairstyles, accessories, clothing, and personalities alone can help differentiate them. Unfortunately, there are so many characters—opposing teams are here for a chapter and then mostly gone by chapter's end—that it's hard for individual characters to compete for attention. The only characters who really stand out are Goggles—yes, he's the protagonist, but his penchant for removing his pants alone makes him memorable—and later, Specs, during the chapter that's easily the highlight of this first volume. Despite being on the same team, Specs and Goggles quarrel before a match and the passive aggressive completion between them is hilarious, even as it potentially obstructs their chances of winning against their opponents. The opposing team's reaction to being ignored only accentuates the situation.
Splatoon volume 1 stands out with the strength of its designs, but it's also inhibited by its lack of color. While fans of the video games will likely get more out of the volume, it's not inaccessible to readers new to the franchise and is certainly worth a read, particularly if you enjoy competition-driven comedies.
---

Lynzee Loveridge

Rating:
Nintendo's Splatoon Wii U games continue to hold a corner of current gamer culture thanks in part to the in-game chat art that proliferates current memes when it isn't creating its own from scratch. The game has, comically, settled age old adages about toilet paper, the very best condiment, and whether cats or dogs are the perfect pet. This built-in, over-the-top silliness is perfectly paired with a game like Splatoon, where squid kids face one another with ink-filled squirt guns. How do you capture a perfect storm of colorful meme culture in a manga?
My guess is by not sanitizing it into a bare bones, play-by-play of turf matches. Sankichi Hinodeya's manga is just that. Only vaguely funny, the story stars four Inklings with below average ratings who are in it just to have fun and show their competitors that they're taking it all too seriously. The lead Inkling is Goggles, a squid kid that regularly loses his pants. His nudity is pretty much the crux of volume's humor. There's no sly internet references or catch phrases to illicit chuckles from readers over the age of 10-years-old, and this would be one of the few manga where that kind of ribbing would feel appropriate.
Instead, Splatoon's manga adaptation has focused its sights on the youngest members of the game's players. Its very much in line with the Pokemon manga volumes that pair with each year's latest film. Goggles' repeated nudity would crack up my eight-year-old, and he'd be less likely to find the turf war matches as methodical as I did. One thing we would agree on is Splatoon is not a property at home in Japan's traditional black-and-white manga. These matches beg to be in color; the whole point is the characters are covering a landscape in brightly colored paint. This entire aesthetic is lost in the bland shades of gray on the panels making it impossible to judge visually where a match is at any given moment.
The Splatoon manga lacks the vibrancy that makes the game so appealing, both in actual artwork and in the colorful cast of players that make up its world. Your little brother or sister could get a few laughs out of it, but the rest of us are better off plugging in to the original.
---

Austin Price

Rating:
As distrustful as I normally am of spin-offs created to market the central element of some larger multimedia franchise, I have to admit that the idea of a Splatoon adaptation intrigued me. Nintendo's long line of advertisements-cum-strategy-guides masquerading as comics has surprisingly more hits than misses: adaptations like Charlie Nozawa's Super Mario Brothers Adventure and Shotaro Ishinomori's Link to the Past may not be classics, but they channel the spirit of the original well enough while finding their own character that they feel like a worthy expansion of a central idea, not a cynical milking. And Splatoon – Nitendo's most exciting IP in ages – possesses so much personality to begin with it seemed some of that would have to rub off on even a mildly attentive artist.
To his credit, artist Sankichi Hinoyeda's translates Shintaro Sato's distinctive designs with aplomb: even drawn, the Inklings and their environs burst with energy; even when rendered only in black and white they seem more vibrant than many fully colored comics. It even somehow manages to look musical in places. The actual story may be less inspired – resorting as it does to the kind of tired tournament structure, lettered ranking systems and goofily themed teams familiar to even the most casual reader of sports and tournament fighting manga – but it's appropriate given that the game Splatoon is a tournament shooter and given the audience. This is unmistakably a children's comic, after all, and makes no pretense otherwise.
Sadly, beyond the art, it's not a particularly charming children's comic. The humor is simple, composed almost entirely of bare bottoms and squid-obscured genitals and characters loudly proclaiming the absurdity of another character's obviously wacky actions. It is, again, fitting, but Sato's world is so distinct and Hinoyeda's interpretation of that vision so faithful it feels it should have a wilder sense of humor to match. It should feel more mischievous than it does, more fun.
So should the battles. Skirmishes in the game Splatoon are frantic affairs, but they're also highly strategic, more concerned with zoning and geography than almost any other shooter (which is saying quite a bit). For Hinoyeda to reduce them to nothing but a series of gag-laden firefights is to squander a perfect opportunity to craft the kind of intriguing set-pieces comics actually have the time and room for. At no point in any of the five matches in this collection does spacing or strategy play any part in Team Blue's victories; instead, they're all the result of a goofy, match-specific joke that inevitably climaxes when central character Goggles fires his inkzooka in a two-page spread.
Adaptations don't have to replicate the source-material with unerring faith to be good. Not at all. In fact they're best off trying to find some element of their new medium that allows them to play with the spirit of the original. Splatoon's problem is that it doesn't bother to try that, and so churns out an effort that's only half-promising.
---
discuss this in the forum (49 posts)
|
this article has been modified since it was originally posted; see change history
back to The Fall 2017 Manga Guide
Feature homepage / archives