Interest

Aoi Yuki, Tomoaki Maeno, Minako Kotobuki Lead Anime Mirai Casts

posted on by Lynzee Loveridge
---
The official website for Gonzo, Trigger, ZEXCS, and Madhouse's Anime Mirai 2013 projects announced their cast lists on Friday.

Gonzo's Ryo (Historical Japanese names are listed family name first here, while modern names are listed family name last)
Aoi Yuki as Ryo
Minako Kotobuki as Kuro
Keiji Fujiwara as Sakamoto Ryōma
Ai Kayano as Oryū
Toshiyuki Morikawa as Hijikata Toshizō
Yuuki Ono as Nakamura Hanjirō
Shinya Takahashi as Nakaoka Shintarō
Takanori Nishikawa as Okubo Toshimichi

Madhouse's Death Billiards
Tomoaki Maeno as Bartender
Yūichi Nakamura as Man
Jun Hazumi as Old Man
Asami Seto as Woman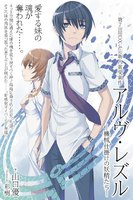 ZEXCS announced the two main castmembers in its Aruvu Rezuru - Kikai Jikake no Yōsei-tachi anime last March, but has since revealed more of the cast:
Jun Fukuyama as Remu Mikage
Eri Kitamura as Shiki Mikage
Yōko Hikasa as Yui Hirasaka
Ken Narita as Seiji Katasu

Studio Trigger revealed its cast for Little Witch Academia in the short's latest trailer.
Megumi Han as Akko
Fumiko Orikasa as Rotte
Michiyo Murase as Sūshy
Yōko Hikasa as Diana
The website also mentions the role of "Shiny Shario" with the cast member's name as a "secret."
Under the Anime Mirai program, the Japan Animation Creators Association (JAniCA) receives money from the Japanese government's Agency for Cultural Affairs, and it distributes most of those funds to studios who train young animators on-the-job. The shorts will open in Japanese theaters on March 2.
[Via Ota-Suke]
Update: ZEXCS added to first sentence. Thanks, molibdaenum.
---