×
remind me tomorrow
remind me next week
never remind me
Subscribe to the ANN Newsletter • Wake up every Sunday to a curated list of ANN's most interesting posts of the week.
read more
Interest

Yuuki Kaji, Masumi Asano, Daisuke Kishio Join Blood Lad Cast

posted on by Egan Loo
---
The official website for the anime of Yūki Kodama's Blood Lad manga unveiled new cast members and character designs on Monday.

Yuuki Kaji as Knell, a courier who lives on the Demon World's dimension throughways and listens to music like British rock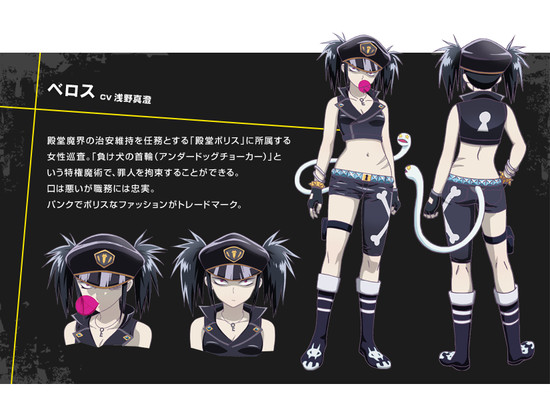 Masumi Asano as Berosu, a female officer of the Acropolis police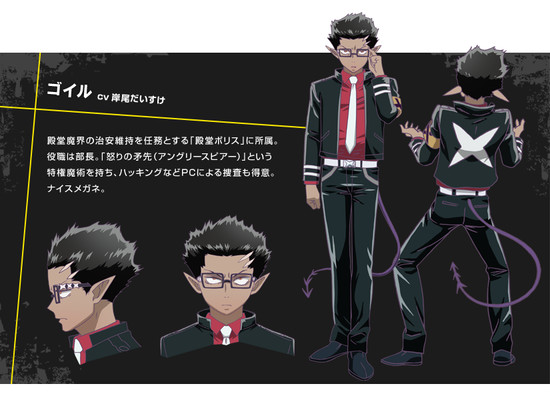 Daisuke Kishio as Goiru, an officer of the Acropolis police

Eiichirō Tokumoto as Fuyumi's father
Kenji Roa as Tobi
Shusaku Shirakawa as Kiji
Kenichirou Matsuda as Onikuro Shop Head
Kikutarō Ikki as Hatomune Transport
Teppei Akahira as Saba
Shiro Tsubuyaki as Snowman
The previously announced cast members include the main leads:

Ryota Ohsaka (Valvrave the Liberator, The Devil is a Part-Timer!) plays Blood Charlie Staz, a vampire who is doing the job of turf boss of a certain area of the eastern netherworld. However, he hates things related to vampires, and loves the Japanese subculture of anime and manga. He never had any interest in sucking blood until he met Fuyumi, who brought out his instincts, and he brings her back to life with his "blood will." In addition to having a mean look on his face, he also always looks bored, but will not be able to stop doing something once his switch is flipped.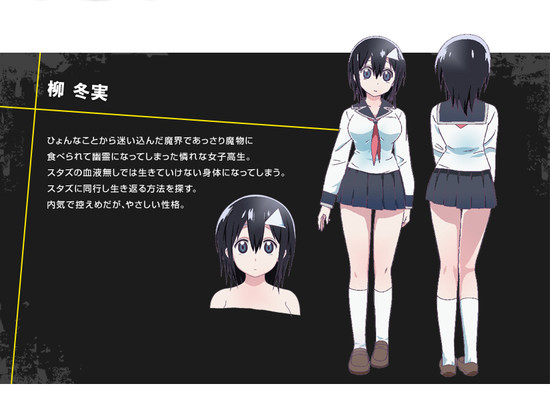 Iori Nomizu (Is this a zombie?, Problem children are coming from another world, aren't they?) plays Fuyumi Yanagi, a female high school student who became a ghost when she got eaten by a monster as soon as she somehow wandered into the netherworld. Due to this, she becomes completely dependent on Staz's blood, and cannot live without it. She works together with Staz in order to find a way to come back to life. She's very shy, but is very kind.

Takuma Terashima (The
[email protected]
, Kokoro Connect) plays Wolf, known as the "King Wolf" by his friends, and is the powerful werewolf rival of Staz. He is a red-hot muscle head who hates people who do things half-baked.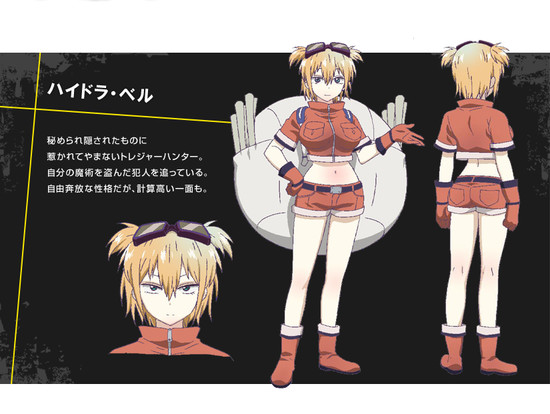 Emi Sarah Bridcut (Problem children are coming from another world, aren't they?, Majestic Prince) plays Hydra Belle, a treasure hunter who is uncontrollably drawn to secret hidden objects. She is currently chasing the person who stole her magic technique. She usually has an easy-going personality, but also has a side that is very calculating.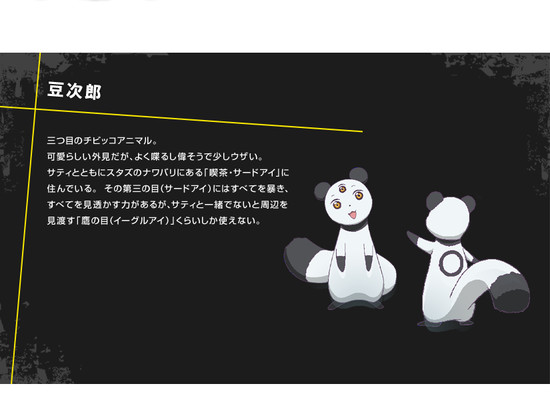 Chiwa Saito (Rosario + Vampire Capu2, Bakemonogatari) plays Mamejirō, a cute little animal with three eyes. Has an adorable appearance, but often is talkative and acts high and mighty, making him a little annoying. He is currently living with Sati at the "Cafe Third Eye" which is in a part of Staz's turf. His third eye can see through everything, but since it only works when he's with Sati, when he's alone, it can be only used as an Eagle Eye to survey the area around him.

Sati is a cyclops woman who runs the Cafe Third Eye in a part of Staz's turf. Her specialty Tsuchinoko Steak (a tsuchinoko is a mythical snake creature) is Staz's favorite food. She is as quiet as Mamejirō is talkative, but her third eye sees many things, and combined with Mamejirō's third eye, her extra eye contains the power to see through anything.

Ryohei Kimura (Valvrave the Liberator, Neo Angelique Abyss) plays Blood D. Bloods, Staz's elder brother who's elegance completely sets him apart from his little brother. A crafty elite vampire, he often uses that craftiness in order to get what he wants. He seems to know a secret about Staz's power.

Newcomer Taichi Komesu plays Deck, Staz's number two in command, and one of the subordinates he can trust. Contrary to his fierce appearance, he is quite gentle, and is often dragged around by Staz's selfishness. He truly cares for Staz from the bottom of his heart.

Yuuka Nanri (Wandering Son, Problem children are coming from another world, aren't they? ) plays Blood T. Liz, Staz's younger sister who always wears her mask. She is the warden of the netherworld's largest prison, "Liz's Toy Box". Bloods has given her the privilege to judge criminals and throw them into jail. Although she loves her eldest brother Bloods, she absolutely despises Staz.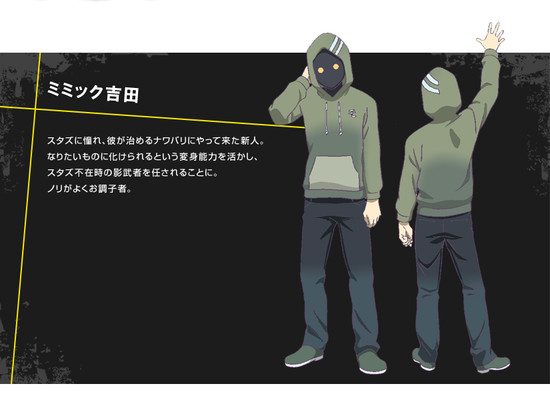 Kazutomi Yamamoto (Majestic Prince, Makai Ōji: Devils and Realist) plays Mimic Yoshida, a new member of Staz's gang who admires him deeply. He has the ability to change into anything he wants, and transforms into Staz when he's out of the turf. A cheeky boy who goes with the flow.
In addition, Koji Yusa (Zettai Karen Children, Valvrave the Liberator) will play Papladon Achim, whose character design has not been revealed yet.
The dark comedy follows a vampire named Staz who has his figurative heart stolen by Fuyumi, a human high school girl who suddenly appears in his world. Unfortunately, she is just as suddenly killed, and thus she becomes a ghost. Staz tries to bring Fuyumi back to life.
Shigeyuki Miya (Lupin III: Green vs Red, Buzzer Beater) will be directing the anime at Brains Base from scripts by Takeshi Konuta (Library War, Toshokan Sensō: Kakumei no Tsubasa), and Kenji Fujisaki (chief animation director on Battle Girls - Time Paradox) will be handling the character designs. May'n (Macross Frontier) will be performing the anime's "ViViD" opening theme, while Yuuka Nanri (.hack//Roots) will be performing the ending theme "BLOODY HOLIC".
The anime will premiere on Japanese television on July 7.
Source: Comic Natalie
Image © 2013 Yūki Kodama/Kadokawa Shoten/Blood Lad Production Committee
---